Kim Kardashian West has recreated the iconic "champagne incident" image by Jean-Paul Goude for the December issue of Paper magazine.
Kardashian West is pictured on the cover of the magazine popping open a bottle of champagne which lands in a glass perched on her bottom.
In another image released by the American publication, Kardashian-West is pictured naked from behind provocatively dropping her dress.
Two further images were released by the magazine last night which show the reality TV star baring all; in one full-frontal shot and another topless image.
For the shoot Kardashian West wears a custom made dress, a cluster of pearl necklaces and earrings by Mikimoto, vintage black satin gloves and a top-knot hairdo.
The magazine explains its choice of cover star:
"For our winter issue, we gave ourselves one assignment: Break The Internet. There is no other person we can think of who is up to the task than one Kim Kardashian West."
The shoot was photographed by the legendary French photographer Jean-Paul Goude who chose Kardashian West to recreate his iconic image at a secret location in Paris.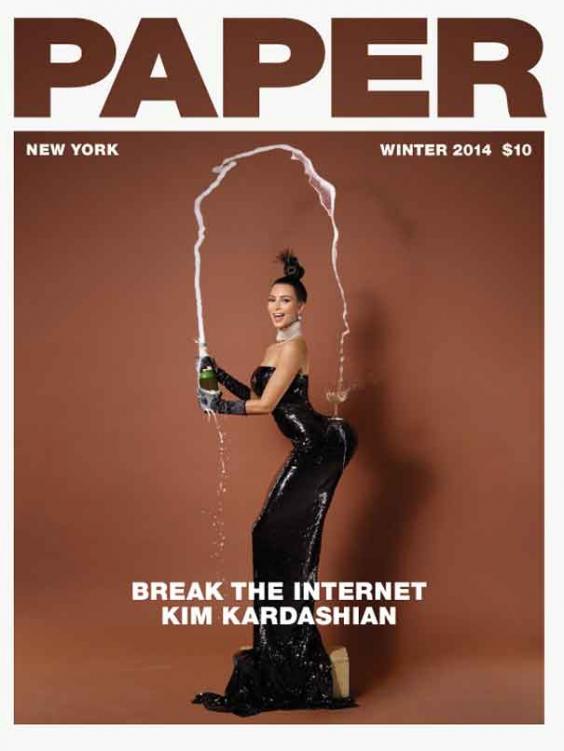 The 34-year-old reality TV star made light of the cover, tweeting:
"And they say I didn't have a talent...try balancing a champagne glass on your ass LOL #BreakTheInternet #PaperMagazine'
The world according to Kim Kardashian
The world according to Kim Kardashian
1/16 On body confidence:

"If I don't feel confident about my body, I'm not going to sit at home and feel sorry for myself and not do something about it. It's all about taking action and not being lazy."

2/16 On designer clothing:

"You can't really have like high-end designers for everything."

Getty Images

3/16 On sisterhood:

"Having lots of siblings is like having built-in best friends."

4/16 On business:

"I'm an entrepreneur. 'Ambitious' is my middle name."

GETTY

5/16 On family holidays:

"Holidays are the best. I couldn't imagine being from a small family."

6/16 On haters:

"When there's so many haters and negative things, I really don't care."

AP

7/16 On relationships:

"It's fun to have a partner who understands your life and lets you be you."

8/16 On beauty:

"I just feel my best when I'm all glammed up."

Getty

9/16 On beauty:

"People don't understand the pressure on me to look perfect."

10/16 On her physique:

"Personally, I've always loved the curvy look."

Getty Images

11/16 On plastic surgery:

"I'm totally not against plastic surgery. I've tried Botox before. That's the only thing that I've done."

Getty Images

12/16 On mother-daughter love:

"My mother has always been the social glue holding the family together."

getty

13/16 On divorce:

"My decision to end my marriage was such a risk to lose ratings and lose my fan base. I had to take that risk for my inner peace and to be happy with myself."

14/16 On being mature:

"I'm totally growing up."

Getty Images

15/16 On tanning:

"I love the sun but don't have the time to get a good tan and keep it year-round, so I am a huge fan of tanning products."

Getty

16/16 On ideal body:

"I have cellulite, just like almost every other woman on the planet."

Getty Images
Paper Magazine is an independent fashion and popular culture magazine based in New York. Launched in 1984, Kardashian West joins a roster of past cover stars which include Katy Perry, Prince and Mariah Carey.
The winter issue of Paper Magazine hits newstands this Thursday 13 November  with the magazine promising it has "so much more in store."
Video: Kim And Kanye appear on Vogue cover