As the fashion world says farewell to Oscar de la Renta, who died yesterday aged 82 after a long battle with cancer, we take a look at his red carpet hits -almost half a century after he founded his eponymous label.
The much-loved Dominican-born designer has been favoured by Hollywood for over 40 years with celebrity fans ranging from Audrey Hepburn to Sarah Jessica Parker and Emma Watson, who all would regularly hit the red carpet in his feminine gowns.
His designs have also hit the White House too. He's dressed Michelle Obama, Hillary Clinton, Nancy Reagan and Jackie Kennedy, for whom he designed clothes in the early sixties before starting his own label in 1965.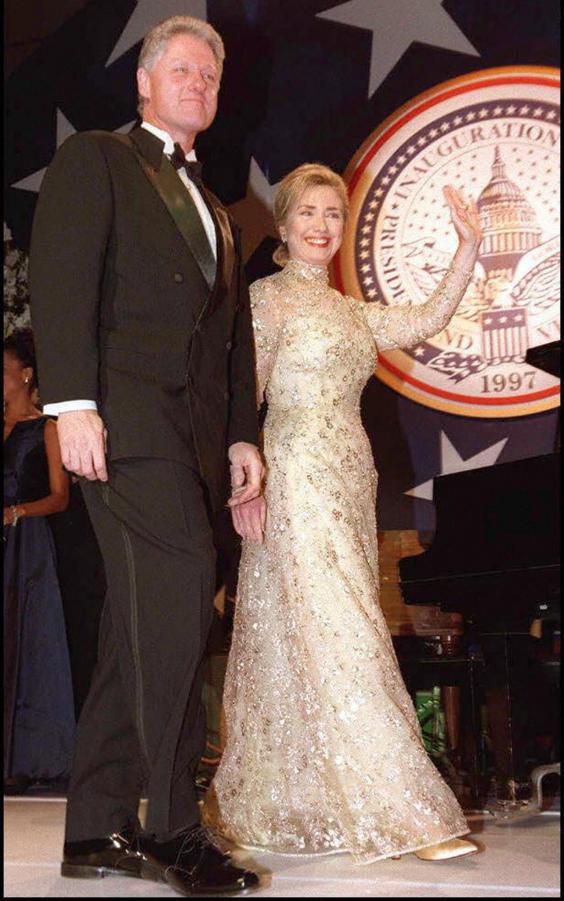 His latest creation was Amal Clooney's wedding dress, who married her American actor husband in Venice last month.
A family statement read: "While our hearts are broken by the idea of life without Oscar, he is still very much us.
"Oscar's hard work, his intelligence and his love of life are at the heart of our company…Through Oscar's example we know the way forward.
"We will make Oscar very proud of us by continuing in an even stronger way the work that Oscar loved so much."
Earlier this month it was announced that Peter Copping has been appointed as creative director of the iconic fashion house, who will present his first collection in February 2015.
As the industry pays tribute to the man known for dressing the world's most powerful women, we look back as his red carpet hits:
Oscar de la Renta red carpet hits
Oscar de la Renta red carpet hits
1/23 Oscar de la Renta red carpet hits

Taylor Swift in a peach embroidered Oscar de la Renta gown at the 2014 Met gala

2/23 Oscar de la Renta red carpet hits

Amy Adams in a lavender layered tulle from Oscar de la Renta at the 2013 Academy Awards

AFP

3/23 Oscar de la Renta red carpet hits

Sarah Jessica Parker in a monochrome Oscar de la Renta gown at the 2014 Met gala

4/23 Oscar de la Renta red carpet hits

Jennifer Garner in a gold tasseled Oscar de la Renta gown at the 2014 Academy Awards

5/23 Oscar de la Renta red carpet hits

Zooey Deschanel in a gold tulle gown at the 2013 Golden Globe awards.

Reuters

6/23 Oscar de la Renta red carpet hits

Claire Danes in a chain effect gown by Oscar de la Renta at the Met Ball 2013.

Getty Images

7/23 Oscar de la Renta red carpet hits

Kate Hudson at the 2009 premier of Bride Wars in a monochrome Oscar de la Renta gown

8/23 Oscar de la Renta red carpet hits

Kristin Davis in a strappy ball gown at the 2011 Costume Institute Gala awards

9/23 Oscar de la Renta red carpet hits

Lea Michele again in Oscar de la Renta a sequin plunging neckline number at the 2011 SAG awards

10/23 Oscar de la Renta red carpet hits

Lea Michele in Oscar de la Renta at the 2011 Golden Globe awards

11/23 Oscar de la Renta red carpet hits

Isla Fisher in a red strapless gown at the Cannes Film Festival Great Gatsby premiere

12/23 Oscar de la Renta red carpet hits

Jessica Chastain in a gold Grecian gown by Oscar de la Renta at the 2012 Bafta awards

Getty Images

13/23 Oscar de la Renta red carpet hits

Gisele in an embroidered Oscar de la Renta gown at the 2011 AFI awards

14/23 Oscar de la Renta red carpet hits

Eva Longoria in a strapless tomato red gown at the 2011 ALMA awards

15/23 Oscar de la Renta red carpet hits

Penelope Cruz at the 2005 Academy Awards in a lemon Oscar de la Renta gown

16/23 Oscar de la Renta red carpet hits

Jessica Alba in a coral fishtail dress at the 2013 Golden Globes

17/23 Oscar de la Renta red carpet hits

Lea Michele at the Annual Screen Actors Guild Awards in 2011

18/23 Oscar de la Renta red carpet hits

Emma Watson at the Harry Potter and the Deathly Hallows premiere in 2011

19/23 Oscar de la Renta red carpet hits

Zooey Deschanel in red, full-skirted frock at the 2013 Golden Globes

20/23 Oscar de la Renta red carpet hits

Tina Fey at the SAG awards wearing a black Oscar de la Renta gown that kept the ruffles to a minimum looking feminine without appearing flouncy and a narrow metallic belt is a perfectly modernising finishing touch

SAG

21/23 Oscar de la Renta red carpet hits

Kiernan Shipka wears an Oscar de la Renta dress which is just the right mix of youthful, feminine and pretty

AFP

22/23 Oscar de la Renta red carpet hits

Jessica Chastain in a Grecian gown by Oscar de la Renta, with bodice and plunging neckline to emphasise those curves at the Baftas 2012

Getty Images

23/23 Oscar de la Renta red carpet hits

Claire Danes in an electric blue and black gown at the 2011 Emmys
Reuse content