With less than 48 hours to go until the Victoria's Secret show, the Angels have descended on New York ahead of the annual lingerie extravaganza.
This year promises to be the biggest and most expensive show to date with models set to take to the catwalk wearing spectacular underwear pieces in satin, silk, lace and sheer embezzled with diamonds and Swarovski crystals.
Supermodel Candice Swanepoel will wear the coveted Royal Fantasy Bra; the most expensive piece to be presented by the American lingerie giant since former angel Gisele Bundchen debuted the Sexy Splendor Fantasy Bra in 2005.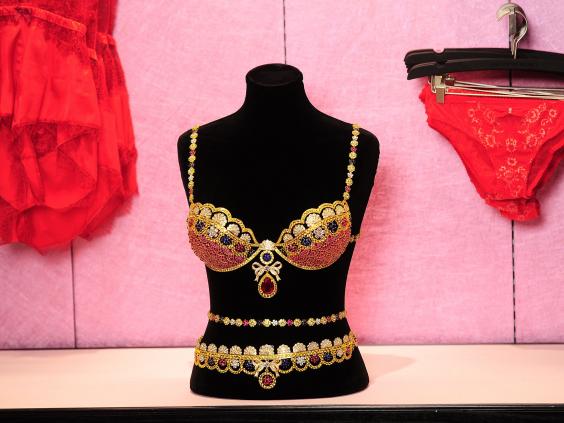 The $10 million bra (approximately £6 million) and matching belt is adorned with over 4,200 precious stones, including diamonds, rubies and yellow sapphires, handset in 18 carat-gold with a 52-carat pear-shaped ruby at the centre of the bustier.
Fellow angel Lindsay Ellingson is set to model the first 3D printed costume designed by Victoria's Secret along architect Bradley Rotherberg. Details of the outfit are being kept under wraps, but behind-the-scenes photographs suggest Ellingson will wear an all-white snowflake outfit.
Backstage, renowned make-up artist Tom Pecheux and hair guru Orlando Pita will lead the styling team under the watch of creative director Sophia Neophitou-Apostolou.
But it's not just about big hair, spray tans and extravagant creations. With a rumoured budget of more than $12 million, the show features some of the biggest names in the music industry.
Taylor Swift will be taking centre stage as the headline act in tomorrow's show. She follows the footsteps of past acts Rihanna, Justin Bieber, Kanye West, Jay Z, Katy Perry, Maroon's 5 Adam Levine and Justin Timberlake.
Swift will be joined by Fall Out Boy, Neon Jungle and indie pop band A Great Big World.
Unfortunately, the show is invite-only so most of us will have to wait until it's aired on television next month in more than 180 countries.
The Victoria's Secret fashion show airs 12 December on CBS.