To celebrate Kate Moss 25 years in the fashion industry, a champagne glass moulded from her left breast has been created.
The British supermodel has an ever increasing presence across the fashion world; from modelling to more recently directing and styling for Vogue. But this seems to be the most bizarre collaboration yet.
Forty-year-old Moss has teamed up with a sculptor and a London restaurant to create the unique champagne glass in her honour.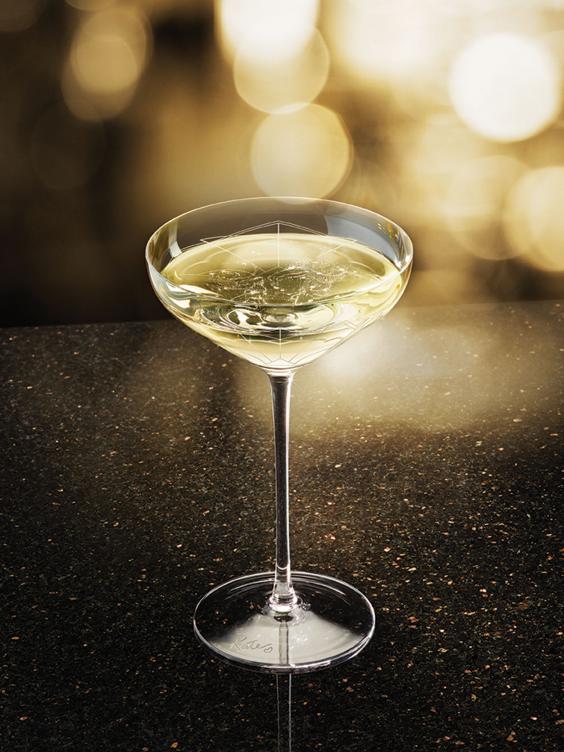 Mayfair's 34 Restaurant, where Moss celebrated her star-studded 40 birthday lunch back in January, commissioned British artist Jane McAdam Freud, daughter of late painter Lucien Freud who Moss posed for while pregnant, to create a mould of the model's breast.
The establishment described the result as an "intricate abstract design reminiscent of Art Deco symmetry which, when held at an angle, shows a beautiful curvy shape" and the coupe has her "Kate" signature accompanied by a small heart on the base, as seen on all her beauty collaborations like for example Rimmel London.
In pictures: Kate Moss' Catwalk Greatest Hits
In pictures: Kate Moss' Catwalk Greatest Hits
1/14 Isaac Mizrahi, A/W 1994

In 1994, Kate Moss featured not only in Isaac Mizrahi's show, but in Douglas Keeve's behind-the-scenes documentary, Unzipped, chronicling its creation. Watch and you can see Moss taking to the catwalk in hypercoloured faux-fur and (understandably) refusing to get naked in front of an audience of several thousands at Mizrahi's NYC show

2/14 John Galliano S/S 1994

Backstage with Galliano in October 1993 before his spring/summer 1994 presentation in Paris, Kate wears an expansive crinoline stiffened with telephone wire. She was pursued down the catwalk by the sound of wolves in this, a landmark show for in the designer's stellar career

3/14 Atelier Versace A/W 1995

Kate Moss as Versace's bride for the winter 1995 Atelier Versace haute couture show in Paris, pictured here with Gianni himself, a close friend. So too is the labels' current creative head Donatella, who featured Moss in their latest round of winter 2013 campaign images

4/14 Stella McCartney, 1995

For her Central saint Martins graduation collection in 1995, Stella McCartney drafted in her friends to model, rather than the college selection of semi-professional models. But of course, hers were no ordinary friends. Naomi Campbell flew from Berlin, and Kate travelled from New York to take turns in her lingerie-inspired slip-dresses on the London catwalk

5/14 Tom Ford for Gucci, A/W 1996

Inspired by slinky, sexy seventies style, Halston's jersey dresses and the headonism of Studio 54, Tom Ford's 1996 Gucci collection defined his career. Kate Moss was his model of choice, hair clicked-back, eyes kohled and slender hips wrapped in barely-there silk-jersey

6/14 Christian Dior by John Galliano, ready-to-wear, A/W 1997

For his first Dior ready-to-wear collection in March 1997, John Galliano called on Kate again to vamp it up in a Jayne Mansfield-inspired wig and cheesecake Chinoiserie mini-dress. The designer was fired from Dior for a drunken rant in Parisian bar in February 2011. His first commission post-Dior? To make Moss' wedding gown

7/14 John Galliano S/S 1997

Kate Moss' friendship with John Galliano runs back to his earliest shows in Paris, when a then-teenaged Moss walked the catwalks for free in a penniless Galliano's fantastical creations. Here, Moss models a Galliano ensemble from his spring/summer 1997 collection, shown days before his appointment to the post of head designer at Christian Dior

8/14 Alexander McQueen S/S 1997

In September 1996, maverick British designer Lee Alexander McQueen's models walked on water – possibly an expression of his own elation as, shortly after this show, McQueen was announced as the successor to John Galliano as creative head of the Parisian couture house Givenchy. Kate was amongst the water-wading models, her first show for a designer who would become a close friend

9/14 Chloe S/S 1998

Barely two years later, after showing one eponymous ready-to-wear label in a friend's flat in London, Stella McCartney was handed the reins of French fashion house Chloe. She enlisted Kate Moss as keynote model, featuring her in the campaign in more lingerie-inspired fashions, including this corseted satin mini-dress

10/14 Balenciaga Le Dix, S/S 2001

In 2000, Kate Moss was chosen by Nicolas Ghesquiere to open and close his Balenciaga Le Dix collection, one of the most acclaimed shows of the season from a then-cult designer who subsequently came to redefine the landscape of contemporary style. Kate Moss got in their early. Ghesquiere has just been appointed successor to Marc Jacobs at Louis Vuitton

11/14 Alexander McQueen Black, 2003

After three years in Paris, Alexander McQueen returned to the London June 2004 for one night only. Presenting an all-black retrospective relay of his greatest hits, McQueen re-staged a selection of legendary catwalk moments from his career in association with American Express. Naturally, he enlisted Kate Moss: she danced a duet with esteemed ballet impresario and choreographer Michael Clarke in homage to McQueen's dance-marathon inspired spring/summer 2004 Deliverance show

12/14 Alexander McQueen A/W 2006

Almost ten years after her first Alexander McQueen outing, Kate Moss re-appeared in spirit – if not in body – for his autumn/winter 2006 show, The Widows of Culloden. A hologram of the model directed by Bailee Walsh was projected as the show's phatasmagorical finale

13/14 Louis Vuitton A/W 2011

Speaking of Vuitton, what other house has the might to coax Miss Moss out of semi-retirement and back onto the catwalk? For Marc Jacobs' fetish-inspired autumn/winter 2011 collection, Kate trod the stage in sex-shop heels and hot-pants, smoking a post-coital cigarette. 'Kate is, besides being physically beautiful and an incredibly charismatic and extraordinary personality, just very rare - if not totally unique,' Jacobs told US Vogue

14/14 Louis Vuitton A/W 2013

'Kate is a dear friend, she has closed many Louis Vuitton shows and I always love having her in the show,' said former Louis Vuitton Creative Director Marc Jacobs after his penultimate winter 2013 presentation for the house. Kate Moss, quite naturally, closed the show, inspired by the idea of a Louis Vuitton hotel and featuring glamorous denizens sleep-walking through imaginary corridors. He added 'She and I have spent many nights over many years in hotel rooms and had lots of fun.' We can only imagine…
The mother-of-one will host the inauguration of the glasses herself at the swanky restaurant in early October, where guests will reportedly drink Dom Pérignon's latest vintage from Moss' coupes. The coupes will be available at 34 and at its sister restaurants The Club at The Ivy, Daphne's and Scott's.
This is not the first time that a moulded-chest glass has been made.  It's believed that the first champagne glass made in the 18 Century was modelled on the left breast of late French queen Marie Antoinette, which was the inspiration for artist McAdam Freud.
Moss seems honoured with the unusual collaboration. She said:  ''I was excited to participate in this project - what an honour to be alongside Marie Antoinette - she was a very intriguing and mischievous character… champagne is always associated with celebration and happy occasions and I had fun creating this beautiful coupe.''
Reuse content