Body-positive lingerie brand Curvy Kate has launched a new campaign aiming to promote diversity and challenge perceptions of sexy.
The campaign, #TheNewSexy, celebrates diverse beauty with its line-up of eight models of varying ages, skin tones and body shapes, including 34-year-old wheelchair user, Gemma Flanagan.
Gemma suffers from Guillain-Barre Syndrome, and after her diagnosis five years ago, now spends most of her time in a wheelchair.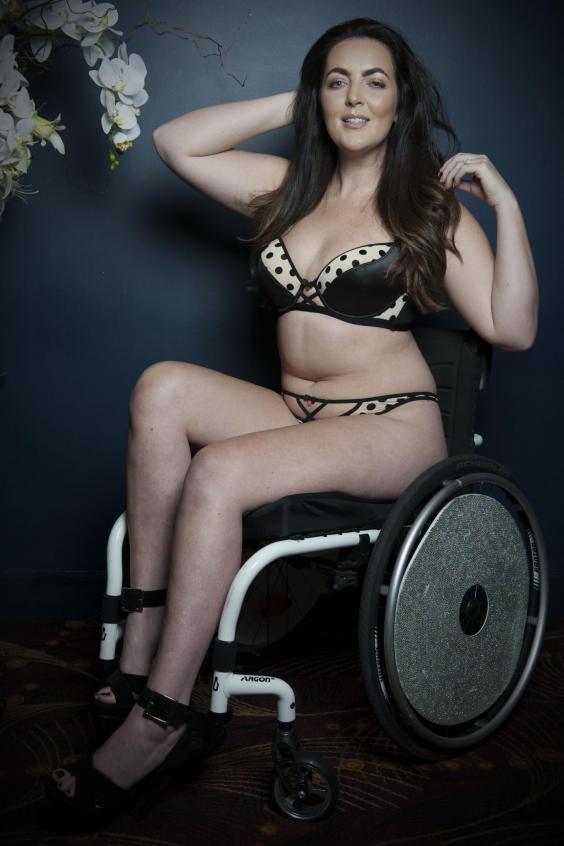 Previously an air-stewardess, Gemma's life changed overnight: "Five years ago I was loving life travelling the world in my dream job as cabin crew for British Airways. I loved travelling, being active and didn't give many things a second thought," revealed Gemma.
Since her diagnosis, Gemma has been working hard to rebuild her health and her life: "I had to find my own identity again and learn to love my new (slightly different) body," said Gemma, admitting that she felt disheartened when looking through magazines and not seeing anyone she could relate to.
Curvy Kate's diverse #TheNewSexy lingerie campaign
Curvy Kate's diverse #TheNewSexy lingerie campaign
1/9

Curvy Kate's campaign aims to champion diverse beauty

Curvy Kate

2/9

Janet Rook is 65 and from Essex. After her son died in a motorcycle accident aged just 22, Janet quit her job as a bank manager and now jumps at the chance to take part in any activity that pushes her out of her comfort zone.

Curvy Kate

3/9

Paige Billiot, 24, who was born with a 'Port-Wine Stain' birthmark across her face and head, took part in the campaign, to show that it is our imperfections that make us beautiful.

Curvy Kate

4/9

Born and raised in North London but with her family originating from India, Seema Patel, 34, a merchandiser for Curvy Kate, wanted to take part in the campaign after the team struggled to find someone to represent her demographic.

Curvy Kate

5/9

Shorntay Allen, 31, whose family originate from the Caribbean, wanted to take part in the campaign as she hoped to draw attention to the lack of representation women of colour receive within the fashion industry.

Curvy Kate

6/9

Yasmin Taylor, 24, who lives in Abu Dhabi, suffers with skin condition Alopecia. She was diagnosed at the age of 15 and lost all of her hair when she was 20 years old.

Curvy Kate

7/9

Carla Atherton, 34, is a Breast Cancer 'Previvor' who took part in the campaign to show that regardless of what a person has been through everyone has the right to feel sexy.

Curvy Kate

8/9

Diana Sirokai, 20, from North London showed that her fuller figure and bust were something to be proud of by stripping down to her smalls. She became a success after taking part in Curvy Kate's annual model search, Star in a Bra.

Curvy Kate

9/9

Gemma Flanagan in #TheNewSexy campaign

Curvy Kate
"I am proud that I have come through something so negative and I try to use it in a positive way wherever I can," Gemma says.
Joining Gemma in the uplifting campaign are seven other women with equally inspirational stories.
There's 24-year-old Paige Billiot, who was born with a 'Port-Wine Stain' birthmark; alopecia sufferer Yasmin Taylor, also 24; and 65-year-old Janet Rook.
In another groundbreaking move, Curvy Kate have cast breast cancer 'previvor' Carla Atherton in the campaign. In 2014 Carla tested positive for the BRCA gene, which meant she had an increased risk of developing breast or ovarian cancers. 
Carla decided to have a double Mastectomy followed by reconstructive surgery to rebuild her breasts, but felt sad that women who'd undergone major surgery weren't being represented in mainstream media: "I am confident and sexy with how I am now," she said.
The campaign is undoubtedly rare in the fashion world, but according to Curvy Kate, we shouldn't even be interested in it: "The use of diverse role models should no longer be newsworthy; it's something all companies should practice in all areas," said Head of PR and Marketing, Hannah Isichei.
"Women of all shapes, sizes and looks model our collections as we believe a larger variety of models should be seen by all. Society isn't made up of one woman and we know our customers are all different, so why not give them someone they can recognise," she said.
It can only be a step in the right direction.
Reuse content