A woman has accused Asda of perpetuating "damaging" stereotypes by selling a child's jumper emblazoned with the slogan "boys will be boys".
She wrote - in an apparently now deleted Facebook post - that the jumper was problematic because it perpetuated the stereotype that men can get away with offensive or misogynistic behaviour by using the age-old slogan, reports the Mail Online.
"Look I get it," she wrote. "Most people say this and don't mean any harm by it. But boys having their behaviour excused like this from an early age – this message of being above the rules, it sticks.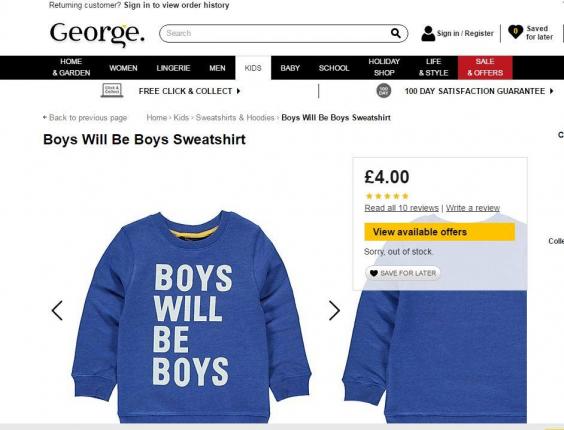 "It also implies that boys have no impulse control. Boys are perfectly capable of respecting people and property."
The woman argued that the saying "trivialises" male behaviour and the differences in expectations for men and women in society. She added that a common excuse for sexual harassment is to say that boys will be boys or men will be men.
Fashion news in pictures
Fashion news in pictures
1/22 Gwyneth Paltrow's Goop to launch print magazine

Goop, the brainchild of Gwyneth Paltrow, is launching a magazine in partnership with publishers Conde Nast. The online lifestyle publication, which was launched by the actress in 2008, will release its first print edition in September with further quarterly editions planned

Getty Images

2/22 Cara Delevingne rallies against mainstream beauty standards

Cara Delevingne has hit out at conventional beauty ideals days after shaving off her hair, which she debuted at the Met Gala

Reuters

3/22 Female High Street mannequins are 'unrealistically thin'

Mannequins used in stores to model clothes promote "ultra-thin" unhealthy body ideals, researchers have warned. A new study from the University of Liverpool, published in the Journal of Eating Disorders, found that the average female mannequin body size was "representative of a severely underweight woman".

Getty Images

4/22 Kim Kardashian attends Met Gala wearing simple white dress

Kim Kardashian West drew attention with her outfit choice for her fifth Met Gala this weekend due to her new toned-down look. The reality TV star's toned down outfit comes just days after she appeared on the Ellen DeGeneres show. She spoke about being robbed at gunpoint in Paris last year and how the incident has changed her, stating that she is "such a different person" today

Getty Images

5/22 Princess Charlotte's John Lewis jumper from birthday photo sells out

A knitted yellow John Lewis cardigan adorned with pictures of sheep has sold out after Princess Charlotte was photographed wearing the item, prompting a surge in demand from British parents wanting to dress their offspring like the young

HRH The Duchess of Cambridge via Getty Images

6/22 Hermes Birkin bag a better investment than stock or gold

According to a recent study buying a Hermès Birkin handbag could be your best bet for long-term investment. The study by Baghunter – an online marketplace for buying and selling luxury handbags – revealed that the Birkin bag far outperformed both the S&P 500 and the price of gold in the last 35 years. Gold had an average annual return of 1.9 percent and a real return average of -1.5 percent, while the value of Birkin bags increased at a faster rate than either of them. Rising by 14.2 percent over the same period, the Hermès bag never fluctuated downwards - instead it steadily and consistently increased reaching a peak surge in 2001 where it escalated by a huge 25 per cent

flickr/Yvette Religioso-Ilagan

7/22 Model Bella Hadid opens up about her Islamic faith

Supermodel Bella Hadid has opened up about her father's experience as a refugee and her Islamic faith in a candid interview. "He [her father] was always religious, and he always prayed with us. I am proud to be a Muslim," Bella told Porter magazine

Getty Images

8/22 Nike finally launches its first plus-size range

Nike has launched its fist ever plus size range of sportswear. Encompassing everything from t-shirts, running tights, high-tech hoodies and training shorts sizes range from an impressive Xl up to 3XL and 38E in sports bras. But, Nike isn't just sizing up their existing products. It's actually adapting the science behind each piece to suit a plus size body.

Nike

9/22 Moonlight cast star in Calvin Klein underwear advert

Hot on the heels of their Oscar win for Best Picture, the cast of Moonlight have landed their first major campaign for Calvin Klein. The striking photos, all captured by Willy Vanderperre, feature 27-year-old Trevante Rhodes, 43-year-old Mahershala Ali, 21-year-old Ashton Sanders and 12-year-old Alex Hibbert

Calvin Klein

10/22 Vogue Arabia launches

Supermodel Gig Hadid will feature on the first ever cover of the new Vogue Arabia, it has been announced. The 21-year-old model, who is half Palestinian and half Dutch, shared the cover on Instagram where she said that the appearance "means the world" to her

Vogue

11/22 Maasai people of East Africa fighting against cultural appropriation by luxury fashion labels

The Maasai of Kenya and Tanzania embody one of the most powerful images of tribal Africa – but it's a guise that's becoming increasingly imitated.

Getty

12/22 Oscars stars wore blue ribbons to ceremony

A range of actors and actresses including Ruth Negga, Lin Manuel Miranda, Emma Stone and Karlie Kloss wore blue ribbons to show their support for the American Civil Liberties Union

Getty Images

13/22 Paul Smith responds to 'suit being dead'

Paul Smith said: "That's bollocks when asked whether the suit is dead. "All of that. That's just people needing to say things. There will always be, in your lifetime, people that feel suits do a job."

Getty Images

14/22 Prime Minister Theresa May to feature in US Vogue

Mock-up of Theresa May on Vogue cover - Theresa May will feature in a spread for the esteemed fashion magazine Vogue, Downing Street has confirmed. The Prime Minister will feature in a spread shot by the respected fashion photographer Annie Leibovitz.

15/22 How the best-dressed man on the internet spends only £30 a week on clothes

A man voted best-dressed two years running by one of the web's biggest fashion communities has revealed he only spends $40 (£31.70) on clothes each week. His secret? Charity shops

Joseph Knowles

16/22 Topshop is launching a bridal collection

High street favourite Topshop looks set to bring you the wedding dress of your dreams at a fraction of the price. Hitting stores in April, the brand's debut bridal collection is expected to include wedding and bridesmaid's dresses, accessories and lingerie.

17/22 Why the fashion industry is obsessed with ugly shoes

From pool slides to Crocs, it seems that every season there's a new "ugly" shoe to be coveted by the more adventurous fashion crowd

18/22 Converse redesigns its classic Chuck Taylor All-Stars shoe for Millennials - this is what it looks like

It might be one of the most iconic shoes ever made but alas, even the Chuck Taylor All Star has to evolve in order to keep up with the fast-pace of the sneaker market

19/22 Simon Helberg and Jocelyn Towne

The Big Bang Theory actor Simon Helberg and his actress wife Jocelyn Town decided to use their red carpet appearance at the SAG awards in Los Angeles as a mark of protest against Donald Trump's travel ban.

Getty

20/22 Alexandra Shulman leaves Vogue

The editor-in-chief of British Vogue Alexandra Shulman has announced she is leaving the publication after 25 years.

Getty Images

21/22 Bernie Sanders inspires Balenciaga 2017 menswear range

Balenciaga debuted their Fall 2017 menswear collection in Paris on Wednesday and people could not help but notice that a certain 2016 political figure may have inspired their latest work. As the models strode down the catwalk, several of them wore sweatshirts, bomber jackets and scarves featuring a 'Balenciaga 2017' logo which had a striking similarity to that used by Bernie Sanders during his campaign for the Democrat candidacy last year.

Getty Images

22/22 Hanne Gaby Odiele comes out as intersex

The model Hanne Gaby Odiele has come out as intersex. 'Intersex' is a term which can be used to describe people whose anatomy differs from what can be assigned as typically male or female. For example, genitals may seem ambiguous to doctors at birth or this might happen during puberty.

Getty Images
The woman encouraged any else feeling "gobsmacked and raging" by the sweatshirt – which is currently selling for £4 as part of their George childrenswear range – to complain to the supermarket giant.
She also brought up the issue of gender identity saying the jumper presupposes gender is binary.
In response to the post, an Asda spokesperson said: "Our aim is to make clothes people love, never to offend."
Reuse content