A miniature army of black trompette mushrooms awaits its fate on a blue cloth as a chef picks over them. One is held up for inspection – a wisp of black velvet with a perfectly furled stem. Another chef – me – selects our best-looking sourdough. Nearby, Robin Gill, head chef and owner of The Dairy restaurant in Clapham, south London, paces while eyeing the pans arranged on the stove. He has cancelled his plans for today. Cancelled, because Alain Ducasse has just sat down for lunch. For Gill, this is "like having the chance to cook for Escoffier" – the grandfather of French cuisine.​
The 59-year-old French chef has 23 restaurants in seven countries, including two in London, and a total of 20 Michelin stars. He also runs cookery schools, has written numerous cookbooks, and last year he even devised a menu for the International Space Station (bon app, Tim Peake!). Back in The Dairy kitchen, seven chefs flock around each plate as it leaves the pass. Later, an excited murmur ripples through the kitchen: Ducasse liked it. That night I, the novice, hatch a plan to win an audience with the master.
Two months of badgering later, I'm perched on a stool at our sister restaurant The Manor, also in Clapham, nervously flicking through my questions: on the industry, his opinion on the current chef shortages in the UK, how he feels about women in kitchens, and how much cooking a chef with 23 restaurants actually does.
Food and drink news
Food and drink news
1/27 Food School

Kids celebrate Food School graduation with James Martin – a campaign launched by Asda to educate young people on where food comes from. New research has revealed that children across the UK just aren't stepping up to the plate when it comes to simple facts about the food they eat – with almost half of children under eight not knowing that eggs come from chickens

RichardCrease/BNPS

2/27 'Do-It-Yourself' restaurant

To encourage more people to cook and eat together, IKEA has launched The Dining Club in Shoreditch – a fully immersive 'Do-It-Yourself' restaurant – which will open its doors from 10 - 25 September 2016. Members of the public can book to host a brunch, lunch or dinner party for up to 20 friends and family. Supported by their very own sous chef and maître de, the host and their guests will orchestrate an intimate dining experience where cooking together is celebrated and eating together is inspirational

Mikael Buck / IKEA

3/27 Ping Pong menu with a twist

Gatwick Airport has teamed up with London dim sum restaurant Ping Pong to create a limited edition menu with a distinctly British twist; including a Full English Bao and Beef Wellington Puff, to celebrate the launch of the airport's new route to Hong Kong

4/27 Food photography masterclass

To celebrate the 2016 Sony World Photography Awards, photographers share tips on how to create an award winning food photography using the full-frame, palm-sized interchangeable lens Sony α7R II camera. A series of stunning food photography images capture the exquisite, mouth-watering detail of the dinner table close up. Tapping into the growing trend of food photography, renowned food photographer Hugh Johnson has shared his step-by-step guide to capturing incredible gastronomic imagery. Winning and shortlisted photographers will be exhibited at Somerset House from 22 April – 8 May

5/27 Zizzi unveil the Ma'amgharita

Unique pizza art has been created by Zizzi in celebration of the Queen's 90th birthday. The pizza features the queen in an iconic pose illustrated with fresh and tasty Italian ingredients on a backdrop of the Union Jack

6/27 Blue potatoes make a comeback

Blue potatoes, once a staple part of British potato crops, are back on the menu thanks to a Cambridge scientist turned-organic farmer and Farmdrop, an online marketplace that lets people buy direct from local farms. Cambridge PhD graduate-turned farmer, Adrian Izzard has used traditional growing techniques at Wild Country Organics to produce the colourful spuds, packed with healthy cell-protecting anthocyanin, which had previously disappeared from UK plates when post-war farmers were pushed towards higher-yielding varieties

7/27 France plans to usurp Scotland as the home of the world's best whisky

France is planning to usurp Scotland's reputation as the home of the world's best whisky, fired by a growing national obsession with the drink. According to a study by retail consultants Bonial, the French drink more whisky than any other country – an average of 2.15 litres a year, compared to 1.8 litres in second-placed Uruguay and the US in third on 1.4 litres

Bloomberg via Getty Images

8/27 Chocolate-filled extravaganza

The London Contemporary Orchestra prepares for one of a kind performance in iconic St Luke's in Old Street. After unique collaboration with Cadbury Dairy Milk they've produced an incredible multi-sensory live event, which will go ahead on 23 February, pairing the sound music with the taste of chocolate (the event is free to the public!)

© Jane Stockdale, © Jane S

9/27 Creme Egg Cafe in London

The Cadbury Creme Egg cafe has opened on Greek Street in Soho, London and it welcomes everyone on the weekends, until 6 March 2016. The menu offers most delicious creme egg toasties and cakes and you may want to jump in to the ball pool for some more fun (available for children and adults!)

Cadbury Creme Egg / Joel Anderso

10/27 Cronut inventor Dominique Ansel to open first bakery in London

The inventor of the Cronut – a croissant and doughnut hybrid – is set to launch his first bakery in London. Dominique Ansel announced that his eponymous bakery will open at some point in 2016 on Instagram by posting an image of one of his famous pastries decorated with a Union Jack flag. The chef said he was "thrilled" about his new venture

11/27 Eating cereal may not be the healthiest way to start the day

The old saying goes that breakfast is the most important meal of the day, so many of us do as we are told and grab a bowl of cereal before we head out the door. But an expert has warned that while many cereals boxes claim their contents are the perfect start to the day, many are packed full of sugar and carbohydrates with little nutritional value. Even some seemingly-health muesli cereals have a lot of added sugar in the form of honey, malt, molasses, dried fruit or "even fruit juice"

Getty Images

12/27 Alton Towers Resort launches the UK's first Rollercoaster Restaurant

For guests seeking a dining experience with a twist, Alton Towers Resort launches the UK's first Rollercoaster Restaurant, brand new and opening in May 2016. The new restaurant is set below a vast rollercoaster track where diners can watch as their order tackles two gravity defying loop-the-loops before dropping 8m/26ft down the tornado spiral to their table. To ensure that the menu is up to the challenge, each of the dishes will be put through its paces at the Resort's extensive test centre to guarantee that each one can withstand the force

13/27 'Heat map' shows which areas of Britain enjoy the spiciest curries

After Bradford was named the Curry Capital of Britain for the fifth year running, a map has been released showing which regions of Britain enjoy a spicy curry and which prefer the milder variants. According to the map developed by Hari Ghotra, Kent, Essex, West Yorkshire and Lancashire are the heat-handling kings of Britain, while Scotland, Northern Ireland and Wales all prefer milder curries. The data was collected by monitoring the location of social media posts that mentioned names of curries. These were then given a spice rating and were then collated to give each area a score out of 1000

14/27 Peckham-based business develops 'first hangover-preventing meat'

Victorians threw cold water over themselves, Native Americans licked their own sweat and Ancient Egyptians would cast spells on their beer. These days, the office barfly is more likely to be seen sipping an Alka-Seltzer the day after the night before. But the hangover-treatment industry is now reported to be worth billions, so it's no wonder everyone from big pharma to quirky hipster start-ups are inventing new and enticing ways to cash in on the painful headaches and slumps in productivity – starting by preventing hangovers in the first place. One of the latest miracle cures to hit the shelves in 2015 is salami. Serious Pig, a Peckham-based craft meat business, has developed what it calls "the world's first hangover- preventing meat treat"

15/27 French cheese under threat from mass production and 'bacteriological correctness'

Search where you will in the most exclusive cheese shops in France and you will no longer find a bleu de Termignon, a vacherin d'Abondance or a galette des Monts-d'Or. They are among 50 species of French cheese to have vanished in the past four decades. The survival of French cheese made in the traditional manner with lait cru or raw, unpasteurised milk, is threatened by the "bacteriological correctness" of European and national food safety regulation

16/27 Non-alcoholic cocktails are seriously chic

We are living through a new era of creative, non-alcoholic drinks that go way beyond a coke or sweet mocktail. The world is becoming more health conscious. There's the war on sugar, and teetotalism is on the rise, with more than one in five not drinking at all (especially young adults), according to The National Statistics for Adult Drinking Habits. This abstinence is even more pronounced in London, with almost one in three turning away from alcohol. An increasing number of mixologists are applying their talents to the creation of non-alcoholic drinks that taste as good as their boozy alternatives

17/27 Japanese whisky crisis

Suntory's chief blender Mr. Fukuyo San blends component whiskies to create Suntory Yamazaki Distiller's Reserve, a blend of young and old single malts. Japan's warm climate and varied seasons makes it perfect environment to age and blend whiskies, creating subtle, refined and complex expressions.The recent trend for Japanese whisky has put the spirit on the verge of a global shortage

18/27 Crisps made with real ingredients

Michelin starred chef, Simon Rogan in action cooking a menu inspired by the provenance ingredients in the new Chef's Signature range from Kettle Chips. Kettle Chips, the nation's favourite premium crisp brand, has launched the new range of crisps with exciting new seasonings, made with the highest quality food ingredients rather than chemicals or artificial flavours

19/27 The price of an avocado is set to rise

Britain's avocado coulovers are facing a significant increase in the cost of their favourite salad food because the so-called superfood is becoming too popular. High demand from health-conscious consumers has led Peru to triple its avocado exports since 2010, with exports to the UK up 58% over the past year

20/27 Burger King to sell alcohol in the UK

Burger King could become the first fast food chain to sell alcohol in its UK restaurants. The popular eatery plans to sell American beers in plastic bottles from this month onwards. The beverages are only to be consumed on restaurant premises

21/27 Guinness to become vegan-friendly

Guinness is set to become vegan friendly for the first time in its 256-year history, as the company announced its plan to stop using fish bladders in its filters

22/27 Why the salmon on your plate might not actually be salmon

Salmon that ends up on the dinner table may not be salmon at all, a study has suggested. The problem of salmon mislabelling has become an increasing issue in the US in the winter months, according to American research published by Oceana. The findings show that 43 per cent of the salmon tested was mislabelled – the most common instance of this being when farmed Atlantic salmon was sold as wild salmon

23/27 McDonald's launches 'premium' burger range

Fast-food chain McDonald's is throwing its hat into the UK's gourmet burger ring after launching its Signature Collection. The premium burgers, which feature the restaurant's thickest ever beef patty made from 100 per cent British and Irish beef, were made available in 28 restaurants in London and the South

24/27 Additives in popular chicken nuggets

Ingredients, a new book co-created by photographer Dwight Eschliman and food writer Steve Ettlinger distils 25 products, including popcorn, Red Bull and chicken soup, focusing on 75 of the most common food additives and revealing what each one looks like, where it comes from and why it is used. McDonald's chicken nuggets were found to contain 40 different ingredients. These included dextrose, a sugar also used by shoe makers to make leather more pliable, and corn starch, used for thickening food as well as also being a substitute for petrol

25/27 New Zealanders are behind a lot of the interesting food and drink stuff happening in the UK

Dark beers are more suited to cold months, so the thinking goes, but in one part of the world they're always popular. "Lots of breweries in New Zealand have got stouts and porters among their best sellers," says Stu McKinlay, one half of the duo behind Wellington brewing company Yeastie Boys. McKinlay recently swapped Wellington for west Kent in order to launch Yeastie Boys in the UK, and he's joined forces with four other breweries (8 Wired, Renaissance, Three Boys, Tuatara) as part of the New Zealand Craft Beer Collective, to promote his country's finest over here

26/27 How dangerous is a bacon sandwich

A recent WHO report warning that processed and red meats can cause cancer may have left you thinking a little harder about whether to pick up that bacon butty for breakfast or ditch a beef-filled Bolognese for dinner - but how worried should we be? The review of 800 studies for the International Agency for Research on Cancer (IARC) prompted global health experts to cast processed meats - including bacon, ham and sausages - into the ominous-sounding list of group 1 carcinogens, where they joined formaldehyde, gamma radiation and cigarettes. Eating just a 50g portion of processed meat – or two rashers of bacon - a day increases the risk of bowel cancer by 18 per cent, the experts concluded

27/27 Best UK fish and chip shops revealed in 'Oscars' of fish-frying industry

Devon, Norfolk, Yorkshire and Somerset offer the best fish and chips in the UK, according to the 2016 National Fish and Chip Awards. Selected from a shortlist of 10 semi-finalists, Hanbury's Famous Fish and Chips in Babbacombe, Devon; No 1 Cromer in Cromer, Norfolk; Papa's Fish and Chips in Willerby, East Yorkshire; The Scallop Shell in Bath, Somerset; and Trenchers Restaurant in Whitby, North Yorkshire have been declared the best restaurants serving the traditional English dish
A sleek black car pulls up and Ducasse hurries in, dressed in a sharp grey suit. He has come straight from the airport and has a packed schedule in London, visiting his own restaurants and dropping in on the Chelsea antique shop Bentleys (to pursue his hobby, collecting vintage luggage and travel trunks). He surveys the restaurant and is immediately curious about the artwork and furnishings. He fires the first questions: "Where are they from? How do we source them?" (Ducasse prefers to conduct interviews in his native French; as my questions and answers are translated, I interject in my mediocre French.)
We are meeting not long after the Paris terrorist attacks of 13 November, and talk turns to his pride in the restaurant industry's response to the atrocity. "I was in New York a week after the 9/11 attacks," he says, "and the atmosphere was the same in Paris afterwards. We must continue living our lives as normal. No one has the right to change our destiny," he states, with no little passion. A few days after the Paris assault, in a pointedly Parisian show of solidarity, he had organised a lunch for some big political figures at the Eiffel Tower. Though, he adds, "There were more security personnel than diners."
Such a display of support was the loyal act of a figurehead of French cuisine. Yet Ducasse has endured criticisms that his empire – a term he bristles at – has long prevented him from spending enough time behind the pans. His longstanding response is that he had plans to get out of the kitchen by the time he was 28, following a plane crash in the French Alps, of which he was the sole survivor."The pain and suffering I endured turned out to be a starting point in the way I envisaged my work as a chef," he says.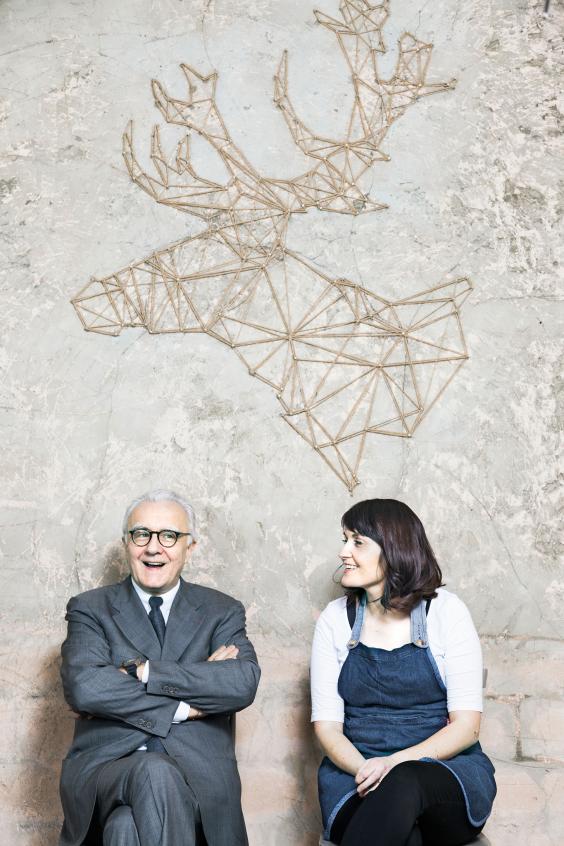 Following his rehabilitation from severe injuries, he began to delegate the cooking on a daily basis to his chefs. "It opened up a way I did not see before: the possibility of running high-end restaurants in different locations simultaneously." Ducasse swiftly went on to become the youngest chef to win three Michelin stars, aged 33; in 2006, he became the first chef to win three stars in each of three restaurants.
It might never have come to pass: had Ducasse's mother had her way, he would still be in south-west France, running the farm where he grew up. When he announced at a young age that he wanted to cook, she sent him to train in local routiers (road restaurants), hoping that the harsh reality of cooking might deter him. One of his earliest memories of kitchens is of plucking turkeys for Christmas when he was 16. He laughs at the recollection. "The harder it was, the more I simply wanted to cook." When he went to hospitality school in Bordeaux, he left before the end of the course and started working in restaurants: "I wasn't learning quickly enough."
I'm also a chef at the start of my career, and keen to learn about his view of women in the traditionally macho environment of kitchens. Several of Ducasse's head chefs are female, of whom he speaks very highly: "It has always k been important for me to have women in my restaurants, both front and back of house." The Michelin-starred Hélène Darroze, head chef at the Connaught in London, trained under him at the Louis XV restaurant in Monaco, and was encouraged by him to begin working in the restaurant kitchen. "Two of my head chefs are female. Laetitia Rouabah at Allard, perpetuates the legacy of Marthe Allard – a 'mother cook' who founded the restaurant in 1932 – and brings it up to date aptly. At the helm of Benoit, one of the last authentic Parisian bistros, we have Fabienne Eymard. Both maintain the traditions and bring their touches to those places."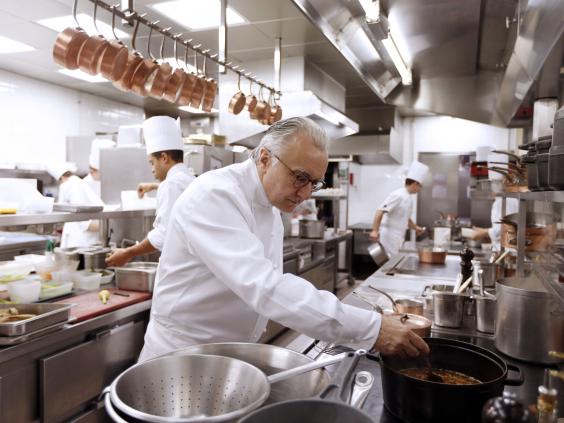 In 2011, Ducasse established the Femmes en Avenir (Women of the Future) programme in association with the French government to encourage women in the outskirts of Paris to earn a culinary diploma and then into relevant employment. Ducasse points out that cooking itself is a "social ladder" and that regardless of background, "anyone can start as a commis and become a successful chef".
Provided, that is, that they are willing to work hard enough. "This difficult trade", as Ducasse calls it, is often portrayed unrealistically in TV shows that claim to reveal the working life of restaurants. "Beyond the glamour, one must not forget that our trade is very demanding," he says. "But cookery shows can reactivate the desire for young people to be part of this adventure."
What's more, Ducasse believes these shows could help combat the current shortage of chefs in the UK: according to reports at the end of last year, there has been a drop in the number of students enrolling in chef courses. If the trend continues, it's thought there will be a shortfall of 11,000 chefs by 2022.
Given the relentless nature of the restaurant trade, how does he remain motivated after so many years? An obsession, he tells me, with talent and diversity. By way of example, Ducasse starts enthusing about a Japanese chef he met two years ago, Toshio Tanahashi, an expert in shojin cuisine, a vegetarian Buddhist tradition. Ducasse invited Tanahashi to work at his restaurant at the Plaza Athénée hotel in Paris to learn from his techniques and, indeed, pass on his own. "We wanted to capture a few characteristic flavours, such as tofu and seaweed. Some elements of Japanese cuisine were retained by integrating them into our own vision and culinary culture."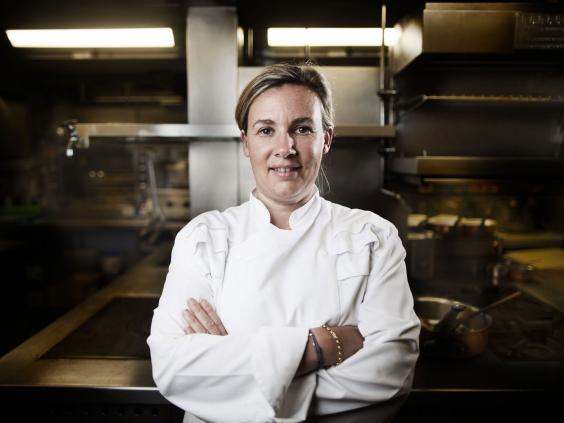 Still, Ducasse is often viewed as a chef most interested in cooking up new business ventures. In other interviews, I find little detail about how he actually now enjoys cooking. He insists it remains his "hobby" and, at home, "I am both the chef and the commis." At his country house in the Basque region of France, he says he has the time at weekends to seek inspiration from his local market and cook with his favourite ingredients: vegetables from his garden and "freshly caught fish straight from the boat".
In fact, fresh fish and veg are now the predominant ingredients on the menu at Athénée. It was big news in the world of fine dining when Ducasse announced in 2014 that the restaurant would be refurbishing, and reducing the number of meat dishes it would serve. When it reopened, Michelin removed one of its three stars. Can haute cuisine retain its cachet, I ask. Ducasse replies by drawing a parallel between fine dining and haute couture: "Each is a window to their industries," he says, "creating interest and setting trends."
Nevertheless, he adds, his restaurants are a portfolio of fine dining and bistro cuisine. And the one venture that Ducasse will tell me he has in store for 2016 ("I have many, many plans – too many") is a bistro, in the Les Halles neighbourhood of Paris.
Time is pressing and his restaurant at the Dorchester beckons. If he hadn't been a chef, he would have been an explorer and architect, he tells me: "[Now] I get to do all three." I ask him when he might stop. He smiles… "I guess I will keep doing this for as long as I can." Before leaving for his restaurant, he invites me to visit and stage (do kitchen work experience) at the Plaza Athénée. Who can say no to the master?
Reuse content