The sweet treat
Cronuts and Crosstowns, move aside. The kouign-amann (pronounced "queen a-mahn") is the latest sticky baked bite to cause a frisson. Over the pond, it's become famous thanks to cronut creator Dominique Ansel in New York. In Britain, The Great British Bake Off is responsible after it appeared on the series last month. It's an obscure Breton bread-dough cake made with lashings of butter and sugar. Now it's launched in M&S, £2.50 for two.
The chocolatier
On every sweet-toothed person's calendar is chocolate week, which begins tomorrow (chocolate week.co.uk). Names to look out for are Lincolnshire's bean-to-bar stalwarts Duffy's; Suffolk's new kids on the block Pump Street Bakery; and chocolatier alchemist Paul A Young (Stilton and port chocs and Marmite brownies are just two of his creations). For those willing to risk chocolate overdose, cocoa nirvana can be found in a one-off, five-course meal hosted by Valrhona Chocolate School chef Frédéric Bau. Langoustine with Valrhona's 66% Pur Caraibe dark chocolate is just one delicacy on offer at the Shangri-La Hotel dinner at the Shard on 31 October (£70 per person, 020 7234 8000).
The Halloween dish
The most heady pumpkin recipe of 2014 is Yotam Ottolenghi's bread and pumpkin "fondue" from his recent Plenty More (£27, Ebury). In a pan he warms cream with wine, a crushed garlic and nutmeg for a few minutes. Then he mixes chopped pumpkin and equal amounts of Gruyère and Emmental with a pinch of mustard powder in a gratin dish, pours over the cream and bakes for 45 minutes, covered with foil. To finish, he presses in chunks of toasted sourdough and more cheese, and bakes for 15 minutes more.
The foraged goodie
Hallucinogenic variant aside, autumn's wild mushrooms are magical. Chef James Golding at The Pig hotel in the New Forest specialises in a 25-mile-radius menu with a wild-mushroom soup, among others. The hotel currently offers foraging courses (thepighotel.com). The Ritz's executive chef, John Williams, meanwhile, has these tips for the perfect ceps on toast: "Clean and cut, then sauté with a little butter and garlic and a few spoonfuls of meat jus. Finish with fresh parsley. Spoon the ceps on to fresh toast and top with fluffy scrambled egg."
The Latin American influence
Day of the Dead, the Mexican skull-pimping brouhaha, lasts from 1 to 2 November. To coincide, Mexico: The Cookbook (£29.95, Phaidon) lands with a thud on 27 October. From tamales and fajitas, sopes and moles to evocative dishes such as Divorced Enchiladas and Day of the Dead Bread, there are 650 recipes by Margarita Carrillo Arronte, the Delia Smith of Latin America.
The cure
DIY lovers should make the pilgrimage to Somerset's Empire Farm Smokers' Christmas smoking and curing course on 7 December. Taught by charcuterie king Marc Frederic, punters take home half a side of salmon cured as gravadlax and a piece of pork in wet cure to finish for Christmas, as well as tasters (£145 for the day, empirefarm.co.uk).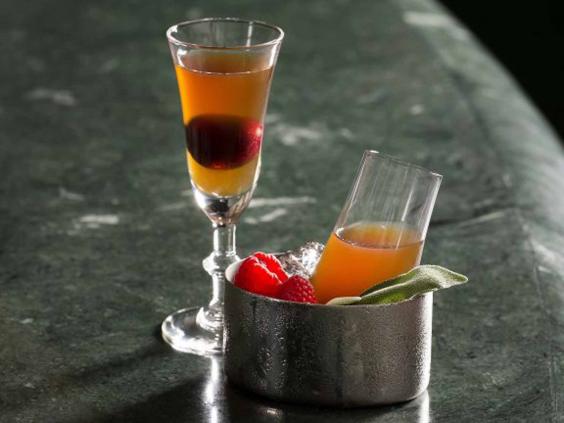 The drinking den
For barflies, one of Britain's raciest openings is the highly touted Ryan Chetiyawardana's Dandelyan in the new Mondrian hotel on London's South Bank. Try his beer cocktail, The Evil Manhattan, which comprises a botanical beer "vermouth", bonded rye and bitters.
The cheese
Autumn's hottest seasonal cheese is the much-anticipated unctuous Vacherin Mont d'Or, ripe for devouring now (£12.95 for 500g). Fromage lovers should also try the fully matured, rich, creamy and rounded Young Buck's Blue (£6.95 for 250g; both cheeses available from thecourtyarddairy.co.uk.)
The café
Ever since the forefathers of cycling cafés Look Mum No Hands expanded to three sites in London, inspired copycats have sprouted across the capital. Now the concept spreads beyond. Cue Brighton train station's Cyclist Refreshment Room, "a comfortable respite from the hassle of travelling", according to founder Rupert Clevely. Expect a chain soon.
The workshop
Domestic jelly aficionados can learn from Bompas & Parr, which opens its doors for a half-day course exploring the mysteries of jelly on 29 November (£75 per person, bompasandparr.com). They'll teach you their quivering secrets, "from creating veritable galaxies within desserts to how to unmould with confidence" – and it all culminates in a feast.
The game
As days shorten, game is for guzzling. In November, M&S will sell wild rabbit, pheasant fillets, partridge and pigeon breasts, while acclaimed chef Vivek Singh's new book, Spice At Home (£25, Absolute), has a sublime guinea- fowl recipe, char-grilled with peanut sauce. He marinates the bird's breasts in lemongrass, chilli powder, ginger and garlic paste, lime leaves and lime juice then grills them on skewers for 5 to 6 minutes, before serving with a peanut sauce of Thai red chillies, ginger, garlic cloves, coconut milk, soy, sugar, lemon and blended, toasted peanuts.
The seafood
Lobster-roll fever shows no signs of abating. Attracting queues around the block when the first Burger and Lobster opened, the Goodman group is simplifying the trend further. Ditching the turf, it opens its first lobster-only deli in Mayfair's Duke Street next month – and its first Stateside Burger and Lobster bar in New York this fall.
The posh staple
Perhaps the most interesting of any fry-up gentrification is the advent of posh baked beans. Proper Beans (£4.75 for a 330g tub, properbeans.com) has now come to the poshest of purveyors, Fortnum & Mason. Moving beyond tins, the company offers fresh versions; smoked bacon and English mustard, and British fava beans and smoked pork collar among them.
The wine sampling
The only wine car-boot sale in Britain was held six months ago. The uninitiated and hardened oenophiles alike sat at trestle tables to eat and quaff rare and interesting vinos from merchants' vans. Hooray, then, for this November's repeat (winecarboot.com). Tickets are £10 for the first five samples, a Govino tasting glass and a six-bottle wine carrier.
The festival
The Belfast Food and Drink Show features chefs such as John Torode and Rachel Allen (24-26 October, foodanddrinkshowni.com); while a highlight at the London Restaurant Festival (londonrestaurantfestival.com, on until 27 October), is the cicchetti (Italian "tapas") trail.
The fruit
Yuzu, the bijou citrus fruit, is a menu must-order. Spot it at the Modern Pantry in the guise of hollandaise; at Sushisamba in a kanpachi tiradito (Peruvian raw fish) with black truffle oil; at L'Atelier London, where Joël Robuchon has been serving an irresistible lemon bubble with yuzu marshmallow; and at the Serpentine's Magazine restaurant, where there's a yuzu tartlet on offer.
The diner
In mid-November, foodie favourite Smokehouse's culinary maestro Neil Rankin opens Bad Egg (nobleinns.co.uk). The City spot "was designed around the idea of a diner, blending in Asian, Indian and North African flavours", says Rankin. "The menu has a sense of balance and seasonality that sets it apart. That and the fact that our head chef comes via Per Se, The French Laundry and Le Manoir."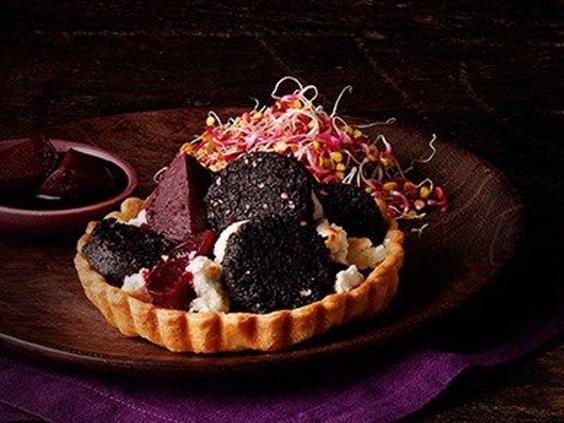 The Scottish element
If you think haggis is just for Burns Night, think again. Edinburgh's Macsweens (macsween.co.uk) has wild-boar haggis, Moroccan spiced vegetarian haggis and a chocolate-and-chilli black pudding until Christmas. It has a natty slider recipe to boot: mix pork mince, wild-boar haggis, chopped parsley and sea salt. Form balls. Rest for four to six hours in the fridge. Cook. Serve in mini-burger or brioche buns. (£4.99 for 227g, Booths and Selfridges.)
The Scandi factor
Heard of smoked kelp? Recently made available from Scandi Kitchen (£4.50 for 10g, scandikitchen.co.uk), it's already a much sought-after ingredient. Trend-setting chef Ollie Dabbous has developed a barbecued leg of lamb with smoked kelp recipe: "We salt the leg, then slow-cook it before grilling over hot coals, rubbing with garlic and rosemary, and thinly slicing. It is served with lightly pickled sea vegetables, calamint leaves and flowers, roast aubergine and smoked kelp."
The nut
Raw, the humble acorn is toxic; prepared by an expert, it's a thing of beauty. Cocktail king Tony Conigliaro's (69colebrookerow.com) latest magical libation is an autumnal Kir Royal with an acorn cordial. He pours 15ml of acorn liqueur into a champagne flute, with a dash of oak bitters and 125ml of champagne. Ollie Dabbous's new cookbook (£50, Bloomsbury), meanwhile, recommends barbecued pork with savoury acorn praline.
Reuse content