On a damp January evening, the diners who are bundling into the steamed-window warmth of the Edinburgh Food Studio have no idea what they are about to eat. Wide-eyed in candlelight and crammed around communal tables, as the first plate arrives they are still none the wiser. 
"We do not publish our menu. Our four-course tasting menu is a real-time creative response to seasonal ingredients," says the website. Which might sound like a sweaty-palmed MasterChef challenge or the word-made-flesh in terms of the local, seasonal, sustainable ethos – or just downright disorganised. One advantage of advertising spontaneity is that you can add extra dishes on a whim to showcase whatever the rummage around the market has unearthed. I count seven. 
For the diners, it's a leap of faith, a gastronomic adventure. It might be the antithesis of the planned and painstakingly perfected Michelin-starred approach, but the dishes delivered with a flourish look anything but hastily thrown together. They are exquisite, from the tiny morsel of chestnut pâté on a mini oatcake with thyme and gorse flowers to the plate of brassicas: an artistic arrangement of red cabbage, cavolo nero (a cousin of kale), Brussel sprouts, curly red kale, turnip, sauerkraut and a mustard vinaigrette – one of the prettiest ways to get your five a day. The Basic Bitch celeriac, meanwhile, is unidentifiable, roasted with turmeric, garlic sauce and bitter cress into a soft, melting mouthful. 
It's not the first time the idea of the "menu" has been tampered with, of course. At Aizle in Edinburgh (aizle.co.uk), diners are given a list of ingredients with no further clue as to how they will be grouped together – make sure you have Google to hand to decipher the more obscure names. 
The Edinburgh Food Studio (edinburghfoodstudio.com), a crowd-funding success story, doesn't stop at messing with the menu. Set up by young chefs Ben Reade, who for three years was the head of research and development at the Nordic Food Lab in Copenhagen, and his partner Sashana Souza Zanella, an anthropologist and chef from Montreal, it plays with our preconceptions. A sometimes-restaurant (Thursday to Saturday), sometimes-culinaryclassroom, it's a gastronomic chameleon. 
"People tend to categorise food businesses too much," Reade explains. "You're either a café or a bistro or a cooking school. That's boring." Which is why their plan is to juggle running a restaurant with guest workshops and researching Scotland's food heritage. 
"We're nerds at heart," Reade explains. Both graduates of the University of Gastronomic Sciences in Italy, Reade delivered a paper at the Food on the Edge symposium in Galway in Ireland last year, and their plan is to plough half of their profits back into research.
"We were scared at the beginning that people weren't going to 'get' the project," Souza Zanella adds. "People couldn't put us in a box. A restaurant is open five nights minimum. And the island in the middle of the room – it's not like a restaurant. It's purpose-built for a mix of activities. People are slowly understanding."
Collaboration is also key. Guest chefs so far have included Gary Goldie, who, after 25 years in the kitchen, became a full-time forager. Nobody could believe the wild food available in the depths of winter, Souza Zanella tells me. Each plate featured around eight foraged ingredients from scurvy grass to woodruff and lady's smock. As a business model, she thinks it's the way forward. "A company that has a lot of diversity is more sustainable." 
Their focus on research is in line with a growing back-to-the-future trend in Scotland, looking to the country's food heritage, the traditional recipes and forgotten ingredients to create something refreshingly modern. In Glasgow, Craig Grozier's Fallachan Nights in Studio 93 (fallachandining.co.uk) is another multipurpose space hosting "guerilla bespoke dining experiences". His philosophy is "local, seasonal, wild and progressive", his dishes include herring in oatmeal, gooseberry beer and dill and clootie dumpling with burnt spruce trunk vinegar, and have one foot in the past, the other sprinting forward. He will be guesting at the Edinburgh Food Studio at the end of February, leading a nose-to-tail event.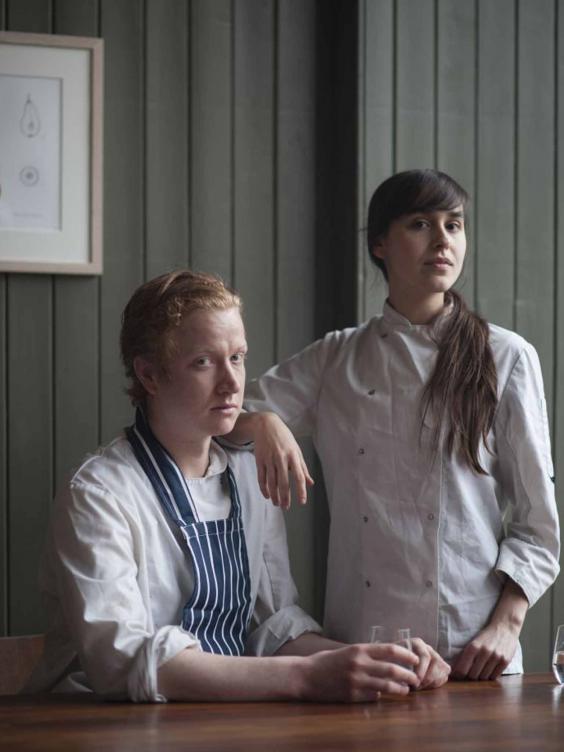 They've called it nose-to-tail, Souza Zanella explains, so they don't scare people away. Fish offal can do that. "The whole animal can be eaten. So why don't we eat it all? A lot of fishermen throw half of the fish back into the sea. In other countries they use the guts to make fish sauce and the fish liver for a kind of foie gras." It's another nod to sustainability.
Lewis-born chef Murdo Alex Macritchie, meanwhile, is also delving into the archives, resurrecting forgotten Gaelic dishes, refining them and giving them a modern slant for his pioneering "New Hebridean" cuisine. Currently Claudia Schiffer's private chef, he has just launched Haar, a series of pop-up 13-course supper clubs (details on Facebook). Think "peat smoked potato, pickled radish, smoke", alongside "cured wild rabbit loin, salt baked turnip, prune and sour grape juice, pine oil". The next, at the end of March, is in the state-of-the-art National Trust Battle of Culloden site near Inverness. 
"I grew up eating a lot of traditional Hebridean food such as salt fish and meat," he says. "Fried cudaig and herring, fresh vegetables from the croft, duff (clootie dumpling) and, of course Guga, a salted young gannet eaten mainly by the Ness folk of Lewis. I wanted to create a style of food that had its own unique identity showcasing the amazing natural larder of the Hebrides and fusing traditional cooking methods with more modern techniques." 
His experimentation can be seen in the "Ceann Cropaig cracker, crab & rapeseed oil", based on the classic island dish, Ceaan Cropaig: fish liver mixed with oatmeal cooked inside a cod's head. Macritchie reinvents it making a porridge with pinhead oatmeal, using fish stock from boiling the head and adding the liver, brown crab meat and cream. Spreading the mixture thinly, he dehydrates it to make crackers with an intense Ceann Cropaig flavour, which are then topped with a mayonnaise made with rapeseed oil, mussels, fresh white crab meat and wood sorrel.
Reade is keen to point out that their research isn't solely focused on historical influences. "It is a look to the past but it's also a look to the geography and the climate, which is what defines our agriculture and therefore the food available to us." 
Food trends in 2016
Food trends in 2016
1/11 Celeriac root

We had a kale obsession in 2015, but 2016's vegetable sine qua non is predicted to be the knobbly celeriac root. Celeriac milk (Tom Hunt at Poco in Bristol serves it with winter mussels and wild water celery), celeriac cooked in Galician beef fat (from Adam Rawson of Pachamama, hot new chef in the capital) and salt-baked celeriac (to be found in Matthew and Iain Pennington's kitchens at The Ethicurean in the West Country) are just a few examples.

Getty Images

2/11 Middle Eastern food

The Middle Eastern Vegetarian Cookbook (£24.95, Phaidon) by grand-dame Salma Hage, author of the bestseller The Lebanese Kitchen (whose halva is pictured here), is out in April

© Liz & Max Haarala Hamilton

3/11 Non-alcoholic cocktails

Grain Store mixologist Tony Conigliaro has created Roman Redhead, a riot of red grape juice, beetroot, pale ale and verjus, and Rose Iced Tea (black tea, rose petals, anise essence, pictured here)

4/11 Gin

The discerning will be slurping Hepple gin – from chef Valentine Warner and cocktail guru Nick Strangeway – which is punctuated with bog-myrtle nuances

5/11 Argyll and Bute

Restaurant followers are getting in a froth about Pam Brunton in Scotland, who opened the Inver restaurant in Argyll and Bute to acclaim last year

6/11 Andy Oliver's Som Saa

One of the most eagerly awaited restaurants of 2016 will be the permanent incarnation of Andy Oliver's remarkable pop-up Som Saa opening very soon in east London. Oliver, who worked at Thai god David Thompson's Nahm in Bangkok, raised a whopping £700,000 through crowdfunding, and is renowned for his piquant Thai flavours and obsessive attention to detail, including in his home ferments and DIY coconut cream

© Adam Weatherley

7/11 Venison

Another ruminant in vogue is venison, with Sainsbury's doubling its line for 2016. It provides a protein-packed punch, with B vitamins and iron, and it's low in fat. Its entry into the mainstream is in part thanks to the Scottish restaurant Mac and Wild, just opened in London, whose Celtic head chef Andy Waugh (who also runs the Wild Game Co) has been touting it as street food for years (his venison burger pictured here)

8/11 Goat

From Brett Graham's The Ledbury to Angela Hartnett's kitchens at Lime Wood Hotel in the New Forest, Cabrito is the go-to goat supplier among the chef cognoscenti (roasted loin of kid pictured here) – but this year, domestic cooks can get in on the action, as Sushila Moles and James Whetlor of Cabrito offer their meat through Ocado

Mike Lusmore / mikelusmore.com

9/11 Coffee

Coffee sage George Crawford is launching the much-anticipated Cupsmith with his partner, Emma. Crawford believes that 2016 is the year purist coffee will finally meet the masses; Cupsmith's mission will be to make craft coffee as popular as craft beer on the high street. The company roasts Arabica beans in small batches, improving its quality – but sells it online, at cupsmith.com, in an approachable way: expect cheerful packaging and names such as Afternoon Reviver Coffee (designed for drinking with milk – no matter how uncouth, most of us want milk) and Glorious Espresso

Julia Conway

10/11 120-day-old steak

Hanging meat for extremely long lengths of time has become an art. In Cumbria, Lake Road Kitchen's James Cross is plating up 120-day-old steak (pictured here). The beef is from influential "ager" Dan Austin of Lake District Farmers, who is currently investigating the individual bacterial cultures that go into this maturing process

11/11 Lotus root

Diners can expect root-to-stem dining - cue the full lotus deployed by the Michelin-starred Indian Benares in its kamal kakdi aur paneer korma

Getty Images
Travelling around the country, meeting farmers, fishermen and producers, listening to the nation's food stories, other issues are thrown up, he says: "'What is Scottish?' is one of the questions we ask regularly. What is traditional and what is endemic? Food in itself is a blend of cultures and we're also looking at the importance of immigrant cultures in Scotland. Things get assimilated gradually so what we choose to call Scottish is open to interpretation." 
Potatoes, for instance. Spuds are a traditional crofting staple, but potatoes originate from Peru. What could be more Scottish than "neeps and tatties"? Or more basic? Yet the Highland Burgundy is a glorious red heritage variety. And the couple recently wowed diners more usually dazzled by the curated plates of Instagram with a simple turnip purée. "People were so shocked. Neep purée just doesn't sound sexy," says Souza Zanella, laughing.
Leapfrogging borders, dabbling with time travel, this is one culinary journey that is guaranteed to be anything but boring.
Reuse content