It's Friday night and I'm in the basement kitchen of the wine critic Jancis Robinson, sampling wines with the woman herself. Wine bottles of all shapes and sizes are piled to the rafters. Some even hang precariously from a chandelier-type sculpture that is fixed to the ceiling. We're supping a Sauvignon. I swish the wine around my mouth, noting the citrusy tingle of it on my tongue. It's delicious and I swallow quickly, raising my glass for a second gulp. Jancis, though, reaches for a spittoon. It's obvious who the amateur is here. 
I'm meeting Jancis, one of the most respected wine journalists in the world, in her home in Belsize Park in north London to find out more about her new book, The 24-Hour Wine Expert, which claims to take ordinary wine drinkers from amateur to expert in just one day. 
The idea for the book, which is aimed at people who like wine but don't know much about it – most of us, actually – came from Jancis's 24-year-old daughter, Rose, who originally planned to write the guide herself after friends repeatedly pestered her for wine advice – a consequence, Jancis thinks, of having a mother who is a prolific wine writer. 
"Rose has friends who love wine and they all had questions," says Jancis. "Which gave Rose – who was at that stage between jobs – the idea that she could write a guide to wine for her friends. She went about it in quite a systematic way. She had focus groups of her friends and kept a record of all the things that interested them and the questions they had."
When Rose landed a new job, Jancis decided to take up the mantle, using Rose's friends' questions and curiosities to write a simple, accessible guide to wine. But is the world of wine ever simple or accessible? "I'm the wrong person to ask, really, because I'm deeply into it," Jancis says. "I see the wine world as all these nice people that I know." 
It wasn't always that way, though. Jancis, who grew up in a little village in Cumbria, tells me that wine wasn't a major part of her upbringing. "People were scared of it and there were a lot more wine snobs around, I think, because it wasn't a democratic drink," she says. "The few people who did know a little bit about it threw their knowledge around and slightly terrorised people." 
It wasn't until she arrived at Oxford University in 1968 to study maths and philosophy that she became interested in the subject. A "stunning" glass of red burgundy changed the course of her life and she hasn't looked back since. "It was Chambolle-Musigny, Les Amoureuses 1959 – a red burgundy that was hugely perfumed and sensually stimulating, but also so complex I could tell there was history, geography and psychology all crammed into the bottle."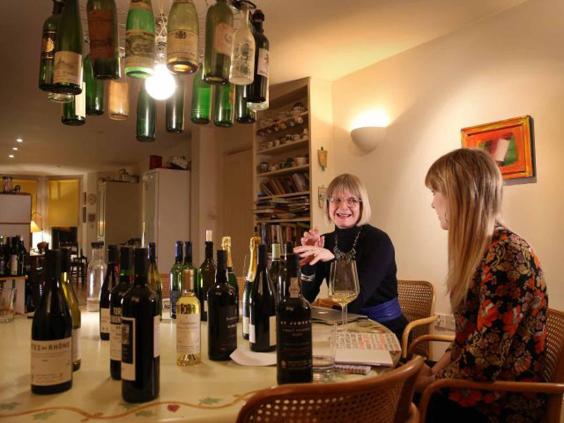 Her new book is aimed at anyone who is interested in wine but doesn't want to buy a huge reference book: it's small, slim, and easily slipped into a handbag on the way to a restaurant or a party. It's not saturated with overly complicated information and its layout makes it easy to flip to the section you want to read – be it matching wine with food, or 10 common wine myths. There's also a glossary of jargon, for anyone who doesn't know their chaptalisation from their carbonic maceration. 
"Wine is relatively complicated," Jancis tells me over a glass of English sparkling wine, which slips down very nicely, although Jancis still has her spittoon handy. "You can get as deeply into it as you want." 
We taste as we talk, with Jancis explaining each wine to me as we go. She even gives me a quick lesson in label reading. "The first thing you would want to see is which region it's from," she says. As well as the region, she points out the name of the chateau, the vintage and the alcohol content. "I always look to see what the alcohol is because it really can make a difference," she says. Apparently, some producers display all of the legal necessities on the back of their bottles, keeping the front free for "pure design". The Italians, in particular, are guilty of this, says Jancis. 
As well as the Sauvignon and the English sparkling wine, we sample a Pinot Grigio and some champagne. Naturally, I swallow all four and go back for seconds (and thirds and fourths). Jancis tells me about the grapes and the vintages, pointing out the relevant details on each bottle's label. 
Jancis hopes the book will be used by groups of friends who want to learn about wine together, almost like a book or supper club. Get a big group together, she says, and each bring a bottle – that way you can taste lots of different wines, making the experience more educational. She recommends providing food, too, to soak up the effects of the alcohol (she doesn't expect everyone to follow her example with a spittoon). She also suggests not inviting anyone who claims to be an expert, because, she says, "they probably won't be and they'll just make your lives a misery". 
Setting and company are more important than price and vintage when it comes to drinking wine, according to Jancis. She tells me her stand-out wine-drinking experience was enjoying a bottle of what she describes as "ordinary champagne" under the stars in Tahiti in the mid to late 1980s. "My husband and I were flying with our two older children when they were little. We stopped in Tahiti and the air hostess for some reason gave us a bottle," she says. "It was at night and I was lying looking at the amazing sky with all those stars, which are quite unlike what you see in England. In a way, that experience was more memorable than any number of posh wine dinners with much grander wine." 
You don't have to pay through the nose when it comes to wine. In fact, the best bottles typically cost between £7 and £20, according to the book. Jancis tells me that if you pay over the odds, you're really just paying for ego – the quality of the wine is unlikely to be any better. 
Food trends in 2016
Food trends in 2016
1/11 Celeriac root

We had a kale obsession in 2015, but 2016's vegetable sine qua non is predicted to be the knobbly celeriac root. Celeriac milk (Tom Hunt at Poco in Bristol serves it with winter mussels and wild water celery), celeriac cooked in Galician beef fat (from Adam Rawson of Pachamama, hot new chef in the capital) and salt-baked celeriac (to be found in Matthew and Iain Pennington's kitchens at The Ethicurean in the West Country) are just a few examples.

Getty Images

2/11 Middle Eastern food

The Middle Eastern Vegetarian Cookbook (£24.95, Phaidon) by grand-dame Salma Hage, author of the bestseller The Lebanese Kitchen (whose halva is pictured here), is out in April

© Liz & Max Haarala Hamilton

3/11 Non-alcoholic cocktails

Grain Store mixologist Tony Conigliaro has created Roman Redhead, a riot of red grape juice, beetroot, pale ale and verjus, and Rose Iced Tea (black tea, rose petals, anise essence, pictured here)

4/11 Gin

The discerning will be slurping Hepple gin – from chef Valentine Warner and cocktail guru Nick Strangeway – which is punctuated with bog-myrtle nuances

5/11 Argyll and Bute

Restaurant followers are getting in a froth about Pam Brunton in Scotland, who opened the Inver restaurant in Argyll and Bute to acclaim last year

6/11 Andy Oliver's Som Saa

One of the most eagerly awaited restaurants of 2016 will be the permanent incarnation of Andy Oliver's remarkable pop-up Som Saa opening very soon in east London. Oliver, who worked at Thai god David Thompson's Nahm in Bangkok, raised a whopping £700,000 through crowdfunding, and is renowned for his piquant Thai flavours and obsessive attention to detail, including in his home ferments and DIY coconut cream

© Adam Weatherley

7/11 Venison

Another ruminant in vogue is venison, with Sainsbury's doubling its line for 2016. It provides a protein-packed punch, with B vitamins and iron, and it's low in fat. Its entry into the mainstream is in part thanks to the Scottish restaurant Mac and Wild, just opened in London, whose Celtic head chef Andy Waugh (who also runs the Wild Game Co) has been touting it as street food for years (his venison burger pictured here)

8/11 Goat

From Brett Graham's The Ledbury to Angela Hartnett's kitchens at Lime Wood Hotel in the New Forest, Cabrito is the go-to goat supplier among the chef cognoscenti (roasted loin of kid pictured here) – but this year, domestic cooks can get in on the action, as Sushila Moles and James Whetlor of Cabrito offer their meat through Ocado

Mike Lusmore / mikelusmore.com

9/11 Coffee

Coffee sage George Crawford is launching the much-anticipated Cupsmith with his partner, Emma. Crawford believes that 2016 is the year purist coffee will finally meet the masses; Cupsmith's mission will be to make craft coffee as popular as craft beer on the high street. The company roasts Arabica beans in small batches, improving its quality – but sells it online, at cupsmith.com, in an approachable way: expect cheerful packaging and names such as Afternoon Reviver Coffee (designed for drinking with milk – no matter how uncouth, most of us want milk) and Glorious Espresso

Julia Conway

10/11 120-day-old steak

Hanging meat for extremely long lengths of time has become an art. In Cumbria, Lake Road Kitchen's James Cross is plating up 120-day-old steak (pictured here). The beef is from influential "ager" Dan Austin of Lake District Farmers, who is currently investigating the individual bacterial cultures that go into this maturing process

11/11 Lotus root

Diners can expect root-to-stem dining - cue the full lotus deployed by the Michelin-starred Indian Benares in its kamal kakdi aur paneer korma

Getty Images
Another section runs through restaurant rituals, including advice on when you're allowed to send a bottle back (if the wine is corked), when you're not allowed to send a bottle back (if you decide you don't like the taste) and what to do if a waiter fills your glass to the brim, not allowing the all-important aroma to collect above the wine (politely ask the pourer to desist). 
I feel slightly tipsy as we come to the end of our meeting, but Jancis kindly packages up the Sauvignon for me to take home – a fine party bag. 
While there's definitely something appealing about getting a group of like-minded people together to learn about wine, I can't help but wonder how dedicated the average wine drinker would be to combing through the necessary points of discussion, instead of just opening a bottle of plonk and having a gossip. I suspect, though, that this is the whole point of the book: to encourage groups of friends to come together to eat, drink, and be merry – and maybe learn a thing or two along the way. µ
'The 24-Hour Wine Expert' by Jancis Robinson (£4.99, Penguin) is out now
Reuse content