It is customary, when meeting very young people that are already wildly successful, to suggest that they possess a baby face, even when that is not strictly true. So, while it is safe to say that Luke Thomas, who at 18 became the UK's youngest head chef, does look comfortably out of nappies, he remains, at 20, disarmingly teenaged, fresh-formed and smooth. Gillette will not be asking him to front one of its campaigns any time soon.
He sits in his publisher's office, in front of a copy of his book, Luke's Cookbook: 100 Classic Favourites Given a Modern Makeover, wearing a faux-vintage Rolling Stones T-shirt, a pair of skinny black jeans, and black Nikes, his hair expensively teased and, consequently, messy by design. The Daily Mail says that he resembles Justin Bieber, but, of course, he doesn't. He merely resembles precisely what he is: an example of vibrant youth, someone whose gift has propelled him head-first into the grown-up world with remarkable speed.
Cooking is his thing, his genius. It's an activity that he gravitated instinctively towards by the age of three, and earliest memories revolve around the kitchen: pretending to cook plastic vegetables in a plastic saucepan alongside his maternal grandmother, who was doing similar but with real food, on a real cooker. "She was never into convenience food," he says, "always liked good, proper stuff, real ingredients."
It was his nan, then, rather than his parents (mother working for the local North Wales council, father at Kellogg's), who would prove the formative influence in his life. He watched her, studied, and learned. By 12, he was working occasional hours in local restaurants that were happy to foster his nascent talent, and was busy cooking the family's nightly evening meals.
"I never did get into Xbox," he says, "and the only TV I ever really watched was The Naked Chef, which I obsessed over the way my friends obsessed over Match of the Day. Jamie Oliver, to me, was a revelation. He'd take handfuls of food and chuck it into the pan to see what happened. I did that! And for him, salad wasn't lettuce, tomato, cucumber, but peaches, Parma ham, rocket. I loved his enthusiasm for it all, his sense of adventure."
By the unacceptably precocious age of 14, Thomas was working in Chester Grosvenor, a five-star hotel with a Michelin-starred kitchen attached. He'd spend every afternoon there after school, doing anything that was requested of him, diligently earning his place. "They didn't want some kid causing problems, so I had to make sure that I was good enough to stay," he says.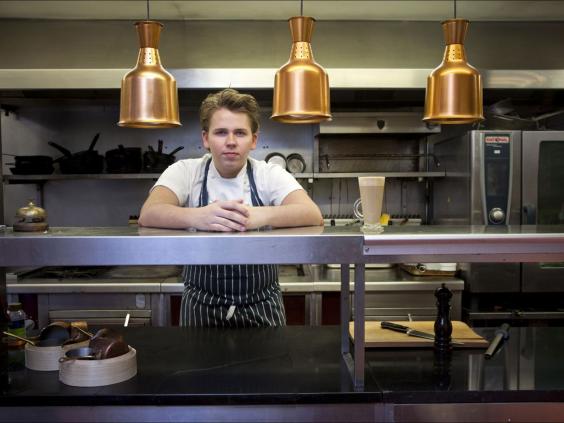 After his GCSEs (when I ask him how many he got, he shrugs: "About six, maybe seven?"), he went travelling, as 17-year-olds are wont to do. But Luke was not strapped to a backpack in Koh Samui. Instead, he did further work- placement stints at restaurants in London and Manchester, Chicago and Dubai. Meanwhile, he was entering cookery competitions, and winning them.
At 17, he was offered his own restaurant, Luke's Dining Room, in Cookham, after owner Mark Fuller met him and tasted his food. He's been there for more than two years now. Last year, it was voted the best restaurant in Berkshire. "Which is pretty amazing," he points out, "when you bear in mind that Berkshire's got some great restaurants, run by people like Heston, Marco, Tom Kerridge…"
An assiduous student of others, Thomas has nevertheless proved himself his own man, keen to develop his own, largely retro, niche. Not for him nitro-poached snail porridge, but rather good, honest British grub. Which is why his book, unlike those of many of his competitors, isn't one merely to keep on the kitchen shelf and admire its unbroken spine, but instead to use and to dog-ear, stuffed as it is with easy-to-follow recipes, and surprisingly inspirational ideas. His cheese and pineapple sticks, for example, comprise goat's cheese, caramelised pineapple, and coriander seeds. The beans on toast recipe he proffers features broad beans, and fresh mint. It looks not even remotely like Heinz.
"I love all the old favourites," he enthuses, "but with a twist, a bit of imagination. Who doesn't like cottage pie? But why not add thyme, smoked butter, and instead of regular mince, some lovely sticky braised ribs?"
He could go on like this at length, and does. But then food is his overriding passion in life, suffocating almost everything else. He doesn't have a girlfriend ("no time"), and most of his friends are people whom he has met in the industry. Occasionally, he does visit old school mates, now at university. He is unimpressed by their diet. "Awful, terrible; I feel like I want to help…"
It seems all but inevitable that Thomas will be shoehorned to fit the latest mould for Celebrity TV Chef: young, cute, voluble with enthusiasm. He insists he doesn't want to do TV for the sake of it, but would be tempted to make a TV series based on the book because "the book is what I'm most passionate about. If I can inspire a new generation into the kitchen the way Jamie inspired me, that's all I can ask for."
Back in North Wales, his grandmother, who taught him everything he knows, is of course reeling with pride. "She keeps asking when I'm going to have a day off, and I keep having to remind her it doesn't really work like that. I say I might have a spare hour a week on Tuesday, but that's about it."
He grins and says: "I suppose that this is life in the fast lane, isn't it?"
'Luke's Cookbook: 100 Classic Favourites Given a Modern Makeover' (Penguin, £20)
CHEESE AND PINEAPPLE ON STICKS
By Luke Thomas
Makes 12
100g goat's cheese
Quarter of a fresh pineapple, peeled
50g plain flour
1 egg, beaten
100g fine breadcrumbs
1 tablespoon vegetable oil
1 teaspoon coriander seeds
1 tablespoon icing sugar
12 cocktail sticks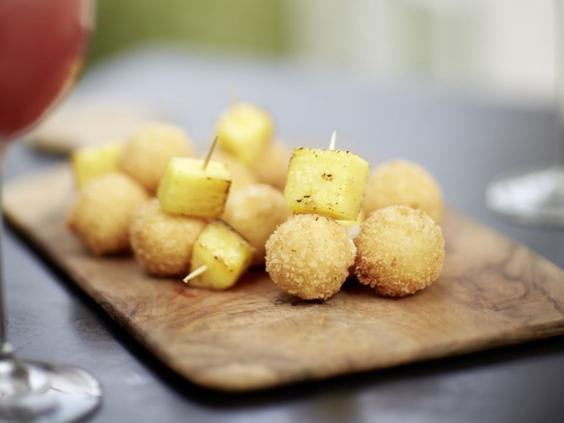 Mould the goat's cheese into 12 balls, each roughly the size of a cherry tomato. Cut the pineapple into 12 pieces, about the same size as the balls of cheese.
Tip the flour into a shallow bowl, the egg into another bowl and the breadcrumbs into a third. Roll the cheese balls first in the flour, then in the egg and finally in the breadcrumbs, pressing the crumbs firmly into the cheese.
Heat the vegetable oil in a frying pan over a medium heat and cook the breaded cheese balls for 3-4 minutes, rolling them around the pan so they brown and crisp up all over. Place on some kitchen roll. Preheat the grill to hot.
Crush the coriander seeds ina pestle and mortar. Arrange the pineapple pieces on a baking tray, dust with the icing sugar and sprinkle over the coriander seeds. Grill for 2 minutes, until the sugar has caramelised and the seeds have started to smell very aromatic.
Skewer a piece of pineapple followed by a piece of cheese with the cocktail sticks. Serve while still a little warm.
CHICKEN COBB SALAD WITH BACON BITS
By Luke Thomas
2 eggs
2 vine-ripened tomatoes
2 skinless chicken breasts
1 tablespoon olive oil
200g bacon pieces~
1 iceberg lettuce, chopped into chunky 2.5cm pieces
1 avocado, peeled, stone removed, cut into small pieces
100g Roquefort cheese, crumbled
A small bunch of watercress, picked into small pieces
For the red wine vinaigrette:
1 teaspoon Dijon mustard
1 teaspoon honey
1 tablespoon red wine vinegar
4 tablespoons olive oil
A pinch of salt and pepper
Place the eggs in a pan of cold water. Bring to the boil and then set the timer for 3 and a half minutes. Remove the eggs and cool in a bowl of cold water. Peel and set aside.
Meanwhile, bring a small saucepan of water to the boil and blanch the tomatoes for 30 seconds. Cool under cold running water, then peel off and discard the skins. Chop the tomato flesh into small pieces.
Cut the chicken breasts almost through horizontally and open out like a book.
Heat the oil in a griddle pan. When very hot, cook the butterflied chicken on one side for 3 minutes. Turn the chicken over and scatter around the bacon pieces. Cook for another 3 minutes on the other side, until the chicken is cooked through and the bacon has started to colour. Remove from the pan and cut each chicken breast into 6 pieces.
While the chicken and bacon are cooking, mix together the ingredients for the dressing.
In a large serving bowl, mix together the lettuce, tomato and avocado pieces, the crumbled Roquefort cheese and the cooked bacon pieces. Pour over the dressing and mix to coat. Quarter the soft-boiled eggs. Serve the salad scattered with the chicken and watercress and topped with the egg.