Marmalade attracts bigots. They believe in one true product made from the sour oranges the British call Sevilles, and coming most probably from a steamy Scottish kitchen in Dundee. But marmalade doesn't have to be made from oranges. The word derives from marmelo, the Portuguese for "quince", and when it first appeared in 15th-century Britain it was a thick paste rather like Spanish membrillo, made from quinces flavoured with rose water, ambergris or musk and eaten at the end of a meal to aid digestion. The first marmalades came to England from Portugal, and later marmalade was also imported from Spain, North Africa and Italy.
It was packed in circular wooden boxes and often imprinted with a design taken from the mould. Indeed, most European countries use "marmalade", or marmellata in Italian, as a generic word for jams of all kinds, adding the name of the fruit to distinguish it from jams of other kinds. In Italy, jam made from oranges is marmellata di arancia. It is only in Britain that orange marmalade has a special status.
The earliest surviving British recipe for a marmalade made from Sevilles is "a marmelet of oranges" in the recipe book of Eliza Cholmondeley, dated around 1677 and held at the Chester Record Office. However, marmalade was not made on a commercial scale until the beginning of the 18th century, when stormy weather forced a Spanish ship laden with Sevilles to take shelter in the harbour at Dundee. James Keiller, a local grocer, bought the cargo at a very low price, only to discover that the oranges were sour, not sweet, and he was unable to sell them.
His mother, Janet, had the ingenious idea of substituting oranges for the quinces she usually used to make marmalade. She sold it in the shop and it proved so popular that she began to make it every year. By 1797 the demand for orange marmalade in Scotland was so great that another Mrs Keiller and another son called James opened the world's first marmalade factory in Dundee.
In Britain we think we have the monopoly on proper marmalade. I'd like to teach our marmalade fundamentalists a lesson by taking them to San Giuliano, an organic citrus estate on the eastern side of Sicily, outside Villasmundo and south of Catania, where they have been making excellent marmalade for years. And that's hardly surprising when you consider that lemons and sour oranges reached Italy for the first time with the Arabs who invaded western Sicily in AD 831, coming ashore at Mazara del Vallo, on the island's south-west coast.
Until then there had only been one kind of citrus in Europe, the citron brought to Calabria by the Jews in about AD 70. On Italian soil the name naranj, or naranja as the orange was called in southern Spain, evolved into arancio for the orange tree and arancia for its fruit. The word arancio is used as both a noun and an adjective in modern Italian, just as "orange" is in English, but a noun can only function as an adjective if the object itself is familiar to the population at large, and it wasn't until the 13th century that Italians began to use rancio and then arancio as an adjective.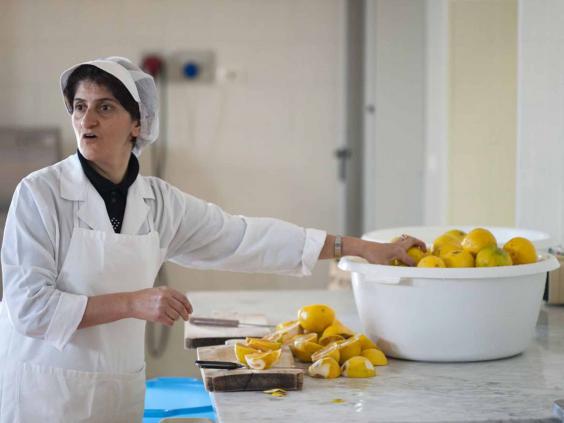 We generally think of January as marmalade season in Britain, for this is when Seville oranges are imported from Spain, and yet at San Giuliano marmalade is made from November until May. Pot-grown citrus in central and northern Italy spends these months in the shelter of lemon houses, as I discovered when I first lived in Italy as a student. I had chosen to live in Siena, and although Tuscan winters are much too harsh for citrus trees to grow outside all year, I got used to glimpsing pots of lemons in the sunny courtyards of city palaces and on terraces in front of country villas. When they disappeared from sight in winter I learned they had been taken into the shelter of purpose-built limonaie.
The trees on the San Giuliano estate have no need of this protection, For they bask in winter sunshine, their roots deep in warm volcanic soil. Their fruit is so heavy it pulls the branches down, forcing them into the soft grass that grows with perpetual springtime vigour all over the orange groves. The air is full of the energy of ripening fruit, fruit that has swollen slowly, absorbing the heat of a long Sicilian summer. The orange groves look romantic, but San Giuliano is a working farm, an ancient masseria or fortified farmhouse and although the snowy peak of Mount Etna can be seen in the distance, and the grass between the trees is full of wild flowers, beneath its lush surface the ground is rutted by tractor tyres, and if that earnest marmalade committee were to walk among the trees, they'd be as likely to turn their ankles in a rut as trip over ugly aluminium ladders and piles of brightly coloured plastic boxes, the practicalities of tomorrow's harvest.
And wherever they went, they would be followed by a pack of friendly dogs, stray dogs that have found their way to the farm and the promise of regular food. They might notice the old Rottweiler, who would be a fierce-looking dog if he didn't make a habit of carrying a grapefruit with him everywhere he went. "Grapefruit?" they might think. "I hope that they aren't silly enough to make marmalade from anything but Seville oranges. Heresy!" And yet that's exactly what they do at San Giuliano.
They began to make serious quantities of marmalade on the farm when Marchese Giuseppe Paternò Castello di San Giuliano and his wife, the late Fiamma Ferragamo, took over the estate from the marchese's father. Fiamma Ferragamo was world famous as partner and principal designer of the Ferragamo shoe label that she inherited from her father in Florence, but at San Giuliano a different side of her nature emerged. Leafing through family cookbooks in the 1980s, she was intrigued to discover a series of recipes for marmalade made from different species of citrus fruit grown on the farm ever since the 19th century. She soon began to experiment with the recipes in a rudimentary kitchen installed in a shed in the garden. She adjusted the original recipes in order to make marmalade in large quantities and, given her business contacts, it wasn't long before she began to export excellent, single-fruit marmalades to America and Japan.
Sadly, Fiamma Ferragamo died when she was only 57 in 1998, but before her death she suggested that her daughter Giulia should continue with the marmalade business. Giulia will say she was very unsure about the idea, but she thought she would "give it a chance". She proved to have a natural talent and soon decided to build her own company. Under her control, production has moved to a professional kitchen on the edge of the citrus groves and expanded to include a wider variety of marmalades, organic honey, fruit slices preserved in syrup and a range of citrus-flavoured biscuits. Throughout the winter, perfectly ripe fruit is hand-picked each day and brought straight to the kitchen door. Inside, a small group of women make the marmalades entirely by hand. They might be working with lemons; tangelos (a mandarin–grapefruit hybrid); red grapefruit; clementines; mandarins, or sweet, sour or blood oranges.
Each marmalade is made to a slightly different recipe, the quantities of sugar and water being adjusted to suit the natural characteristics of the fruit. And over the years the marmalade makers have noticed that some fruits are easier to work with than others. On my last visit there, one of them remarked that you can't leave lemons alone for a moment because they will stick to the bottom of the pan. As she talked, she stirred continuously. "They say I'd make a good baseball player," she told me, pausing to show me the muscles in her stirring arm.
But tangeli are a different matter. You can make marmalade from them almost without stirring and you can even get away with turning off the gas and heating it up again later. All of the fruit has to be washed, dried and cut up by hand. It is all organic and it is cooked without colouring, preservatives or added pectin. When it comes to deciding whether the marmalades are ready, the women do so by instinct. "You can buy them all the thermometers you want," Giulia says, "but they'll never use them."
When I watched the marmalade being made in the kitchen at San Giuliano I noticed that the overall amount of sugar was very much smaller than the quantities we are accustomed to using in Britain. Perhaps this is why each marmalade seems to encapsulate and intensify both the flavour and the vivid colour of the single fruit from which it's made. British marmalade snobs might refuse to be impressed by the news that San Giuliano marmalade is exported to America, but when they hear that it is now for sale in London's Sloane Square, perhaps even they might decide to try a jar.
'The Land Where Lemons Grow' by Helena Attlee (Penguin, £9.99) is out now in paperback
Oranges and lemons: Italy's citruses
I remember when planes were so expensive that people usually made the long journey from England to Italy by ferry and train. Once you got to Paris it was easy because you could catch the Palatino, a sleeper that sped you through the night towards Florence and Rome. I first made that journey over thirty-five years ago. At dawn I lifted a corner of the curtain in the stuffy couchette and realized we had already crossed the border. We were somewhere near Ventimiglia on the Italian Riviera, and there were lemons growing beside the station platform, their dark leaves and bright fruit set against a backdrop of nothing but sea. I never forgot those trees, or the way they charged the landscape around them, making it seem intensely foreign to my very English eye.
I didn't know it then, but travellers from northern Europe have always been thrilled by the sight of Italian citrus trees, and so my reaction was entirely predictable. Hans Christian Andersen, the Danish author and poet best known for his fairy tales, visited Italy in 1833, and when he saw citrus groves for the first time he responded with the mixture of rapture and envy that Italy can still provoke among visitors from colder and less romantic countries.
"Just imagine the beautiful ocean and entire forests with oranges and lemons," he wrote to a friend; "the ground was covered with them; mignonettes and gillyflowers grew like weeds. My God, my God! How unfairly we are treated in the north; here, here is Paradise.' A sun-soaked, poetic image of Italy was particularly powerful in Britain after the First World War, when soldiers returned from the freezing trenches of Picardy and Flanders dreaming of the sensuous and hedonistic lifestyle they associated with the Mediterranean.
Captain Osbert Sitwell chose Sicily as the antidote to his bleak experience of war, a journey he describes in Discursions on Travel, Art and Life, published in 1925. Here the orange serves as a symbol for all he loved about the Mediterranean. "Where it grows," he says, "you will find the best climate, the most beautiful European buildings." And as his train trundled through orange groves outside Palermo, he remarked, "About the whole tree there is a design, a balance, a geometrical intention and sense of grouping, an economy and right use of colour, that make it rank almost as high as a work of art."
D. H. Lawrence, never a soldier, began the period of voluntary exile after the war that he referred to as his "savage pilgrimage", a journey that took him to Sicily between 1920 and 1922. In 'Sun', a short story set in his sexually charged version of the Sicilian landscape, he returns again and again to images of citrus trees and their fruit, making Juliet, the angry and frustrated American heroine, meander naked through a "dark underworld of lemons", discovering freedom and sensuality for the first time in her life.
Reuse content