When summer comes around, it is so much easier to make desserts. The shelves begin to be crowded out with the season's fruits in their many and varied hues. They are not just fine-looking things, though – they are also very easy to work with. The best berry dessert is often the simplest. If I have cooked a dinner party with a few courses, I often round it off with a nice, cleansing bowl of fruit. Nothing says summer quite like it.
Rapeseed oil cake with raspberries
Serves 6-8
More and more people are discovering they have gluten and wheat allergies, but panic not, companies such as Dove Farm are producing gluten-free flours to side-step these problem and allow the afflicted to join in the cake eating with the rest of us.
Also, oil, instead of butter, is used here for the cake (if we were in a Mediterranean country, where there are a lot more olive trees, we would be using that). Here in Britain, we have plenty of rapeseed oil, so if your cholesterol is a tad high as well, then you need not worry. No one needs to feel too guilty about nibbling on this delicious cake.
For the cake
150g granulated sugar
175ml rapeseed oil, plus extra for oiling
A couple of good pinches of saffron strands, soaked in 2tbsp milk overnight
3 medium eggs, beaten
175g caster sugar
175g gluten-free self-raising flour
To serve
100-150g raspberries
Crème fraîche or thick cream
Preheat the oven to 180C/gas mark 4. Lightly oil a small loaf tin or a loose-bottomed cake tin and then line with greaseproof paper.
Put the saffron-infused milk, eggs and caster sugar in a mixing bowl and whisk until fluffy and doubled in volume.
Slowly stir in the rapeseed oil, then fold in the flour with a spoon until well mixed; now gently fold in half of the raspberries and pour the mixture into the tin.
Bake for about 25-30 minutes – if a skewer inserted in the centre comes out clean, it's done. Leave to cool for 15 minutes, then remove from the tin and transfer to a cooling rack. Serve with the raspberries and crème fraîche.
Asian summer fruit salad
Serves 4
This is a great fragrant fruit salad: if you can't get all of the fresh ingredients for the syrup don't worry too much, as you can buy dried lime leaves and lemongrass which will work fine for the salad.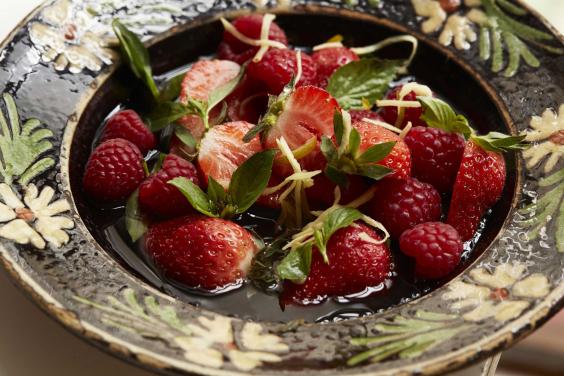 300-400g mixed berries
A handful of Thai basil leaves (or ordinary basil)
For the syrup
2 sticks of lemongrass, chopped
8 lime leaves
50g root ginger, scraped and thinly sliced
1 star anise
150g caster sugar
150g water
Bring all of the ingredients for the syrup to the boil and simmer for 5 minutes; leave to infuse for an hour or so. Strain through a fine-meshed sieve and either chill or use at room temperature. Put the berries into a serving bowl and pour the syrup over. Serve with thick cream, yogurt or crème fraîche and scatter the basil leaves over the top.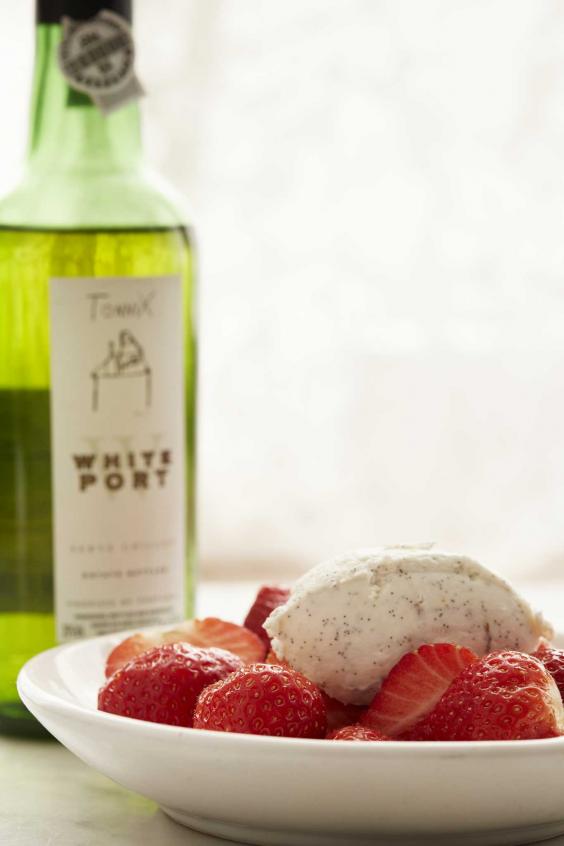 Strawberries, goat's curd and white port
Serves 4
Tonnix white port is produced in Quinta de la Rosa on the Douro in Portugal (full disclosure: they produce Tonnix wine for my restaurants). I know white port isn't exactly in vogue but I reckon it's certainly going to be soon, as you can use it in all sorts of great cocktails or serve it with cheese.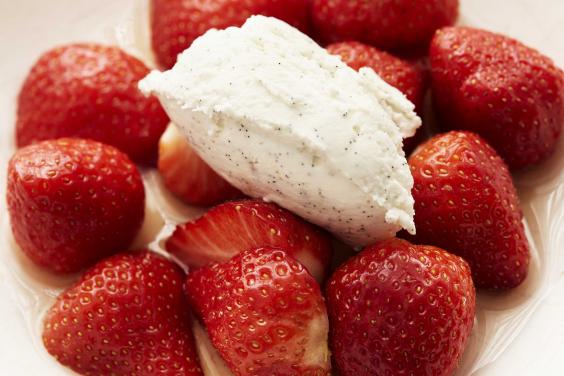 300-350g strawberries, hulled
120-150g goat's curd or very soft goat's cheese
100ml white port
Put the strawberries in individual serving dishes, pour over the white port (you can marinate them for a while if you wish) then spoon on the goat's curd.
Loganberry lemonade with basil
Serves 4
I've used Luscome Sicilian Lemonade here, which uses an old-fashioned recipe. If you have people coming to dinner who are driving, then this mocktail is just the ticket.
If you can't find logan- or tayberries, there are some great early-cultivated blackberries which I'm pretty sure have been crossed with loganberries, so similar are they in look and a taste.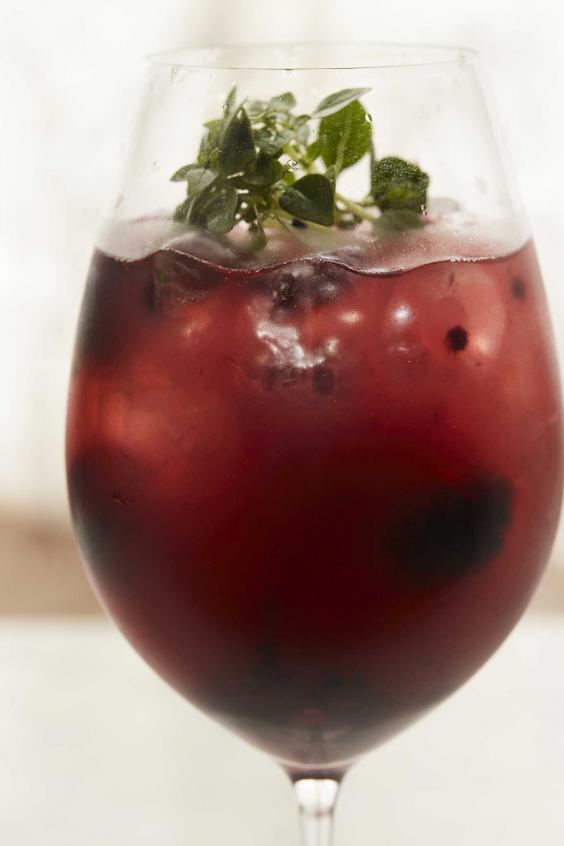 200g loganberries or tayberries
1ltr Luscome Sicilian Lemonade
A handful of bush basil
Crush the loganberries a little, then simply spoon into a tall glass with ice and a few sprigs of basil – top up with the lemonade.
Reuse content