Most important meal of the day? Or an annoyance that ties up valuable time as you dash out the door with wet hair in the morning? Whether heaven or hindrance, breakfast is creating a bit of a buzz.
Trendy dining spots like London's Duck and Waffle are as fully booked for breakfast as they are for dinner, and business meetings are more likely nowadays to be held over poached eggs than a pint. And then, of course, there's the ever present influence of social media - come on, most of us can admit to a tweet waxing lyrical to the joys of porridge, or a perfectly filtered shot of our avocado on toast (can't we? Is it just me?).
Avocado on toast, you say? Oh yes - we've come a long way from a soggy bowl of Rice Crispies. We're adding nut butters and cinnamon to our porridge, experimenting with smoothie flavours and even patiently waiting for our slow-baked eggs (this one might be best left for the weekend). Sales of kitchen appliances including waffle irons, griddle pans and the healthy It girl's weapon of choice, the Nutribullet, have soared. It's perhaps the perfect gastronomic time of day - options can be sweet or savoury, veggie-packed or dessert-like. And almost everything comes with eggs.
Today in particular, breakfasters all over the world will be whipping up some batter in honour of Waffle Day. The tradition began in Sweden as Våffeldagen, which is often confused with Vårfrudagen, which means Our Lady's Day, March 25. The misinterpretation stuck, and spread to other countries, and now waffles are whipped up (and topped with anything from chocolate sauce to bacon) to mark the beginning of spring.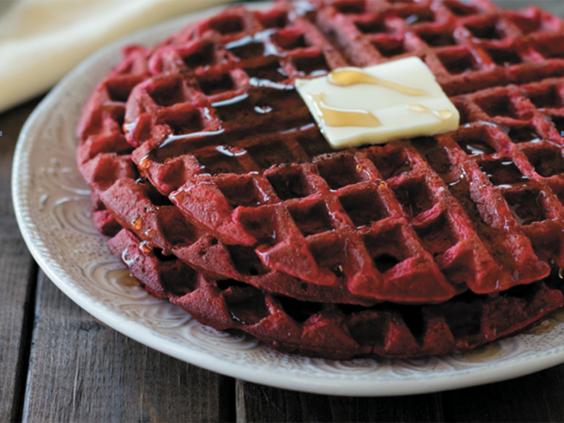 Chef Donal Skehan is a breakfast fan, and says that our changing attitudes towards nutrition is fuelling the shift. "Now people are much more in tune with what they eat and know they need to slow down and take the time to eat in the morning. Whether it's a slice of wholemeal toast with nutter butter and banana or a quick smoothie, it's so important to fuel your body with a good breakfast."
Studies suggest that skipping breakfast can increase heart risks overtime and may actually cause you to gain weight, as you are more likely to indulge later in the day. High protein breakfasts are thought to boost metabolism and a recent study published in the journal Diabetologia has found that a high energy breakfast (and smaller dinner) could help with blood sugar management for people with type 2 diabetes.
Breakfast has also become a social event, with trendy new cafes attracting crowds (and not just pre-9am). For traditionalists, or the more nostalgic among us, London's Cereal Killer Cafe proved to be more than just a gimmick, where you can crunch through a bowl of Shreddies while taking in the 80s and 90s memorabilia on the walls. Or for the oat connoisseurs among you, new pop-up The Porridge Cafe offers such AM indulgences as pear, fig puree and vanilla porridge.
If you prefer to be pyjama-clad while eating your porridge, though, there are plenty of ways to spruce up your breakfast, says Skehan. "Buy the best quality ingredients that you can afford - it really makes all the difference. It doesn't have to cost a bomb and you can create an amazing brekkie with a few simple ingredients. If you have eggs and tomatoes why not create a delicious Huevos Rancheros or even mastering the perfect scrambled eggs can get you a long way in the breakfast department."
If inspiration rarely strikes you until after your second cup of coffee of the day, social media is awash with ideas. Pinterest is a nifty little app that acts as a visual discovery tool, where users create pictorial 'mood boards' for planning, researching and discovering things to do in the future - from weddings to decorating and, of course, what to have for breakfast. Here are some of their top breakfast picks:
Reuse content