Dedicated to just one area of Spain, the Basque Country, Jose Pizarro's book has been influenced not just by the ingredients of the area, but by the local's way of life. His recipes are a reflection of the big sharing plates that fill family tables – the way he loves to cook for family and friends – and bite-size portions known as pintxos, the Basque Country's own style of tapas. 
Basque takes readers on a journey from the traditional dishes through to recipes that introduce the diversity of the region. Split simply into meat, fish, vegetables and desserts, the book also has suggested informal menus for up to six people with detailed preparations. After living in the UK for 16 years, Jose owns three restaurants and has the prestigious ''100 espanoles'' award (given to people who demonstrate Spanish pride through their work) under his belt. Here's a taster of some of our favourite recipes.
Slow-cooked broad beans with poached egg
In Spain we love to cook broad beans for a long time until they become really soft and nutty. This is my interpretation of a very tasty recipe that is popular in the Basque Country, but my mum in Extremadura also loves to cook it when we get the first broad beans. Here we are using only the beans, but at home my family picked the broad beans so young that you could use the whole thing, cutting them very finely.
Buy the broad beans as young as you can because then you will not need to double pod the beans; or use frozen beans and keep the recipe up your sleeve for last-minute dinner parties.
You can serve this as a starter or as a side dish for grilled fish or meat.
Serves 6 as a starter
3 kg (6½ lb) broad beans
100 ml (3½ fl oz) olive oil
3 medium French shallots, finely-chopped
150 ml (5 fl oz) dry white wine
750 ml (25 fl oz) fresh vegetable stock
6 free-range eggs
150 g (5 oz) pecorino, Roncal or Idiazábal cheese, shaved
Small handful of finely-chopped flat-leaf parsley
Freshly-ground black pepper
Extra-virgin olive oil to drizzle
Pod the broad beans. In a saucepan, heat the oil over a medium heat, add the shallots and cook for 10 minutes until lightly golden and soft. Add the broad beans and mix together well, cooking for another five minutes, then add the wine, bubbling for a minute or two to reduce the alcohol. Add two-thirds of the stock, cover and cook for a further 30 minutes, adding more stock if the broad beans start to get too dry.
Meanwhile, poach the eggs in a medium saucepan of salted simmering water for three minutes or until just cooked and ready to serve.
Spoon the beans into six warmed bowls, top with a poached egg and scatter with the cheese, parsley, black pepper and a drizzle of extra-virgin olive oil.
Lentils & goat's cheese with caramelised walnuts
It's not very often you meet a young person such as Kepa, an enthusiastic chap in his early twenties, who is already producing the most amazing goat's cheese. I met him at his farm in Amorebieta-Etxano, where the views were something to behold.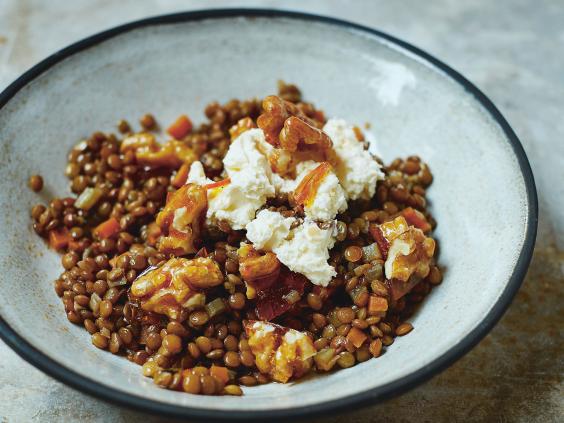 This is a really nice, simple salad I made using Kepa's fantastic cheese with plenty of carrots, onions, celery, garlic and some tomatoes. The caramelised walnuts are great as an aperitif with your beer – just add some flakes of salt and they are ready.
Serves 4
Olive oil
1 onion, finely-chopped
1 carrot, finely-chopped
1 celery stalk, finely-chopped
1 garlic clove, crushed
1 bay leaf
Few sprigs of oregano
300 g (10½ oz) Spanish pardina lentils
600 ml (20 fl oz) fresh vegetable stock
2 ripe vine tomatoes, skins removed and chopped
75 g (2½ oz) caster (superfine) sugar
Handful of walnuts
100 g (3½ oz) soft goat's cheese
Heat a little oil in a deep pan and gently fry the onion, carrot and celery for 15 minutes until really tender. Add the garlic and fry for a minute more, then add the bay leaf, oregano and lentils. Pour in the stock and add the tomatoes. Bring to the boil, then cover and simmer for 30–35 minutes until the lentils are starting to break down and make a lovely thick sauce.
Meanwhile, put the sugar in a pan with two tablespoons of water and dissolve over a low heat. Bring to the boil and cook for 4–5 minutes until you have a golden caramel, then add the walnuts and mix together to coat.
Tip the walnuts onto a baking sheet lined with greased baking paper and leave to cool.
Spoon the lentils into four warmed bowls, add a scoop of goat's cheese to each bowl, then top with the caramelised walnuts.
Sardines marinated in cider or Txakoli vinegar
My love of sardines goes back as far as I can remember. My mum used to come home from the market every Tuesday with sardines in her bag. That strong fresh fish flavour will stay with me forever, as will a glass of fresh milk straight from the cow.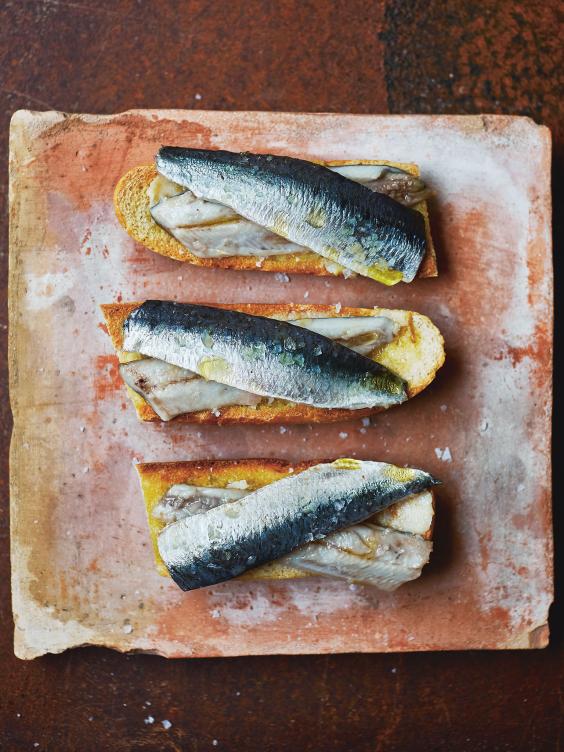 The simplest way to prepare sardines is to remove the scales, fillet them, then eat them raw. I wanted to give some extra flavour to this dish, as not many people will eat them raw.
This marinade is very quick, which means you will keep almost all of the flavour as well as the freshness of the fish.
Serves 4
1 bulb garlic
Olive oil
500 ml (17 fl oz) Txakoli or cider vinegar
1 small French shallot, finely-chopped
5 black peppercorns
5 pink peppercorns
1 bay leaf
Few sprigs of tarragon
25 g (1 oz) caster (superfine) sugar
8 super-fresh sardines, filleted
Toasted baguette to serve
Extra-virgin olive oil to drizzle
Flaky sea salt
Preheat the oven to 170°C (340°F/Gas 3). 
Drizzle the garlic with oil and roast for 30–40 minutes until really tender. Squeeze the pulp from the skins and mash into a paste. Set aside.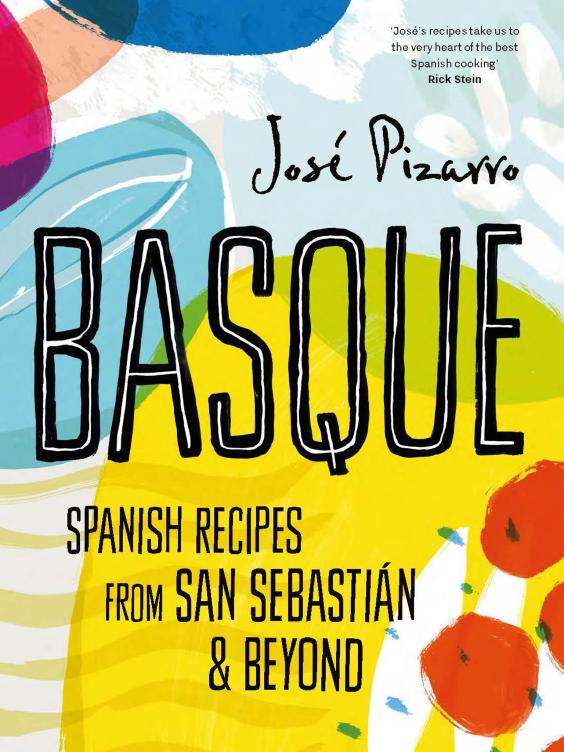 Gently heat the vinegar with the shallot, peppercorns, herbs and sugar until the sugar has dissolved, but not until it boils. Lay the sardines skin side down in a dish and pour over the hot vinegar. Leave for a couple of minutes, then drain. 
Spread the toasted baguette with some of the garlic paste. Top with the marinated sardines, drizzle with extra-virgin olive oil and sprinkle with the flaky sea salt.
Jose Pizarro's cookbook, Basque is published by Hardie Grant, £25