It's time to reclaim "finger-lickin' good" from a certain fast-food chain. Because with the launch of this year's British Street Food Awards come opportunities aplenty to grab some of Britain's most exciting dishes – no reservations, or even plates, required.
For 2015, the awards – which are held in association with The Independent on Sunday – promise to be the biggest annual British Street Food festival yet.
Oxford will host the first of four regional heats on 1-4 May, with Oxford Castle as a backdrop. The festival will bring street food to some of the country's most atmospheric settings.
"We're creating a whole new experience now," says BSFA founder Richard Johnson. "It's all about those foods that make more sense to eat fresh and instantly. I always said that one day street food would be as good as that in restaurants, and now it's overtaken that in terms of quality and demand."
For Johnson, eating has to be about more than just the food. "All our street vendors produce inspiring, wonderful things, but for the British public the festival is also about hanging out, feeling excited by their surroundings as well as anything else."
Oaxaca: Mexican street food
Lisa Markwell, editor of The Independent on Sunday and a judge at last year's awards, says the atmosphere at the final was "brilliant. Not only was there an astonishingly high standard of cooking going on, but lots of raucous fun." She took part in a Q&A with Yianni Papoutsis, creator of MeatLiquor burger chain, which started life in a street food van. For every question, both parties had to have a drink – including a lethal absinthe pickleback.
This year, at each of the four heats and at the final, The IoS will host an event for festival-goers on the Sunday, bringing together foodie and newsy themes. And alongside some of the most creative confectionery stalls, portable pizza ovens and seafood bars, BSFA 2015 will play host to street-food themed crazy golf, games and for the first time, live music, courtesy of the Universal Music Group which is joining as partners this year.
According to Mr Johnson, each artist performing at the heats and final of the festival has been selected to fit within a theme. "Not everybody involved has to be a chef, exactly, but we have carefully worked the weekends around the food experience. Everyone involved must have an appreciation for it, however that is expressed."
One of the first artists to be confirmed is Kiko Bun, a former chef from London who now writes and produces reggae music. Also set to perform is the world's first "aroma DJ", who is said to be working on street-food smells which will waft across a dance floor with themed music for crowds to dance to, along with a whole host of new and unsigned artists.
But for Johnson the biggest change for the festival this year is working globally. Speaking from the food and tourism summit in Portugal, the founder has sampled all manner of culinary highlights on his travels in a bid to find the best street food from a huge variety of cuisines.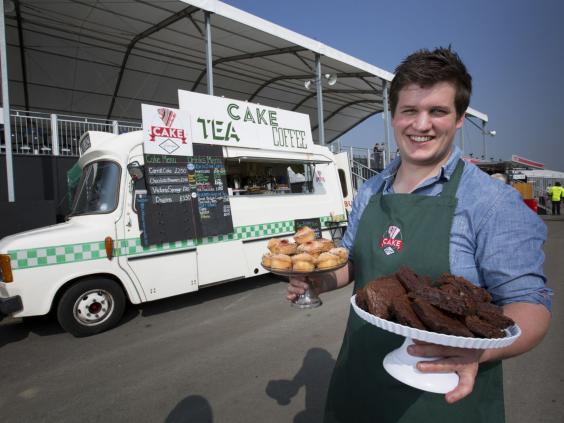 "Wherever I go I try to find local talent and convince them to compete in the London finals for Best Overseas Trader. I've just found someone in Portugal who is an allotment farmer from the north of the country who does superb organic vegetarian food." Other competitors for the title of Best Overseas Trader include Japanese seafood shacks from the heart of Tokyo. Last year Malmo's Nordic Street Food from Norway won.
"Expect revolving hot dogs, a windmill of burgers, a pizza bike and a street-food vendor who sells cakes from a converted ambulance," says Johnson. There's also a pint of free craft beer for everyone who buys an entrance ticket and something called queue-aoke if the crowds mean a bit of a wait for your food.
The converted 1979 ambulance is the brainwave of James Feddon, known to his fans as the "Cake Doctor". After coming in joint seventh at last year's awards and second out of all sweet traders, the 26-year-old baker is returning to this year's festival for a second bite.
"You could probably make a burger and get everything ready in about five minutes," he says, "but for a cake you might have a two-hour lead time between baking, taking it out, cooling and then decorating. If you don't have enough time you're ruined for a couple of hours."
For more information and to buy advance tickets for the events, visit BritishStreetFood.co.uk
A movable feast
Over four weekends covering North, South, East and West, the public will be able to buy food from each stall before voting for their favourites on the British Street Food app. The winners, plus a few "wild cards" will then go through to compete at the finals in London in September.
Central and East heat
Oxford: 1-4 May
Wales and the West heat
Cardiff: 5-7 June
Scotland and the North heat
Leeds: 12-14 June
South heat
Cornwall: 28-31 August
The final
London: 25-27 September
Reuse content