One of McDonald's first "gourmet" make your own burgers has been filmed in Australia – and it looks pretty good.
The fast food chain is ditching its plastic trays and counter service for the wooden boards and mini chip baskets usually seen in trendy, smaller, burger joints.
A branch in Castle Hill, Sydney, is trying out the new format before it is rolled out across Australia.
A customer filmed his experience negotiating the new digital kiosks, where people can choose their own burgers and toppings from a 19-ingredient list.
The touch screen starts with the option of buns – brioche or "crusty" – then moves on to how many Angus beef burgers are wanted.
The following array of individually-priced options offers cheese, sauces, salads and toppings including bacon, beetroot and fried eggs.
When the order is completed, customers choose to sit in the restaurant or outside and the food is brought to them by serving staff.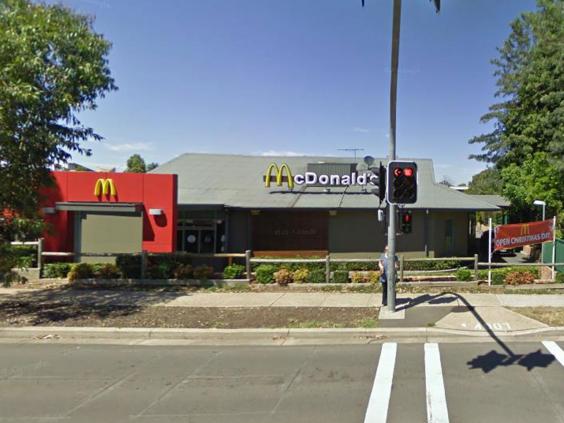 The impressive list of extras chosen in the video included an extra beef burger, four kinds of cheese slices, an egg, two sauces, tomato, gherkins, lettuce, red onion, grilled onions, mushrooms, pineapple, guacamole and tortilla strips.
The meal, with medium fries and a drink, came in at $15.95 (£8.70) and footage showed a towering burger arrive on a wooden board with chips in a wire basket.
"I know it looks a bit big because I ordered everything to try it but it was really nice, and something different," the customer said.
McDonald's meals around the world
McDonald's meals around the world
1/14 Black and White burger, served in China, Hong Kong and Taiwan

The black burger contains beef and onion topped with black pepper sauce, while the white burger contains chicken with lettuce and a spicy sauce

2/14 McCurry Pan, served in India

A bread bowl filled with chicken curry

3/14 McBaguette, served in France

Baked in a ciabatta roll and topped with emmental cheese

4/14 McLobster, served in Canada

Only served in summer...

5/14 Shrimp burger, served in Japan

Prawn-filled burger topped with thousand island sauce

6/14 Das Nürnburger, served in Germany

Three Bratwurst sausages served with mustard inside a soft white bun

7/14 Prosperity Burger, served in Malaysia

Meat, meat, meat, onions and black pepper sauce

8/14 Chicken Maharaja Mac, served in India

9/14 Cheese Fondue (left) and Carbonara Burger (right)

Served only in Japan

10/14 Pasta Zoo

Australia and New Zealand's take on the Happy Meal

11/14 Deluxe Breakfast roll, served in Australia

With bacon, hash brown an egg and spicy tomato

12/14 McBeer

Found in all good McEuropean restaurants

13/14 McAloo Tikki, served in India

14/14 Kiwi stick, served in Italy
Many McDonald's fans are excited about the change but others have criticised the world's largest fast food chain for moving in on the territory occupied by smaller businesses and independent restaurants.
"McDonald's is innovating and changing again to meet the needs of our customers," McDonald's Australia CEO Andrew Gregory said.
"What we're really doing here is simply what our customers have asked us to do."
The move comes after the company attempted to banish rumours of "pink slime" and unappetising additives in its burgers by allowing cameras into a factory.
But in the same week, a Canadian man claimed to have found a dead mouse in his "McCafe" coffee.
Reuse content