It has no discernable taste, is completely devoid of any nutritional value and, above all, is incredibly expensive. Yet this hasn't stopped the publicity-hungry chefs using gold to draw attention to their culinary creations – whether they are shards of gold leaf or sprinkled flecks of the stuff.
Last week, the "world's most expensive hamburger" got headlines in the UK for its £1,100 price tag. Besides containing ingredients such as the rare and exceedingly lavish Kobe beef from the Japanese breed of Wagyu cattle, New Zealand venison, Beluga caviar and lobster, the burger, which was created by a restaurant in west London, also contained gold leaf.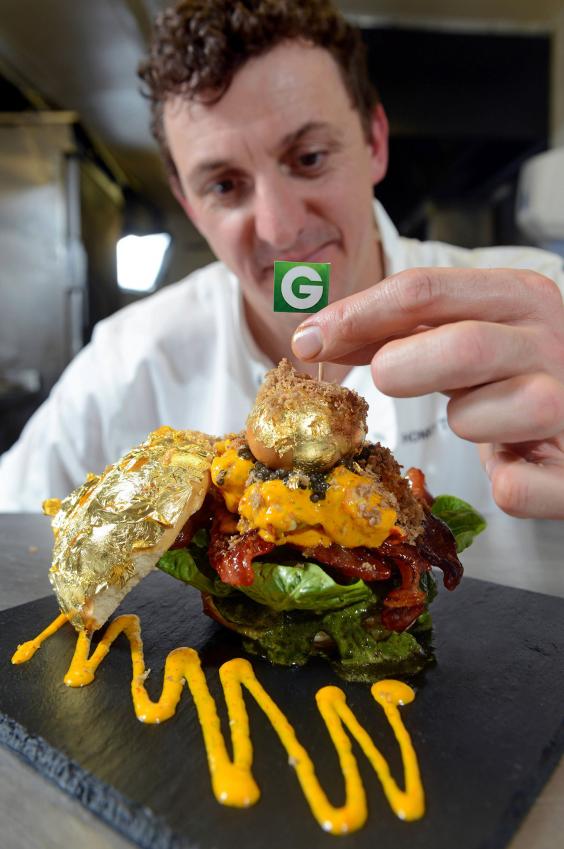 Tong Chee Hwee, head chef at the top Chinese Hakkasan restaurant, released a recipe for gold-dusted macaroons this weekend, while at the other end of the culinary scale, the ice-cream brand Häagen Dazs announced a new flavour coming out next month in Japan which will contain flecks of gold leaf.
From cooking oil to martinis, from truffles to omelettes, the craze for using the chemical element shows no sign of fading. But not everyone agrees that this is an inspired culinary choice.
Jonathan Downey, owner of the Milk and Honey cocktail bar in central London and the man behind myriad street-food events, believes the fad is nothing more than a crass desire to seek attention: "For a good few years now, certain bars and restaurants desperate for [press] coverage and customers have been doing things like this just to get some attention," he said.
"It's like the world's most expensive cocktail at some hotel in Dubai – made with an 1870 Cognac, a 1905 Champagne, garnished with a diamond. Then people write about it and people go along to see it. It's lazy PR. It appeals to a certain kind of person, but not most."
Once thought to be beneficial for one's health, gold was used by the nobility in medieval Europe as a decoration in food and drinks in the form of leaf, flakes or dust to demonstrate the host's wealth. Centuries later, the hold which the precious metal has over the rich suggests that  wearing it still isn't enough for some.
Stefan Chomka, editor of Restaurant magazine, said: "These 'most expensive things' rear their heads two or three times a year and they invariably involve gold leaf, truffles, caviar – really expensive but clichéd ingredients. I'm  a bit surprised that people are still interested in them. Who would want to buy that burger? It looked absolutely disgusting.
"Gold leafing seems pointless  and completely outdated," added Mr Chomka. 
Of course, the proof of the  gilt-plated pudding is in the eating – and it remains to be seen whether anyone has actually ordered that ridiculous burger.
Golden foods
Burger – £1,100
Created by: Honky Tonk in Chelsea
Ingredients include: gold leaf, lobster, caviar and New Zealand venison
Cocktail – £8,888
Created by: Gigi's in Mayfair for Grace Jones
Ingredients include: 1990 vintage Cristal and 1888 Samalens Vieille Relique Vintage Bas Armagnac brandy, topped with gold leaf.
Sandwich – £85
Created by: Selfridges
Ingredients include: Wagyu beef, 24-hour fermented sour dough bread, black truffle mayonnaise,
Steak – £149
Created by: M restaurant in London
Ingredients include: 150g cut of Kobe beef
Pasta – £1,254
Created by: BiCE in New York
Ingredients include: Homemade tagliolini topped with 900g of fresh Maine lobster and 25g of black truffle.
Pizza – £620
Created by: Nino's Bellissima Pizza in Manhattan
Ingredients include: Beluga and Black Russian Royal Sevruga caviar topping, sliced lobster, wasabi paste, salmon roll and crème fraiche.
Reuse content