Many SoBe Lifewater customers feared for the well-being of the company's factory workers this week, after apparently desperate pleas started appearing under bottle caps.
The messages were stamped in the font usually reserved for 'best before' dates on packaging, leading people to think an employee had gone rogue on the production line.
Confusion flooded the Facebook page for SoBe, which is owned by PepsiCo.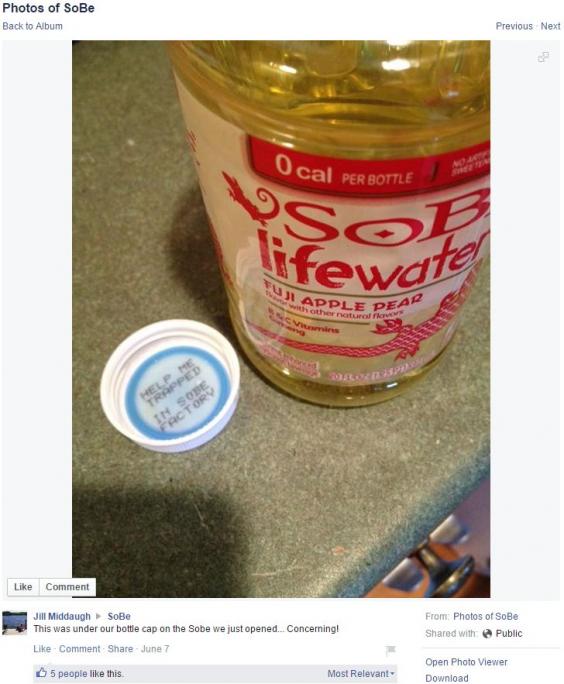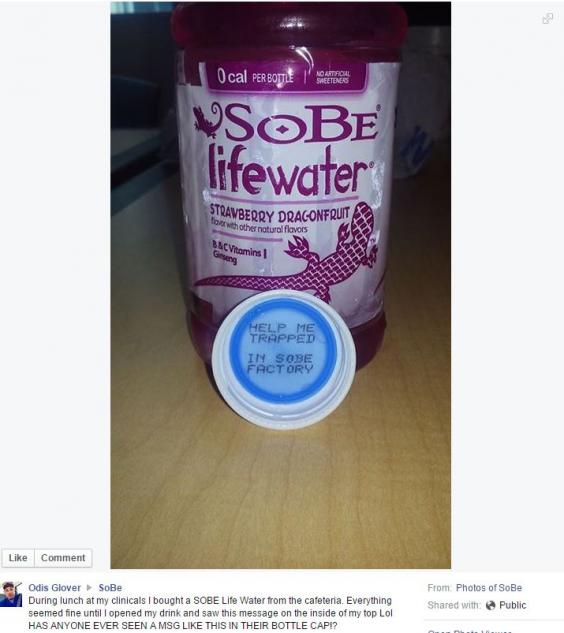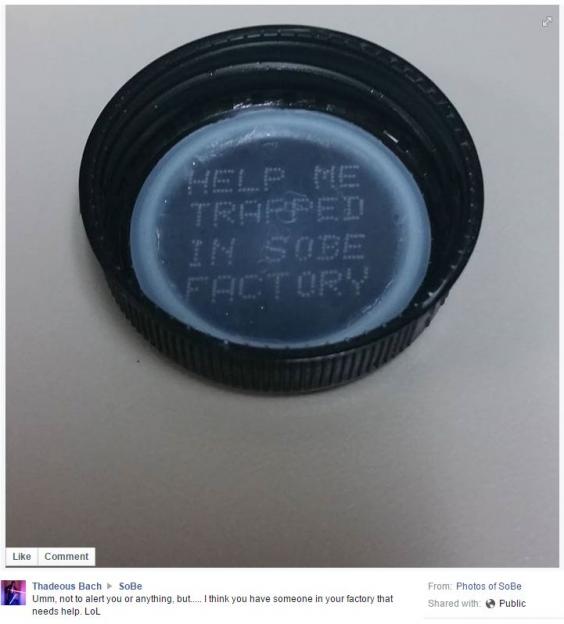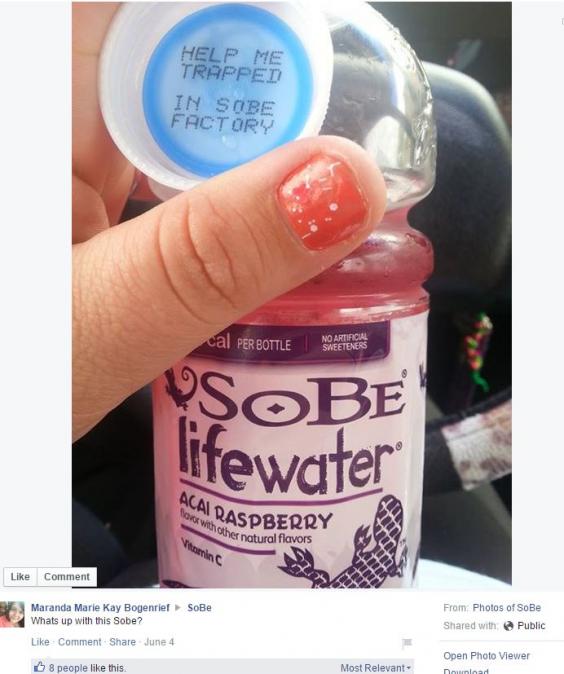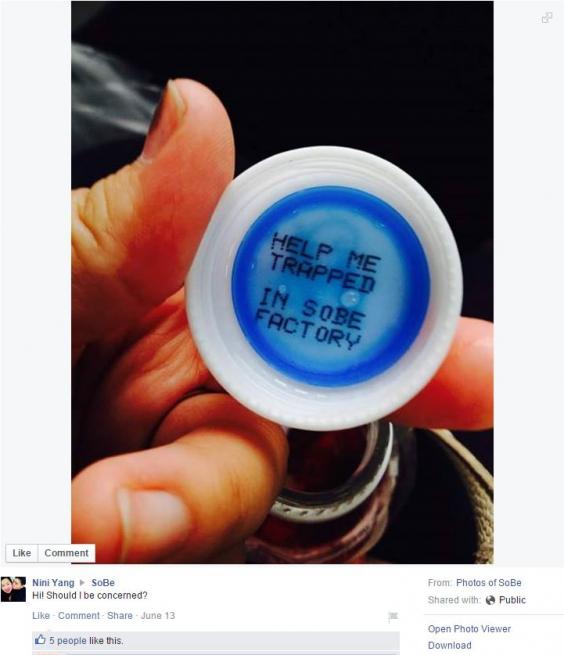 Fortunately this turned out not to be a case of some poor worker facing a horrific death like that of April's tuna factory worker, but branding gone wrong.
SoBe apparently prints messages underneath its lids all the time:
While this latest one was thankfully more inventive than the one above, it was a little insensitive given the vast forced labour problem that exists around the world.
Eventually, SoBe realised this and started posting the following apology beneath a load of the pictures, confirming that it would be changing the hidden message ASAP.
"Hi there, we're sorry that our cap slogan caused you concern, that was certainly not our intention. These sayings are intended to give our consumers a little smile or pause for thought, not offense, while they enjoy their favorite SoBe beverage," it wrote.
"We are planning on removing this cap slogan from our current rotation, however, it will take a while for existing stock to run through the market."
(via BuzzFeed)
The weirdest and most shocking news stories
The weirdest and most shocking news stories
1/30 What do horse semen, an elephant and a yurt have in common

Leading removals company AnyVan.com operates on the premise that they can 'move anything anywhere', an undertaking which has certainly given them more than they bargained for over the years. In addition to the more common requests to move homes, furniture and pianos, listings have included a horse semen, live elephant, a cabinet engraved with the Kamasutra, a phallic statue, a dungeon gynaecological bondage chair, a yurt and an ice cream van

2/30 Couple find dead lizard inside the can of tomatoes

A couple in Birmingham were making lunch when they found the surprise addition of a dead lizard in a can of tomatoes. Muhammad Hussain and his wife Sanam discovered the critter had managed to get into the can that Mrs Hussain had been using to cook a curry. Mr Hussain was alerted to the presence of the lizard when he heard his wife screaming as she made lunch

BBC

3/30 Greggs (a bakery) has actually stopped selling loaves of bread

You'd have thought a bakery would be the one place you'd be guaranteed to buy a loaf of bread. Well, not at Greggs. According to the company's website, customers are able to buy white or malted sliced loaves which "are freshly baked every day". So when one customer went into his local Greggs in Burton-upon-Trent, he was surprised to be told they didn't stock them any more. According to the company, they will now focus on the food to go market, which means most of the bread that the company sells is in sandwiches

AFP

4/30 Man trolls plane passengers by painting sign on his roof welcoming them to the wrong city

One US homeowner has taken trolling to another level by painting a message on his roof top to deliberately trick aeroplane passengers into thinking they've boarded the wrong flight. Mark Gubin painted the sign 'Welcome to Cleveland' on his home which is next to Mitchell International Airport in Milwaukee.  Milwaukee is a city in Wisconsin, some four hundred miles away from Cleveland, in the state of Ohio, prompting passengers to fear they've accidentally boarded the wrong flight as they spy the trick lettering from the aeroplane window

Google Maps

5/30 Missing cat found after spending 64 days trapped inside a mattress

A family who thought they'd lost their cat as they prepared to move 3,000 miles across the US, were relieved when they found their pet inside a mattress some 64 days later. Moosie, a 2-year-old tabby cat, disappeared when Kymberly Chelf and her husband Jesse Chelf boxed up their belongings in preparation for their move from El Paso, Texas, to Anchorage, Alaska. In early June, the family's belongings arrived at their new home– along with a big part of their old life. When the Chelfs heard a meow coming from inside the box, Mrs Chelf said: "it just sounded like he [Moosie] was giving it everything he had just to let us know he was there." The cat had been trapped for over two months without light, food or water. Moosie emerged from the ordeal suffering from severe dehydration and with a damaged liver, but vets have said he is in a good condition, CNN reported

AP Photo/Fairbanks Daily News-Miner, Eric Engman

6/30 There's a lottery in which the prize is a 20-year supply of bacon

Indiana's Hoosier Lottery is switching from cold, hard cash to hot, crispy bacon for its prize, offering players the chance to win 20 years-worth of the stuff. $5,000 of bacon will be dished out in 20 annual instalments to winners, according to the rules, presumably because no-one has the freezer space for 20 years of bacon. It's an ingenious ploy, given that anyone who tried to eat 20 years of bacon would probably struggle to live 20 years

7/30 Demonic CIA Osama Bin Laden doll goes up for sale at auction for $5,000

One of the strangest propaganda weapons of the War on Terror has gone up for sale at auction, and it could be yours for only $5,000. The item in question is a doll of Osama Bin Laden, designed to terrify the children of the Middle East so much that they would be permanently put off from joining Islamist groups. The doll is a fairly faithful recreation of the late terrorist leader, complete with white robes, combat boots, and a scraggly black beard. The propaganda value in the bizarre toy comes from the heat-sensitive paint used on the doll's face. When children played with the doll, the heat from their hands would activate the paint, and change Osama into a terrifying green-eyed, red-faced demon, with black markings all over his face

Nate D. Sanders

8/30 The mystery of the 25-year-old Australian cat which turned up in Northern Ireland

An Australian cat has been mysteriously found in Northern Ireland, sparking speculation as to how he made the 12,000 mile journey. The ginger cat was picked up by Cat Protection helpers in County Armagh last week. When animal welfare officers took him to the vet for a health check, it was discovered that he had been micro-chipped in Australia. The plot thickened as the chip revealed he has also been found as a stray across the Irish Sea in London

Photo: Cat Protection

9/30 Replacement found after 'over-enthusiastic' bull breaks his own penis

A prize bull has had to be taken off his farmer's breeding programme after he suffered a broken penis. The injury, which the Simmentall bull sustained at the beginning of the breeding season, was probably due to being "over-enthusiastic," according to his owner, Tommy Moyles. According to the Irish Mirror, Mr Moyles was then forced to bring another bull, which was previously destined for the slaughterhouse, out to provide his services

Ian Forsyth/ Getty

10/30 Thieves steal four pints of bull semen from Minnesota farm

A group of thieves have stolen about four pints of bull semen from a farm in southern Minnesota in the US - and could sell it on for an extraordinary amount of money. Police in the town of Leroy said they are investigating the theft of a $500 storage container with around 90 filled vials. On the open market, that amount of semen would be worth around $70,000 (£47,000)

Screengrab via CBS News

11/30 Charcoal has become the hot new flavouring

If you want to be in on the latest trend in Britain's restaurants and bars, you're going to have to feel - and indeed taste - the burn. Some words of comfort next time you overfry, overbake, overboil or otherwise burn your dinner to a crisp: charcoal, in all its dark and mysterious forms, is being embraced by some of the best in the food and drinks business. It's not just about cooking on a grill (although that's also a booming market), but charcoal as an actual ingredient – bringing flavour, colour, texture and a touch of playfulness to plates of food and bottles of juice. This news comes on the heels of Burger King Japan's Kuro Pearl offering, a burger with a jet-black bamboo charcoal bun, which met with a mix of hysteria and confusion upon its launch last year. It turns out that the fast food giant was bang on: charcoal is the new, well, black

Victor De Jesus

12/30 Woman claims ski accident has given her extraordinary mental powers

An anonymous woman in America has told an incredible story of how she was left with extraordinary mental abilities after hitting her head in a skiing accident. The ex-student revealed that she now has a condition known as "acquired savant syndrome" following the heavy fall on the slopes during a family holiday. The syndrome now lends her incredible powers of memory and the writer explains how she can draw diagrams of "thousands of places, with thousands of rooms, branches and doorways" right down to the smallest detail" in a piece for xojane.com. An individual with savant syndrome will display "remarkable and sometimes spectacular talents," according Jonathan Hiles, Principal Lecturer of Health and Life Sciences at De Montford University, in an online article regarding the condition

Getty

13/30 This octopus learned to use a camera faster than some humans

A brainy octopus at a New Zealand aquarium has learned how to take photos - using a waterproof camera specially designed to be operated with tentacles. Rambo the octopus, a popular attraction at Kelly Tarlton's Sea Life Aquarium in Auckland, New Zealand, stunned her trainers with how quickly she got to grips with the camera. Speaking to Cult of Mac, Mark Vette, Rambo's trainer, said: "When we first tried to get her to take a photo, it only took three attempts for her to understand the process. That's faster than a dog." He added: "Actually, it's faster than a human in some instances"

ULI DECK/AFP/Getty Images

14/30 4-year-old leaves home at 3am to buy a 'Slushie' drink

It's commonplace to see strange sights on the night bus. But passengers were completely baffled to witness a little girl boarding the vehicle alone at 3am just to satisfy her sweet-tooth. Four-year old Annabelle Ridgeway climbed onto a bus, having been drenched in the rain and without her parents' knowledge, to find a place to buy a crushed-ice beverage. Bus driver Harlan Jenifer, 52, quickly called for assistance and Annabelle was taken to a local hospital to wait for her mother

YouTube

15/30 Little girl goes off on surprising tangent after being told she's going to be a big sister

It starts like one of those classic, schmaltzy parent-and-child YouTube videos. 3-year-old Kathryn's dad informs her in no uncertain terms that she's going to get a little sister. Kathryn pauses for a second, apparently stunned by the news. But no! There's no tearful excited, she just whispers "I farted"

16/30 Shia LaBeouf's heartbeat is now available for livestreaming

Walking Hollywood masterpiece Shia LaBeouf is offering the internet the chance to get closer to him than ever before. But don't let that utterly terrify you – the actor's latest offer has nothing to do with paper bags, paraphrasing footballers or running around museums in Amsterdam 144 times sporting lycra and a single dreadlock. Instead, the 28-year-old will be livestreaming his heartbeat for the next week as part of a new metamodern performance art piece with his previous #IAMSORRY collaborators Nastja Säde Rönkkö and Luke Turner. The project, called Follow My Heart, was announced at the SXSW festival

17/30 What color is this dress?

The internet has been divided into two warring tribes by a picture of a dress functioning as an accidental colour perception experiment. #TheDress, as it has become known, was spotted by a blogger who turned to Tumblr for help when the garment started an argument among her friends. The question of whether it is blue and black or gold and white has divided friends, families and the celebrity world. This dress has sparked an internet frenzy the likes of which has not been seen since Left Shark took the Super Bowl by storm

Caitlin McNeill/Wired

18/30 Llamas on the run

The world didn't know how to contain itself when it saw two llamas running around a city but for motorists in Arizona's Sun City, it was no doubt an a-lama-ing sight. Two of the animals, one black and one white, decided to dash through the centre of the city, doing their best to evade local residents trying to catch them. After a number of near things, the animals were captured by means of a lasso. The owner of the llamas told local media there had actually been three llamas that got spooked and ran away near the centre of the town. He said the animals were part of a mobile petting zoo at a Sun City care centre

19/30 Madonna falls off stage at Brit Awards

This year's Brit awards ceremony looked set to fade from memory like so many others in recent history until Madonna fell down the stairs after a serious wardrobe malfunction. The queen of pop, 56, was making her first performance at the Brits in two decades, when just seconds into "Living for Love" she was pulled backwards down a flight of stairs by her backing dancers. She fell heavily on to her back, the long cape and hood she had been wearing failing to separate from her other clothes. She fell heavily on to her back, the long cape and hood she had been wearing failing to separate from her other clothes

20/30 'Left Shark' steals Super Bowl 2015 as Katy Perry is upstaged by her out-of-time support dancer

While Katy Perry strutted her stuff during the half-time show – which involved multiple costume changes, an entrance on a large metallic lion and duets with Lenny Kravitz and Missy Elliott – social media users were left star-struck by the figure now known as 'Left Shark'. Within minutes, Left Shark had its own Twitter account – which has since expanded to no fewer than six different accounts – but it was not the shark's killer moves and deadly accuracy on stage that gained so much attention, but rather the fact that it had no idea what it was doing. Perhaps even drunk, Left Shark was out of time with Right Shark, who was a picture of perfection as he moved with the beat and in time with Perry – who by this time was already onto her third costume change and bursting into a rendition of "Teenage Dream"

Getty Images

21/30 Kim Kardashian breaks the internet

Kim Kardashian West has recreated the iconic "champagne incident" image by Jean-Paul Goude for the December issue of Paper magazine. Kardashian West is pictured on the cover of the magazine popping open a bottle of champagne which lands in a glass perched on her bottom. In another image released by the American publication, Kardashian-West is pictured naked from behind provocatively dropping her dress. Two further images were released by the magazine last night which show the reality TV star baring all; in one full-frontal shot and another topless image

22/30 Zombie cat

A US cat owner has been left baffled after he claimed his "dead" pet turned up outside his front door – five days after being buried. Ellis Hutson told vets in Tampa Bay, Florida, that he had found his black and white cat Bart lying in a pool of blood after he was hit by a car. According to Fox 13, Hutson told the Human Society of Tampa Bay that he had taken Bart away and buried him, and could not explain how the cat came to be spotted by neighbours a full five days later

YouTube

23/30 'F*ck it, I quit': KTVA reporter Charlo Greene quits live on air in spectacular fashion

KTVA reporter Charlo Greene quit her job on live TV last night, outing herself as the owner of an Alaskan cannabis club and declaring "f*ck it." Having grown weary of reporting the news, Greene told viewers she would instead be putting all her energy into the fight to legalise marijuana in the state, having previously reported on the Alaska Cannabis Club without mentioning her connection to it

KTVA

24/30 Nation in shock as Cadbury's changes the Creme Egg recipe

In a bilateral attack on the glory of Easter, Cadbury's has stunned consumers by changing the recipe of its Creme Eggs and reducing their number in boxes from six to five. Reports that the latest batch of Creme Eggs tasted different were followed up by The Sun, wih Cadbury's confirming to the tabloid that it has switched out Dairy Milk for a "standard cocoa mix chocolate" in the shell

Cadbury's

25/30 Chocolate Digestives revelation could change the face of biscuit eating forever

Shut the biscuit tin, defenestrate your cup of tea, this is serious snack news: you have been eating chocolate biscuits upside down. Biscuits in fact have the chocolate on the bottom of the biscuit, not the top, McVitie's have confirmed, meaning Digestives, Hobnobs and more have a history of being eaten the wrong way up. The news sent shockwaves across the UK's subreddit, after a user posted an email from United Biscuits explaining their composition. "For your information," a spokesperson wrote, "the biscuits go through a reservoir of chocolate which enrobes them so the chocolate is actually on the bottom of the biscuits and not on the top"

26/30 Dollar store toy wand has hidden picture of demonic child cutting herself with a kitchen knife

A mother in Dayton, Ohio was shocked when she purchased a toy wand for her child at a dollar store only to find it ran not on unicorn hair but a picture of a child slicing her arm open. In fairness to the dollar store (literally called '$.100 store') the product was named 'EVIL STICK', though the pink lettering, fairies, swirls and snowflakes on the packaging ensured it would catch the eye of toddlers. The fact that the wand emits a cackling laugh when activated is probably permissible, the horrific hidden image less so

WHIO

27/30 Hello Kitty is not a cat - she's a British girl

The revelation comes from Sanrio, the creators of the international toy, who contacted University of Hawaii anthropologist Christine R. Yano who was putting together a 40th anniversary retrospective of Hello Kitty in Los Angeles. Professor Yano, speaking to the LA Times, said: "That's one correction Sanrio made for my script for the show. Hello Kitty is not a cat. She's a cartoon character. She is a little girl. She is a friend

Getty

28/30 Cannabis-eating sheep munch through £4,000 in plants dumped in bag near farm

Cannabis is known to leave its smokers feeling woolly-headed, but it seemed to have little effect on a flock of sheep who chomped their way through thousands of pounds worth of the drug. The hungry hash-eaters came across seven black bags containing the class B banned substance that had been dumped at the edge of their farm in Merstham, Surrey, and started scoffing

Getty

29/30 Tesco cash machine offers 'free erection' because of mistake translating sign into Welsh

Aberystwyth councillor Ceredig Davies took this picture after the new cash machine became the talk of the town, explaining that 'codiad am ddim' translates colloquially as 'free erection'

Ceredig Davies

30/30 Parrot returns to British owner speaking Spanish - four years after disappearing

Nigel, a grey African parrot, flew away from his home in California in 2010 but was returned to his British owner, Darren Chick, after he was discovered in Torrance, California. Although the Spanish-speaking bird bit Mr Chick when he first saw him, the happy owner said: "He's doing perfect."  Mr Chick says his bird's British accent is gone, replaced by fluent Spanish – and someone called "Larry". Even though he has no idea where the bird has been for the last four years, he claimed: "It's really weird, I knew it was him from the minute I saw him"

Getty
Reuse content