Sustainability might be a buzzword for today's diners, but for the past five years there has been an organisation that recognises restaurants that care about more than profits and reviews. Now, because provenance of food and the ethics of restaurants are of increasing importance to customers, the Sustainable Restaurant Association (SRA) is increasing its reach. Diners can now find more than 4,000 establishments across the UK that display a gold Sustainability Champion logo, which indicates that they are sustainable.
In the same way Michelin awards a star rating based on the quality of the food, the SRA rates restaurants, cafés and caterers based on their sustainability – as one-star, two-star or three-star Sustainability Champions. It looks at three key areas: sourcing –where food comes from and how it is produced; society – how a business treats its staff, communicates with customers, engages with the community and whether it offers healthy eating; and environment – energy, waste, water. Huw Gott, co-founder of the Hawksmoor steak-house chain, says the rating "makes the minefield of sustainability easier to navigate".
The not-for-profit SRA was set up by Henry Dimbleby, founder of healthy fast-food chain Leon, and Mark Sainsbury, the owner of the Zetter Hotel and Grain Store restaurant, in 2010. They wanted to help restaurants to work responsibly and provide diners with a simple way of choosing places to eat "that matched their values". For those that don't quite make the mark, SRA experts offer sustainability advice; those with one star can get help to win a further star or two.
So whether you want to know if the pub where you're having Boxing Day lunch gets the pork for its sausages from a decent farm, or whether the baristas who make your New Year's Day hangover coffee are looked after by their bosses, it couldn't be easier.
And because The Independent on Sunday cares about those values too, we've teamed up with the SRA as a partner for its forthcoming awards. Read the panel below to find out how you can get involved.
Pick your favourite!
SRA president Raymond Blanc will present the Sustainable Restaurant Awards – in partnership with The Independent on Sunday – in February. He says they recognise "the crème de la crème and really help to inspire others".
Blanc believes that "at last both consumers and chefs are reconnecting with gastronomy. Even luxury is now embracing better ethics and values.
"I may be an optimist but I really believe that it is a changing world. And, tomorrow, each of us will make more responsible choices and understand [that] food and the production of food touches every part of our lives."
There are 18 categories in the awards (sponsored by Unilever Food Solutions), including a Sustainability Innovation award, and Raymond Blanc's choice of Sustainability Hero.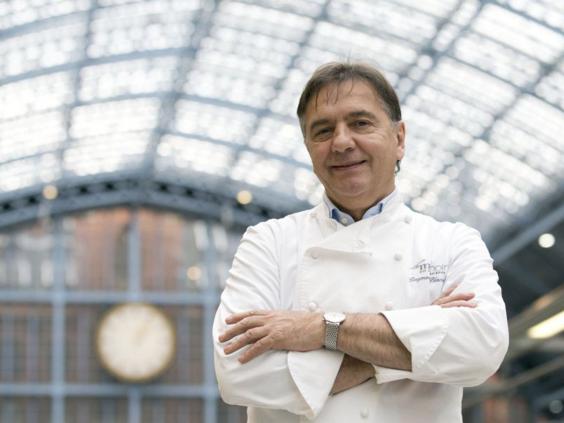 For the first time, the public will be asked to nominate the restaurant that "leaves them not just with a full stomach, but a happy heart and a great taste in the mouth" in a new People's Favourite category. To nominate the restaurant you think is worthy of the title of People's Favourite, you need to describe, in no more than 100 words, why you think it should win the award.
Nominations will be open until 23 January. Visit www.thesra.org/peoplesfave/ to vote. The awards take place on 23 February, 2015.
Champion eateries
Using recycled furniture, teaching children to cook, and sourcing lobster from Brixham harbour are some of the measures that have helped restaurants earn a star rating from the Sustainable Restaurant Association. But it is not only restaurants that have joined the scheme. Large coffee chains such as Costa, contract caterers serving museums and sports stadiums, universities, and fish and chip shops – such as Frankie's Fish & Chips on Shetland, which runs a gluten-free fryer for its coeliac customers – have all become members.
Andrew Fairlie, owner of his eponymous restaurant at the Gleneagles Hotel, Perthshire, and a three-star Sustainability Champion, says the rating is important for customers "who like to see what we are doing". He says 95 per cent of vegetables at his Michelin two-starred restaurant are now produced in its own garden and, as they use a biomass boiler, there is "zero food waste". Staff are entitled to a week's paid leave to train at another restaurant of choice.
Mark Selby, co-founder of Wahaca – also with three stars, has worked with the SRA since the launch of the Mexican street-food chain. From the first day in their first restaurant in Covent Garden, London, he says, "we recycled all of our waste and we have a zero landfill policy across the company". Everything from the buildings to the sourcing of produce is sustainable and the company also "invests in developing our teams and growing and educating them".
Darren Procter, executive head chef at Plymouth University, which has been awarded three stars for its 12 cafés and coffee shops, along with its hospitality business, said the rating has allowed the university "to celebrate what it is doing and access expert opinion and advice". Some of the university's biggest improvements in the area of sustainability have been in the sourcing of produce. It used to import frozen fish but now "more than 10,000 portions a year of fresh, sustainable fish is sourced direct from the harbour in the city from boats that are part of the Responsible Fishing scheme", says Mr Procter.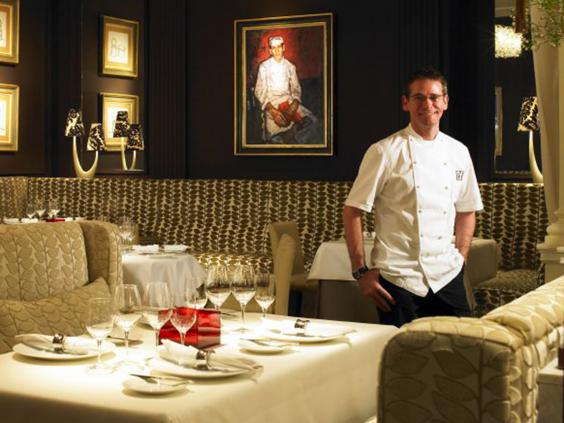 The Hawksmoor steak restaurants scored three stars, thanks to their commitment to "sourcing a great quantity of British and free range produce", and to Hawksmoor's charitable endeavours and the way it looks after its staff and customers. Over the past few years, the chain has raised more than £500,000 for the charity Action Against Hunger, and works with Springboard to help provide job opportunities for unemployed or disadvantaged young people.
Co-founder Huw Gott said: "Companies often talk about sustainability but don't follow through. Guidelines change all the time, so it is good to have the SRA, who know all about this, to ask what we should be doing. It makes life a lot easier."
Reuse content