Forget the Yemen. Salmon fishing in Scotland is reasserting its status as one of the world's most famous – and in its case non-fictional – sources of the king of fish.
In the first six months of this year, sales of Scottish salmon, almost all farmed, were up by 27 per cent to £313m. Worldwide sales of Scottish salmon reached an all-time high in 2013, amounting to £571m, making it the UK's second-largest food export after chocolate and confectionery, which had £1m more sales.
But these figures released by the Department for Environment, Food & Rural Affairs suggest that total sales in 2014 could eclipse those of the previous year.
Scott Landsburgh, the chief executive of the Scottish Salmon Producers' Organisation, said: "Qualities such as firm flesh and distinct flavours, combined with Scottish provenance and tradition, have all been crucial to establishing our export markets in Europe, North America and the Far East."
He said the business was focused on "protecting the Scottish salmon brand and markets by using sustainable production standards and husbandry techniques that produce high-quality fish".
China has one of the fastest-growing appetites for the pink-fleshed fish, with sales there up to £50m in 2013 from just £100,000 five years earlier. And demand from the US and France racked up exports totalling £310m in 2013.
Environment Secretary Elizabeth Truss said that she was "delighted" by the news. "These impressive figures show the UK is a place the world increasingly comes to buy quality, trusted food – that's great news for our growing economy and great news for UK businesses looking to sell their produce across the globe."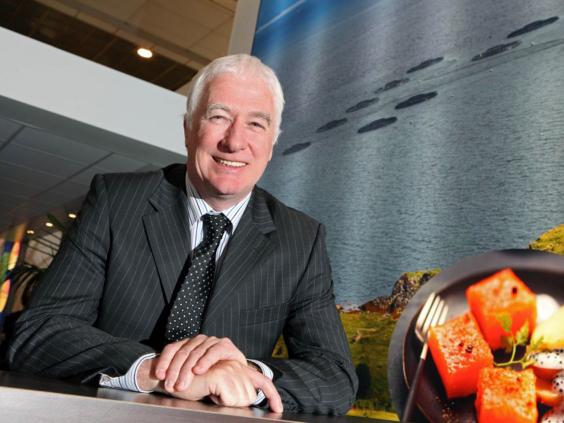 Businesses beyond Scotland are looking to capitalise on the appeal of its produce. One of the UK's oldest curers, H Forman and Sons, is seeking to make London Cure Smoked Scottish Salmon a protected food name like Stilton cheese and Cornish clotted cream. Lance Forman of the firm said: "We are keen to engage the public about the heritage of smoked salmon, so it retains its status as a fine food which consumers love and appreciate."
There has been also been growing demand for smoked wild fish. The Scottish Wild Salmon Company, a family business based near Montrose, sells wild smoked salmon for £100 a kilo.
David Pullar, who deals with sales, estimated that smoked salmon orders were up by 50 per cent from 2013 to 2014 with strong demand from Europe. About 95 per cent of their fresh fish was exported across Europe, including Sweden, Switzerland, Belgium, France and Spain.
Mr Pullar's brother George, who catches the salmon, added that although there was a difference in levels of fat between wild and farmed salmon, farmers "replicate the quality of wild salmon and in some cases do a very good job".
A Scottish government spokeswoman said: "Scottish salmon plays an important role in our economy, but is also a sustainable and healthy food. With global exports of salmon increasing, there is clearly a well-justified, growing demand and recognition for Scotland's excellent produce."
However the industry has faced criticism over its environmental record. In 2008, a documentary by the Ecologist Film Unit shed light on how the fishmeal industry, which supplies feed for farmed salmon, was having a detrimental impact in Peru. The factories that make the feed – often cooked-down oily fish such as anchovies – can cause pollution that has significant health implications for people living nearby.