The UK's 14 dirtiest supermarket outlets have been named by hygiene inspectors and include a Tesco Express, a Co-op and a Spar.
The stores have all received a "zero" rating by inspectors and means "urgent improvement is necessary," which can result in premises being shut down until they meet the required standards.
The data, which includes the ratings of over 11,000 supermarkets submitted to the Food Standards Agency ratings site, shows the scores given to the stores the last time they were visited by inspectors. Their hygiene levels may have improved since these inspections.
One of the stores on the list is a Tesco Express in Highgate which had to be closed for a day April after it was found to have a rodent infestation problem.
The store was closed for a day in order to thoroughly clean the shop and increase the pest control measures to ensure future infestations were prevented.
A Tesco spokesperson apologised at the time for any inconvenience caused and said in a statement: "We insist on the highest standards of hygiene in our stores.
"We took the decision to temporarily close our Swain's Lane store to ensure these standards are maintained."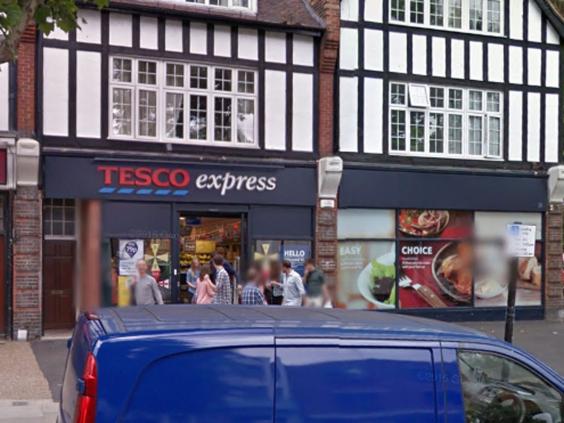 The Tesco closure came less than two years after a Tesco was forced to pay £45,000 by Southwark Crown Court after a Tesco Metro store in Covent Garden, London, was found to have a "super mouse" on the premises and rotting mouse corpses in the dairy fridge of the store's warehouse.
The 14 stores named are:
Yours Supermarket, Belgrave, Leicester
Spar, Millstone Lane, Leicester
Co-op, Evington Road, Leicester
Pound Box, Holme Slack Lane, Preston, Lancashire
Iqbal Cash & Carry, Birchfield Street, Birmingham
Pak Supermarket, Birchfield Road, Birmingham
Poundland, Corporation Street, Birmingham
Beer Bank, Walsall Road, Walsall, West Midlands
Fine Foods, Park Parade, Harlesden, London
Sira Cash & Carry, South Road, Southall, London
Tesco Express, Swain's Lane, Highgate, London
Abbey Wood Afro Caribbean Cash & Car, Felixstowe Road, Willesden, London
Cheam Food Centre, London Road, North Cheam, Surrey
Aberavon Supermarket, Victoria Road, Port Talbot, South Wales
Reuse content