A Scottish brewery has launched a 'not for gays' beer in protest at Vladimir Putin's anti-gay laws, and have even sent a crate to the Russian leader himself.
The limited-edition 'Hello, My Name is Vladimir' beer features a Warhol-esque impression of Vladimir Putin wearing make-up on its label and the satirical *not for gays small print across the bottom.
BrewDog, the brewery responsible for creating the 'protest beer' included the following description on the labels: "Hello, my name is Vladimir. I am 100 per cent hetero and will pass laws to prove it.
"Drinking me gives you energy, ignorance and dogmatism required to shoot a deer (with your top off) and pass internationally denounced, discriminatory legislation (top optional) before you've even had your caviar breakfast."
James Watt, co-founder of BrewDog said they produced the double IPA 8.2 per cent beer, which went on sale shortly before the 2014 Sochi Winter Olympics begins, as a protest against the President's gay laws and to "hold up a mirror to discriminatory legislation signed off by Mr Putin."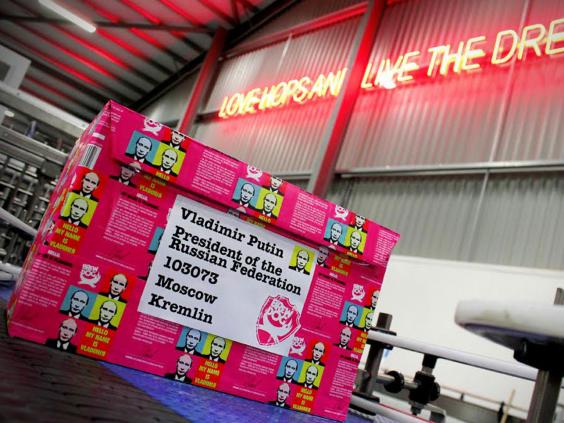 He told The Independent: "We sent a case of beer to the Kremlin, as well as leaving beer at the Russian Consulate in Edinburgh and the Russian Embassy in London. We've not heard anything from Mr Putin, but we expect he's out petting a leopard somewhere, probably with his top off." 
Mr Watt described the public response to the beer as overwhelmingly positive. "We've had tens of thousands of tweets about it - there is a lot of support for the beer and the cause", he added. 
On their website, BrewDog say their core beliefs are: "freedom of expression, freedom of speech and a dogged (no pun intended) passion for doing what we love."
"The sick, twisted legislation brought about in Russia that prevents people from living their true lives is something we didn't want to just sit back and not have an opinion on.
Fifty per cent of beer sales will go to charitable organisations supporting oppressed minorities.
The beer is available online and in BrewDog's have twelve pubs across the UK. Not ones to shy away from controversy, the company also launched a Viagra- laced beer to mark the Royal wedding in 2011, called the Royal Virility Performance.
The A-list opposing Russia's anti-gay laws
The A-list opposing Russia's anti-gay laws
1/15 When Madonna performed in Russia, she took to the stage with the words "No Fear" scrawled across her back. "Show your love and appreciation to the gay community," she urged her audience.

2/15 "In solidarity. From Russia with love," Tilda Swinton posted alongside this photograph of her holding a rainbow flag in support of the LGBT community outside the Kremlin in Moscow.

3/15 "As a gay man, I can't leave those people on their own without going over there and supporting them," Elton John said ahead of his boycotted string of shows in Russia in 2013. "I don't know what's going to happen, but I've got to go."

4/15 "The Russian government is criminal," Lady Gaga tweeted in August. "Oppression will be met with revolution. Russian LGBTs you are not alone. We will fight for your freedom." She later noted: "Sending bravery to LGBTs in Russia. The rise in government abuse is archaic. Hosing teenagers with pepper spray? Beatings? Mother Russia?"

5/15 "I think we should do more than just send gay Olympians there," the Star Trek actor said in a recent interview. ''What's happening there in terms of gay rights or the lack of it is extraordinary and awful."

6/15 Gay Star Trek actor George Takei that Russia's "cynical and deplorable actions against the LGBT community have given license to hate groups within its borders to act with violence and impunity against a group, based solely on whom they were born to love."

7/15 Prisonbreak star Wentworth Miller publicly came out in an open letter to Russia regarding its anti-gay laws. "I am deeply troubled by the current attitude toward and treatment of gay men and women by the Russian government," he wrote, turning down an invitation to a Russian film festival. "The situation is in no way acceptable, and I cannot in good conscience participate in a celebratory occasion hosted by a country where people like myself are being systematically denied their basic right to live and love openly."

8/15 Jamie Lee Curtis was one of many celebrities who joined the 'Love Conquers Hate' T-shirt initiative, lauched by the Human Rights Campaign, the largest gay rights activist group in the US.

9/15 Kevin Bacon also joined the 'Love Conquers Hate' initiative."We stand with Russia's LGBT community and their allies," said HRC President Chad Griffin. "We are committed to doing as much as we possibly can to support their efforts to repeal this heinous law."

10/15 "I'd boycott Russian goods if I could think of a single thing they made besides the rest of the world depressed," Hugh Laurie posted on Twitter in January 2014.

11/15 "I can't name names but my friend called who is a big oligarch over there, and asked me if I'd like to be an ambassador for the Olympics and open the show," Cher told Maclean's writer Elio Iannacci. "I immediately said no. I want to know why all of this gay hate just exploded over there."

12/15 Putin "is making scapegoats of gay people, just as Hitler did Jews," Stephen Fry warned in his appeal to the IOC.

13/15 "For real: Tell Russia & the @Olympics that #LoveConquersHate. Join @HRC and share your pic. #Sochi14," actress Kristen Bell tweeted, promoting her gay rights advocacy T-shirt scheme.

14/15 "Help us show Russia & the world that #LoveConquersHate," Wolf of Wall Street star Jonah Hill tweeted as part of the same campaign alongside a picture of himself wearing the T-shirt.

15/15 Grammy-winning singer Melissa Etheridge released a song, "Uprising of Love", in support of the Russian LGBT community, and partnered with Bruce Cohen to launch a coalition of celebrities and influential public figures, too.
Reuse content