Buying groceries only to toss them into the street on the way home sounds absurd – and yet 1.3 billion tonnes of food fit for human consumption is thrown away worldwide each year by both consumers and businesses.
Such eye-opening figures have ignited an anti-food waste movement in recent years, to raise awareness of how such behaviour not only harms the environment and exacerbates food poverty but also dents wallets.
In the UK alone, almost 50 per cent of the total food thrown away comes from the home even though half of it is safe to eat, according to the Love Food Hate Waste campaign run by anti-waste charity Wrap.
But attitudes are changing. Between 2007 and 2012, avoidable waste was cut by a fifth. And if all of the tonnes of produce in the UK currently sent to landfills was eaten, it would save as much energy as removing one in four cars off the road.
The latest battle in the war against waste sees online supermarket Ocado pledging produce to The Real Junk Food Project (TRJFP): a network of cafes which intercepts grub before it is trashed.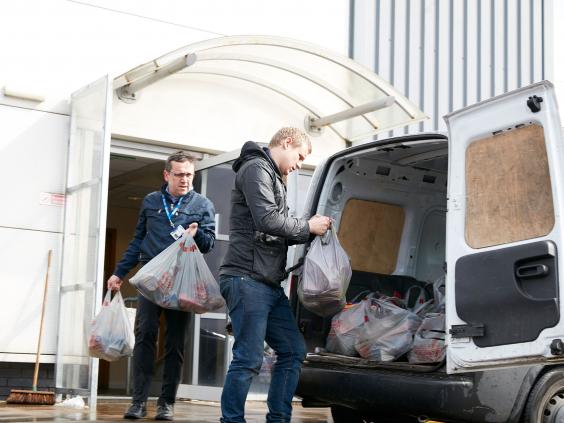 Following a trial with TRJFP in November last year, Ocado will store food from orders cancelled by customers after it has been picked and packed, to be collected by the charity daily.
TRFJP turns donations into healthy meals served at its "pay as you feel" cafes across the UK, as well as locations in Europe and Australia. Since 2013, the organisation has reused about 324.8 tonnes of food to create almost 200,000 meals in the UK alone.
The supermarket claims to be the first UK retailer to send orders cancelled by customers directly to a charity. However, it is not alone in clamping down on waste.
In 2009, leading retailers including Tesco, Sainsbury's, Waitrose, Asda, Marks & Spencer and bread manufacturer Warburtons signed up to an industry-wide objective to reduce food waste.
Earlier this year, Sainsbury's became the first supermarket to replace multi-buy promotional offers, such as buy one get one free, with lower prices overall after a government-backed report found that over a quarter of consumers are "enticed" by deals to buy more than they need.
The move followed a 2013 decision by Tesco to drop food promotions after it discovered that 68 per cent of bagged salad, 40 per cent of apples, and under half of bakery items went uneaten.
Celebrity chefs including Jamie Oliver and Hugh Fearnley-Whittingstall have also rallied against waste with respective campaigns, while restaurants such as Japanese-inspired Itsu have cut the price of food in the evenings.
However, France has gone the furthest, and earlier this year became the first country to demand supermarkets donate food to charities or food banks rather than discarding or destroying it.
Snact, a firm which sources fruit destined for the bin from farmers and packing centres and turns it into jerky, is among smaller businesses trying to save food from landfills.
Co-founder Illan Taub believes that food waste is a society-wide problem, and that placing the blame solely on retailers is not the most useful approach.
"We don't value food," she argues, adding: "We've become completely disconnected from our food system and we've come to see food as a commodity and just another thing we buy at the shop and discard. We don't think of how many resources have gone into growing, processing, transporting it.
"Sure, big players like retailers and manufacturers have a responsibility to do something about it because they have the power to make massive changes, but they shouldn't be singled out."
Making surplus food palatable to consumers has been one of the main challenges faced by Snact since it was established in 2013, and Taub argues that the term "food waste" hinders the cause.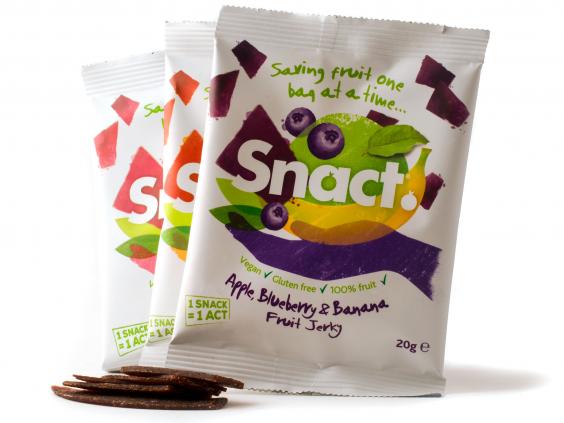 "It's not food waste, it's just food. If we stop thinking about it or seeing it as waste, perhaps we'll start treating it differently too."
Justin Horn, the founder of London's zero-waste pop-up restaurant Tiny Leaf, said working in restaurants and seeing initiatives at work in Amsterdam and New York City inspired him to launch the venture.
"The UK's supermarkets' stringent aesthetic requirements are causing huge amounts of waste," he argues, but adds that concerns about global warming have heightened awareness and partly helped Tiny Leaf to fill its tables night after night.
As they prepare to open their second site in coming weeks, the Tiny Leaf team hope to one day build the first circular economy restaurant, using produce grown in vertical walls.
Food trends in 2016
Food trends in 2016
1/11 Celeriac root

We had a kale obsession in 2015, but 2016's vegetable sine qua non is predicted to be the knobbly celeriac root. Celeriac milk (Tom Hunt at Poco in Bristol serves it with winter mussels and wild water celery), celeriac cooked in Galician beef fat (from Adam Rawson of Pachamama, hot new chef in the capital) and salt-baked celeriac (to be found in Matthew and Iain Pennington's kitchens at The Ethicurean in the West Country) are just a few examples.

Getty Images

2/11 Middle Eastern food

The Middle Eastern Vegetarian Cookbook (£24.95, Phaidon) by grand-dame Salma Hage, author of the bestseller The Lebanese Kitchen (whose halva is pictured here), is out in April

© Liz & Max Haarala Hamilton

3/11 Non-alcoholic cocktails

Grain Store mixologist Tony Conigliaro has created Roman Redhead, a riot of red grape juice, beetroot, pale ale and verjus, and Rose Iced Tea (black tea, rose petals, anise essence, pictured here)

4/11 Gin

The discerning will be slurping Hepple gin – from chef Valentine Warner and cocktail guru Nick Strangeway – which is punctuated with bog-myrtle nuances

5/11 Argyll and Bute

Restaurant followers are getting in a froth about Pam Brunton in Scotland, who opened the Inver restaurant in Argyll and Bute to acclaim last year

6/11 Andy Oliver's Som Saa

One of the most eagerly awaited restaurants of 2016 will be the permanent incarnation of Andy Oliver's remarkable pop-up Som Saa opening very soon in east London. Oliver, who worked at Thai god David Thompson's Nahm in Bangkok, raised a whopping £700,000 through crowdfunding, and is renowned for his piquant Thai flavours and obsessive attention to detail, including in his home ferments and DIY coconut cream

© Adam Weatherley

7/11 Venison

Another ruminant in vogue is venison, with Sainsbury's doubling its line for 2016. It provides a protein-packed punch, with B vitamins and iron, and it's low in fat. Its entry into the mainstream is in part thanks to the Scottish restaurant Mac and Wild, just opened in London, whose Celtic head chef Andy Waugh (who also runs the Wild Game Co) has been touting it as street food for years (his venison burger pictured here)

8/11 Goat

From Brett Graham's The Ledbury to Angela Hartnett's kitchens at Lime Wood Hotel in the New Forest, Cabrito is the go-to goat supplier among the chef cognoscenti (roasted loin of kid pictured here) – but this year, domestic cooks can get in on the action, as Sushila Moles and James Whetlor of Cabrito offer their meat through Ocado

Mike Lusmore / mikelusmore.com

9/11 Coffee

Coffee sage George Crawford is launching the much-anticipated Cupsmith with his partner, Emma. Crawford believes that 2016 is the year purist coffee will finally meet the masses; Cupsmith's mission will be to make craft coffee as popular as craft beer on the high street. The company roasts Arabica beans in small batches, improving its quality – but sells it online, at cupsmith.com, in an approachable way: expect cheerful packaging and names such as Afternoon Reviver Coffee (designed for drinking with milk – no matter how uncouth, most of us want milk) and Glorious Espresso

Julia Conway

10/11 120-day-old steak

Hanging meat for extremely long lengths of time has become an art. In Cumbria, Lake Road Kitchen's James Cross is plating up 120-day-old steak (pictured here). The beef is from influential "ager" Dan Austin of Lake District Farmers, who is currently investigating the individual bacterial cultures that go into this maturing process

11/11 Lotus root

Diners can expect root-to-stem dining - cue the full lotus deployed by the Michelin-starred Indian Benares in its kamal kakdi aur paneer korma

Getty Images
Mark Linehan, managing director of the Sustainable Restaurant Association (SRA), praises Tiny Leaf and other zero waste establsihments including TRJFP and Silo in Brighton.
"[These restaurants] are making the most of food that would otherwise go in the bin and, rather than be seen as somewhere to avoid, have attracted rave reviews."
Meanwhile, the SRA itself has tackled the issue with its own campaigns, including a drive to boost the use of "doggy bags", at restaurants – a popular practice in the US.
"Since the SRA conducted its Too Good to Waste campaign in 2011 restaurant staff have become more proactive in offering their customers doggy bags, which has helped overcome Brits' natural reticence to ask.
"As little as three years ago no one gave a second thought to used coffee grounds. Now this brown sludge is being put to serious use – as furniture, mushroom compost, with restaurants now serving the mushrooms grown with their own coffee grounds, and much more besides."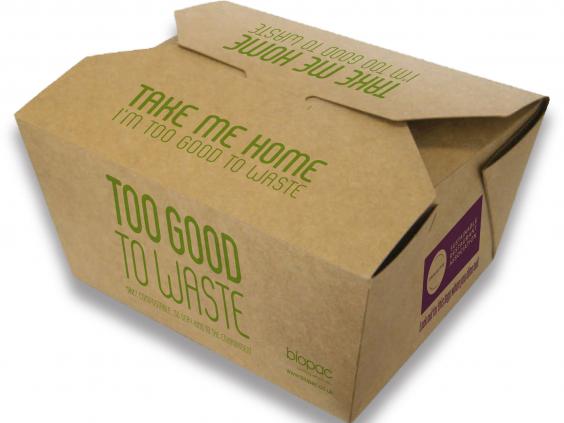 And cutting food waste at home is simple. Love Food Hate Waste highlights how planning meals by checking what is in the cupboard before heading to the supermarket; storing food correctly; portioning carefully; and using leftovers can drastically cut waste.
Getting to grips with the difference between use by and best before dates is also important.
Adopting such behaviours could make a dent in the 4.2million tonnes of avoidable food waste thrown out by UK households each year – and save a palatable six meals a week or £700 a year.
Reuse content