Shiitake chive dumplings by Jeremy Pang
Want to have a go at making your own Chinese dim sum? Jeremy's recipe includes a useful guide to making these wonderfully crispy shiitake and chive dumplings, with tips on how to perfectly wrap and shape them.
Most Chinese dumplings can either be deep-fried, pan-fried, steamed or blanched, though there is something incredibly moreish about deep-fried ones with their crunchy exterior and hot, steamy filling. Much like fresh pasta, when made from scratch, dumplings should not be overcooked – whichever way you choose to cook them, the cooking process itself should not take any longer than five minutes. The goal is to cook the pastry and filling through, while keeping that 'al dente' bite. Served with noodles for a great alternative to a Sunday lunch.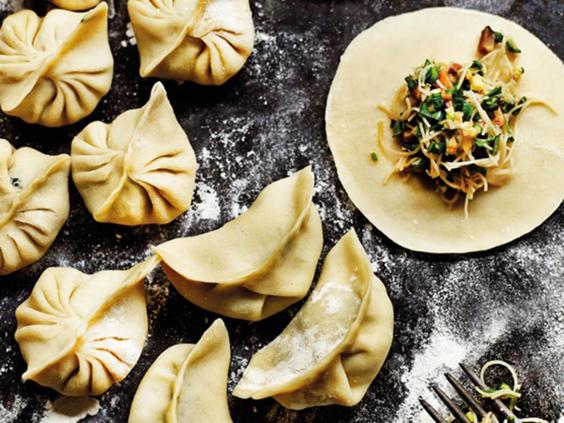 Makes 25
Dumpling wrappers
225g of plain flour
​130ml of hot water, plus extra if required
vegetable oil, for frying
Filling
50g of rice noodles
1 handful of coriander
1 spring onion
1 inch piece ginger
1 garlic clove
5 shiitake mushrooms, soaked and drained
​200g of chives, Chinese chives preferably or garlic shoots
1 pak choi, 5 leaves only
1 head of Chinese leaf, 1 leaf only
Marinade
1 tbsp of light soy sauce
¼ tsp black pepper
¼ tsp granulated sugar
2 tsp sesame oil
½ tbsp of cornflour
Dipping sauce
4 tbsp of light soy sauce
4 tbsp of black rice vinegar
1 inch piece ginger, finely slice
Sieve the flour into a bowl. Gradually add the water, mixing with a fork to form a dough, then knead it on a lightly dusted surface for five minutes until slightly elastic. Roll out the pastry to a thickness of 1–2mm, then use a 70mm diameter circular cutter to cut out as many pastries as possible. Set the pastries aside on a baking sheet or tray and cover with a tea towel until needed.
For the filling, put the noodles in a bowl, cover with hot water and soak for 3 minutes. Drain and dry the noodles on a clean kitchen towel, then finely chop them along with all the other filling ingredients. Put the chopped filling ingredients in a bowl along with the marinade ingredients and mix together well. Combine the dipping sauce ingredients in a small bowl or ramekin and wrap the dumplings. Place one teaspoon of the filling in the centre of each circle of dough. Fold the bottom centre over the filling to form a semicircle and pinch the top tight.
Pinch the two corners of the semicircle together leaving two symmetrical 'Mickey Mouse ear' shapes between your centre fold and the corner folds. Now pinch the 'ears' in towards you to make four layered folds.
Food and drink news
Food and drink news
1/31 Gluten-free diets 'not recommended' for people without coeliac disease

Avoiding wheat, barley and rye in the belief that a gluten-free diet brings health benefits may do more harm than good, according to a team of US nutrition and medicine experts

Getty Images/iStockphoto

2/31 Starbucks launches two new coffee-based drinks

Starbucks is launching two new coffee-based drinks in the UK, as it strives to tap into consumers' growing appetite for healthy beverages. The Cold Brew Vanilla sweet cream and the Cappuccino Freddo, will both be available in stores throughout the UK from the start of May

Twitter/@SbuxCountyHall

3/31 Cadbury's Dairy Milk Tiffin is making a permanent comeback after 80 years

The Cadbury Dairy Milk Tiffin, first produced in 1937, is making a permanent comeback to the UK. The raisin and biscuit-filled chocolate bar is being launched after a successful trial last summer saw 3 million chocolate treats – at the cost of £1.49 for each 95g bar- purchased by nostalgic customers

Cadburys

4/31 Pizza restaurant makes 'world's cheesiest'

'Scottie's Pizza Parlor' in Portland Oregon has created the world's cheesiest pizza using a total of 101 different cheese varieties.

Facebook/Scottie's Pizza Parlor

5/31 A pizza joint in Portland Oregon has created the world's cheesiest pizza using a total of 101 different cheese varieties. Why not eating before a workout could be better for your health

A study published in the American Journal of Physiology by researchers at the University of Bath found you might be likely to burn more fat if you have not eaten first

Getty Images/iStockphoto

6/31 New York restaurant named best in the world

A New York restaurant where an average meal for two will cost $700 has been named the best in the world. Eleven Madison Park won the accolade for the first time after debuting on the list at number 50 in 2010. The restaurant was praised for a fun sense of fine-dining, "blurring the line between the kitchen and the dining room"

Getty Images

7/31 Why you crave bad food when you're tired

Researchers at Feinberg School of Medicine, Northwestern University in Chicago recently presented their results of a study looking into the effects of sleep deprivation upon high-calorific food consumption. Researchers found that those who were sleep-deprived had "specifically enhanced" brain activity to the food smells compared to when they had a good night's sleep

Shutterstock

8/31 Drinking wine engages more of your brain than solving maths problems

Drinking wine is the ideal workout for your brain, engaging more parts of our grey matter than any other human behaviour, according to a leading neuroscientist. Dr Gordon Shepherd, from the Yale School of Medicine, said sniffing and analysing a wine before drinking it requires "exquisite control of one of the biggest muscles in the body"

Getty Images/iStockphoto

9/31 British dessert eating surges after people ditch healthy eating in February

: In heartening news for anyone feeling guilty about quitting their New Year diet, it seems lots of us have given in to our sweet tooths once again. New data from nationwide food-delivery service Deliveroo reveals there was a surge in Brits ordering desserts in February compared to the first month of 2017

Getty Images/iStockphoto

10/31 US congress debates definition of milk alternatives

A new bill has been created that seeks to ban dairy alternatives from using the term 'milk'. Titled the DAIRY PRIDE Act, the name is a tenuous acronym for 'defending against imitations and replacements of yogurt, milk, and cheese to promote regular intake of dairy every day'. It argues that the dairy industry is struggling as a result of all the dairy-free alternatives on the market and the public are being duped too

Getty Images

11/31 Cadbury's launches two new chocolate bars

UK confectionary giant Cadbury has launched two new chocolate bars, hoping to lure those with a sweet tooth and perhaps help combat some of the challenges it faces from rising commodity prices and a post-Brexit slump in the value of the pound.The company's new products will be peanut butter and mint flavoured. They will be available in most major super markets as 120g bars, priced at £1.49, according to the company

Cadburys

12/31 You can now get a job as a professional chocolate eater

The company responsible for some of your favourite chocolate brands – think Cadbury, Milks, Prince and Oreo – have officially announced an opening to join their team as a professional chocolate taster. The successful candidate will help them to test, perfect and launch new products all over the world.

Getty Images/iStockphoto

13/31 MSG additive used in Chinese food is actually good for you, scientist claims

For years, we've been told MSG (the sodium salt of glutamic acid) - often associated with cheap Chinese takeaways - is awful for our health and to be avoided at all costs. But one scientist argues it should be used as a "supersalt" and encourages adding it to food.

Getty Images/iStockphoto

14/31 Lettuce prices are rising

Not only are lettuces becoming an increasingly rare commodity in supermarkets, but prices for the leafy vegetables seem to be rising too. According to the weekly report from the Government's Department for Environment, Food and Rural Affairs, a pair of Little Gem lettuces had an average market price of £0.86 in the week that ended on Friday, up from an average of £0.56 in the previous week – that's an almost 54 per cent increase.

Getty Images

15/31 Food School

Kids celebrate Food School graduation with James Martin – a campaign launched by Asda to educate young people on where food comes from. New research has revealed that children across the UK just aren't stepping up to the plate when it comes to simple facts about the food they eat – with almost half of children under eight not knowing that eggs come from chickens

RichardCrease/BNPS

16/31 'Do-It-Yourself' restaurant

To encourage more people to cook and eat together, IKEA has launched The Dining Club in Shoreditch – a fully immersive 'Do-It-Yourself' restaurant . Members of the public can book to host a brunch, lunch or dinner party for up to 20 friends and family. Supported by their very own sous chef and maître de, the host and their guests will orchestrate an intimate dining experience where cooking together is celebrated and eating together is inspirational

Mikael Buck / IKEA

17/31 Ping Pong menu with a twist

Gatwick Airport has teamed up with London dim sum restaurant Ping Pong to create a limited edition menu with a distinctly British twist; including a Full English Bao and Beef Wellington Puff, to celebrate the launch of the airport's new route to Hong Kong

18/31 Zizzi unveil the Ma'amgharita

Unique pizza art has been created by Zizzi in celebration of the Queen's 90th birthday. The pizza features the queen in an iconic pose illustrated with fresh and tasty Italian ingredients on a backdrop of the Union Jack

19/31 Blue potatoes make a comeback

Blue potatoes, once a staple part of British potato crops, are back on the menu thanks to a Cambridge scientist turned-organic farmer and Farmdrop, an online marketplace that lets people buy direct from local farms. Cambridge PhD graduate-turned farmer, Adrian Izzard has used traditional growing techniques at Wild Country Organics to produce the colourful spuds, packed with healthy cell-protecting anthocyanin, which had previously disappeared from UK plates when post-war farmers were pushed towards higher-yielding varieties

20/31 France plans to usurp Scotland as the home of the world's best whisky

France is planning to usurp Scotland's reputation as the home of the world's best whisky, fired by a growing national obsession with the drink. According to a study by retail consultants Bonial, the French drink more whisky than any other country – an average of 2.15 litres a year, compared to 1.8 litres in second-placed Uruguay and the US in third on 1.4 litres

Bloomberg via Getty Images

21/31 The price of an avocado is set to rise

Britain's avocado lovers are facing a significant increase in the cost of their favourite salad food because the so-called superfood is becoming too popular. High demand from health-conscious consumers has led Peru to triple its avocado exports since 2010, with exports to the UK up 58% over the past year

22/31 Eating cereal may not be the healthiest way to start the day

The old saying goes that breakfast is the most important meal of the day, so many of us do as we are told and grab a bowl of cereal before we head out the door. But an expert has warned that while many cereals boxes claim their contents are the perfect start to the day, many are packed full of sugar and carbohydrates with little nutritional value. Even some seemingly-health muesli cereals have a lot of added sugar in the form of honey, malt, molasses, dried fruit or "even fruit juice"

Getty Images

23/31 Crisps made with real ingredients

Michelin starred chef, Simon Rogan in action cooking a menu inspired by the provenance ingredients in the new Chef's Signature range from Kettle Chips. Kettle Chips, the nation's favourite premium crisp brand, has launched the new range of crisps with exciting new seasonings, made with the highest quality food ingredients rather than chemicals or artificial flavours

24/31 Japanese whisky crisis

Suntory's chief blender Mr. Fukuyo San blends component whiskies to create Suntory Yamazaki Distiller's Reserve, a blend of young and old single malts. Japan's warm climate and varied seasons makes it perfect environment to age and blend whiskies, creating subtle, refined and complex expressions.The recent trend for Japanese whisky has put the spirit on the verge of a global shortage

25/31 Non-alcoholic cocktails are seriously chic

We are living through a new era of creative, non-alcoholic drinks that go way beyond a coke or sweet mocktail. The world is becoming more health conscious. There's the war on sugar, and teetotalism is on the rise, with more than one in five not drinking at all (especially young adults), according to The National Statistics for Adult Drinking Habits. This abstinence is even more pronounced in London, with almost one in three turning away from alcohol. An increasing number of mixologists are applying their talents to the creation of non-alcoholic drinks that taste as good as their boozy alternatives

26/31 'Heat map' shows which areas of Britain enjoy the spiciest curries

After Bradford was named the Curry Capital of Britain for the fifth year running, a map has been released showing which regions of Britain enjoy a spicy curry and which prefer the milder variants. According to the map developed by Hari Ghotra, Kent, Essex, West Yorkshire and Lancashire are the heat-handling kings of Britain, while Scotland, Northern Ireland and Wales all prefer milder curries. The data was collected by monitoring the location of social media posts that mentioned names of curries. These were then given a spice rating and were then collated to give each area a score out of 1000

27/31 Guinness to become vegan-friendly

Guinness is set to become vegan friendly for the first time in its 256-year history, as the company announced its plan to stop using fish bladders in its filters

28/31 Why the salmon on your plate might not actually be salmon

Salmon that ends up on the dinner table may not be salmon at all, a study has suggested. The problem of salmon mislabelling has become an increasing issue in the US in the winter months, according to American research published by Oceana. The findings show that 43 per cent of the salmon tested was mislabelled – the most common instance of this being when farmed Atlantic salmon was sold as wild salmon

29/31 How dangerous is a bacon sandwich

A recent WHO report warning that processed and red meats can cause cancer may have left you thinking a little harder about whether to pick up that bacon butty for breakfast or ditch a beef-filled Bolognese for dinner - but how worried should we be? The review of 800 studies for the International Agency for Research on Cancer (IARC) prompted global health experts to cast processed meats - including bacon, ham and sausages - into the ominous-sounding list of group 1 carcinogens, where they joined formaldehyde, gamma radiation and cigarettes. Eating just a 50g portion of processed meat – or two rashers of bacon - a day increases the risk of bowel cancer by 18 per cent, the experts concluded

30/31 New Zealanders are behind a lot of the interesting food and drink stuff happening in the UK

Dark beers are more suited to cold months, so the thinking goes, but in one part of the world they're always popular. "Lots of breweries in New Zealand have got stouts and porters among their best sellers," says Stu McKinlay, one half of the duo behind Wellington brewing company Yeastie Boys. McKinlay recently swapped Wellington for west Kent in order to launch Yeastie Boys in the UK, and he's joined forces with four other breweries (8 Wired, Renaissance, Three Boys, Tuatara) as part of the New Zealand Craft Beer Collective, to promote his country's finest over here

31/31 Additives in popular chicken nuggets

Ingredients, a new book co-created by photographer Dwight Eschliman and food writer Steve Ettlinger distils 25 products, including popcorn, Red Bull and chicken soup, focusing on 75 of the most common food additives and revealing what each one looks like, where it comes from and why it is used. McDonald's chicken nuggets were found to contain 40 different ingredients. These included dextrose, a sugar also used by shoe makers to make leather more pliable, and corn starch, used for thickening food as well as also being a substitute for petrol
Tidy up to create a 'half-moon' shape and arrange on a plate. Half-fill a large pot, wok or deep-fryer with vegetable oil and heat to 180°C, or until the tip of a wooden chopstick or skewer starts to fizz after a second or so in the oil. Carefully add the dumplings in batches of no more than 10 and deep-fry for three minutes, until golden brown. Remove the dumplings carefully with a slotted spoon and drain well on a plate covered with kitchen paper. Serve immediately with the dipping sauce
Recipe from Chinese Unchopped by Jeremy Pang (Quadrille, £20) Photography by Martin Poole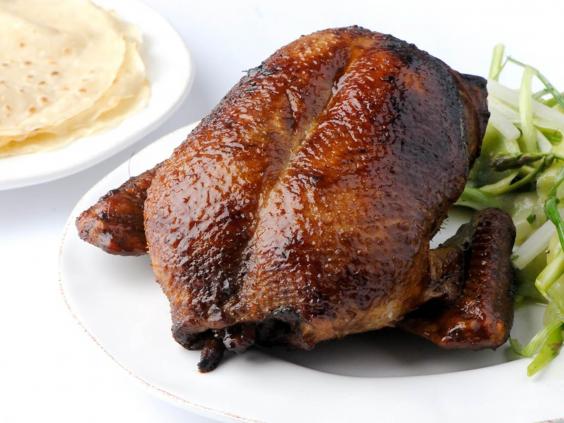 Aromatic duck with asparagus and cucumber salad by Paul Ainsworth
Duck coated in a range of piquant flavours is served up with a cooling cucumber and asparagus salad.
Aromatic duck
1 duck crown, 900g
1 onion, peeled and quartered
2 red chillies, halved
85g of root ginger, peeled, roughly chopped
1 garlic clove, halved
2 cinnamon sticks
3 star anise
1 large orange, halved
2 2/3 handfuls of coriander, stalks only
​250ml of port
4 tbsp of Hoi Sin sauce
2 tbsp of soy sauce
2 tbsp of clear honey
2l chicken stock
2 celery sticks, halved
1 leek, halved
2 carrots, quartered
Asparagus and cucumber salad
6 asparagus, stems removed, halved lengthways
1 cucumber
3 spring onions, sliced lengthways
4 French breakfast radishes, sliced lengthways
1 tsp chives, chopped
1 tbsp of chervil, chopped
1 dash of lemon juice
salt
ground black pepper
olive oil
For the aromatic duck, place the onion, celery, leek, carrots, chillies, ginger and garlic into a large bowl. Rub the duck all over with a little salt and place on top of the vegetables. Cover with cling film and leave to marinate for 15-30 minutes, or, for best results - leave overnight in the fridge. Preheat the oven to 230˚C/gas mark 8. Heat a large frying pan until hot and add the duck breast, skin-side down. Fry for four or five minutes, turning the breast frequently until browned all over. Remove the duck from the pan and set aside to rest on a cooling rack. Remove some fat from the frying pan, leaving about two tablespoons. Add the vegetables from the bowl, the cinnamon sticks, star anise, orange and coriander stalks and fry for five minutes.

Add the port to the vegetables and cook for a further five minutes, or until the volume of the liquid has reduced by half. Stir in the hoisin sauce, soy sauce and honey, then add the chicken stock. Place the duck, skin side up, into the frying pan, cover with greaseproof paper and cook for 20 minutes. Turn the duck over and cook for a further 15 minutes. Remove the duck from the frying pan and place onto a cooling rack set over a roasting tray. Strain the liquid in the frying pan through a sieve into a large saucepan and cook until the liquid has reduced to the consistency of a syrup

Reduce the oven to 200˚C/gas mark 6. Brush the duck all over with the reduced liquid and roast for 10-12 minutes, or until golden-brown. For the salad, mix all of the ingredients together in a bowl and season to taste with salt and freshly ground black pepper. Serve the whole crown at the table to carve. Best served with traditional Chinese pancakes or steamed rice.
This recipe by Paul Ainsworth first appeared on Great British Chefs
Reuse content