Summertime, and the enticing prospect of eating outdoors. Is it, though? Enticing, I mean. Sure, the idea is wonderful, basking in sunlight while guzzling icy drinks and nibbling on dainty picnic morsels or getting all sticky-fingered with barbecued goodies. But too often it's slightly clammy sandwiches while flapping over encroaching wasps, or trying to establish whether that charred protein slab is actually raw in the middle, in darkness, because it all took longer than you thought.
I know, I sound like a killjoy.
But, really, it's much easier if someone else does all the hard work, and you just show up to eat. Enter Dinerama.
If I say that it's a day-to-night street-food market in east London, you'd be forgiven for thinking, another weekend haunt for hipsters? But for the next four months, this location is home – for four days a week, from noon till late – to a properly structured and supported al-fresco food extravaganza. The food may be street, but the approach is pure boardroom.
Dinerama is the third outpost of new outfit London Union. Behind it are restaurant mogul Jonathan Downey and his new partner Henry Dimbleby, the man behind the Leon healthy fast-food chain. Their investors are an array of stellar names in the food world, from chefs to restaurateurs to critics (and no, I'm not one of them; stellar, that is, or involved).
The indies might be edgier, but this lot are grown-ups, and that is significant. You can sense it in the layout of this "yard" (once a bullion truck depot): plenty of space between the seating areas for buggies; covered areas for when (not if) it rains; loos with copious supplies of hand sanitiser; staff circling to clear detritus before it builds up.
Shoreditch – home to beards, yuzu and curated playlists (shudder) – is just the first of a planned roll-out of these arenas across London, which is good news: I'm all for derelict spaces turning into cheap and cheerful places to eat.
On a Sunday lunchtime, three of us sit comfortably, shaded, sipping cider and eating from six of the 13 traders on site (a mix of eat-in diners, "shacks" and food trucks). It's a total blowout, for £60 – and you could eat and drink very well for a lot less.
Street-food veterans Breddos Taqueria kick things off with a 10-hour chipotle beef short-rib taco that is intensely rich, cut through with crumbled white cheese, crisp radish and spiked with jalapeños and lime. A side of guacamole with blue corn chips is fantastic – punchy and creamy, and a vast amount for £4; buttermilk fried chicken has the citrus drizzle of (yes) yuzu to perk up the pieces and yet more lime. For a fiver, it's amazing value.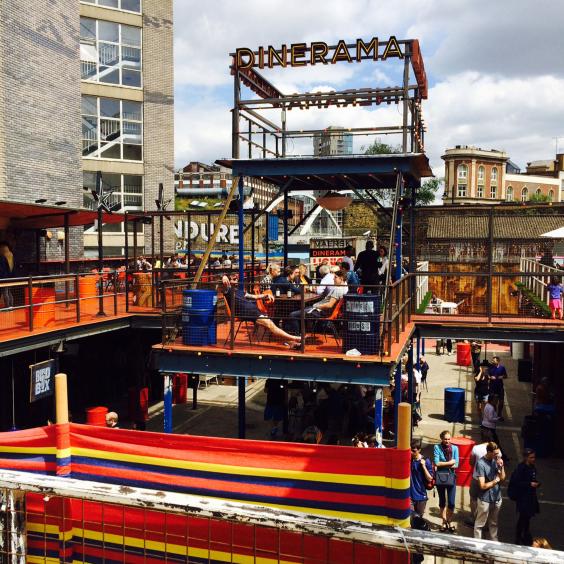 Bob's is a VW camper turning out exemplary lobster rolls. At £14, this is haute snackage, but the warm, smoky toasted brioche roll is crammed with sweet (Scottish) seafood, lightly dressed with flecks of caviar. Miss T loves the chunks of raw tuna in her tacos, three for £8.
Smokestak, another of Downey's regular pop-ups, has a new spin-off, BirdBox, which has a seriously industrial rotisserie turning out tender chooks with blistered, glistening skin. I love it, and the garlic fried potatoes alongside, a generous combo for £7, but find the "Bajan-inspired" charred lemon, marjoram and thyme garnish rather bitter.
Never mind, because here's a tandoori squid and prawn dish with a red pepper and coconut sambal, and a rich, sweet peshwari naan on the side for £10. Shack Tandoor is J's favourite, not least as the flavours are so harmonious.
The challenge for all the stallholders will be to keep the quality high and the delivery swift when the hordes descend. Midday Sunday is one thing, but 9pm Friday or Saturday night is quite another. I can imagine Mr Downey is an exacting landlord, too.
If I were on the board, I'd suggest colour-coded plastic trays for each vendor to serve food on – would cut the terrible amount of paper/cardboard waste, and make wandering around to find seating less precarious. Above are three bars and lots of tables, chairs and vistas (if you can call them that) over east London. You can even reserve areas for parties – an excellent idea in no-reservationville. Go early, and avoid the mob and the £3 door levy.
And now, before I have to resort to a folding chair and a tub of picnic eggs, could London Union get on with opening one in suburban north-west London, please? Thanks.
8/10
Dinerama, Shoreditch Yard,19 Great Eastern Street, London EC2, £35 for two, with drinks
Four more foodie note from the past week
Costco
Disastrous (or, possibly, brilliant) trip to the megashop: a barrel of sourdough pretzels provided snacks for the entire IoS staff.
Le Gavroche
Michelin-starred, starry, stellar. Thoroughly enjoyed my first visit to this institution. And the set lunch is within the realms of possibility.
Fritters
Sweetcorn and ricotta ones, to be precise. The recipe in Breakfast by Fern Green has become a regular at home. Easy, light and delicious.
The Canonbury
Oisin Rogers has another hit on his hands with this Islington pub; glad to see the famed Scotch eggs from his previous pub are on the menu.
Reuse content