Paul Firbank – a modern-day totter – says collaboration is key if you want to turn your passion into a business.
"When you start out, you often don't have much money so it's all about staying focussed, keeping inspired and skills swapping," says the founder of The Rag and Bone Man, who reinvents 'scrap with heritage'. Firbank turns parts of antiquated machines, rare airplane engines and vintage vehicles – along with modern scrap – into beautifully crafted lighting, furniture and interior accessories.
These 'future' heirlooms have a new purpose. Think of a golf club that is now a coat hanger or a 1930's radial engine transformed as a chandelier.
"So someone might photograph your work or build a website in exchange for a commission," says Paul. "Also, try to find yourself a mentor. Mine is the designer Bill Amberg, who founded his leather studio over 20 years ago," he says. "We met when we collaborated on a project where we needed some expert leatherwork for Kevin McCloud's Man Made Home. Bill has been through the same process many years ago and helped me spot the pit falls and lift my confidence.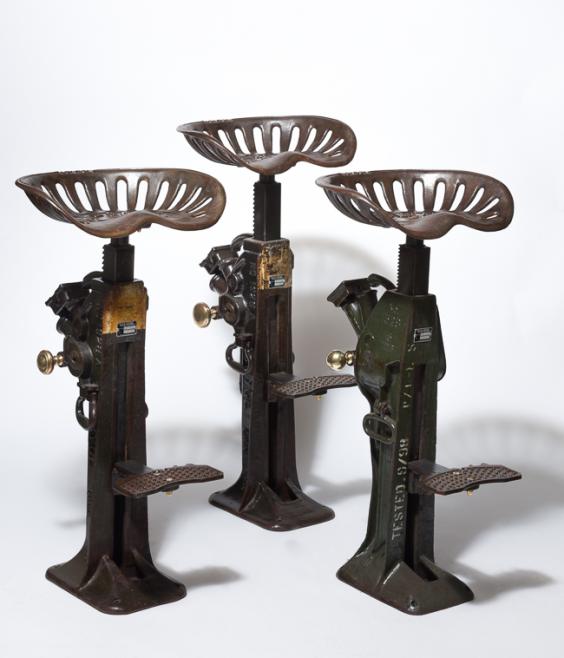 "I am currently collaborating with a former filmmaker who now runs the Haeckels apothecary in Margate, and the architect Chloe Young of Reworks Studio. We are reinventing an old Victorian sea bathing machine into a modern micro spa and sauna for Margate Sands," explains Paul. "You need to build these relationships."
Firbank launched at Tent London four years ago, when he sold out of his amazing industrial, bespoke lighting and furniture. He'll be back this September as a much bigger business – and all thanks to creative collaboration.
Reuse content