You know you don't want the roast. Nobody ever really wants the roast.
The roast, the legitimate face of carvery. The roast, where slivers of bad meat lie in agonised folds over misunderstood vegetables. The roast, drenched in salty brown sauce that skins over as it hits the table. The roast, with its Yorkshire pudding on a pedestal, as if the Yorkshire pudding was a good thing to eat and not a cloying puff of schizophrenic batter, burnt on the top and lard-sodden in the middle: a kind of anti-cooking. The roast, beloved of the boozers and the smokers, sour of palate and dull of mind.
And yet one Sunday morning you wake up. Booze and fags have soured your palate and dulled your mind. You look outside. The leaves are turning. Winter is coming, you think, because you're so boring you can't think of anything else to say about winter other than the most obvious thing to say about winter. God, you are a boring man. Is anyone worse than you? Your friends hate you, they tolerate you but why? Pity. Pity and you get the odd round in. That's all that stands between you and being found days later by a dogwalker. Why is it always a dogwalker? Of course it isn't the dogwalker, you think. It's the dog. It's always a dog. You'll be found by a dog because your friends aren't really your friends.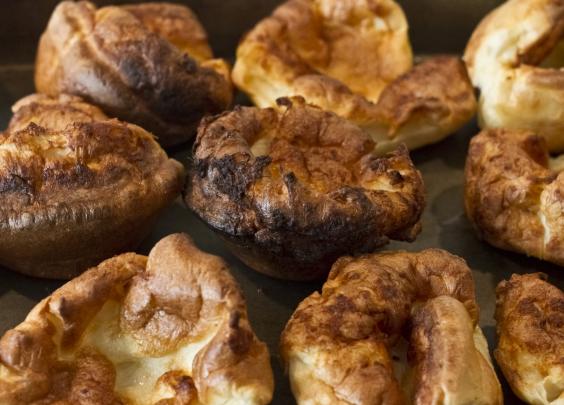 That's when you, you sad man, lying on your side looking out of the window, have the thought. Like a knackered old puffin turning inexplicably towards the rock in the Atlantic where it was born, you think: how about a roast? Nothing like a roast, is there. Roast, like mum made. English roast for English people.
Food trends in 2016
Food trends in 2016
1/11 Celeriac root

We had a kale obsession in 2015, but 2016's vegetable sine qua non is predicted to be the knobbly celeriac root. Celeriac milk (Tom Hunt at Poco in Bristol serves it with winter mussels and wild water celery), celeriac cooked in Galician beef fat (from Adam Rawson of Pachamama, hot new chef in the capital) and salt-baked celeriac (to be found in Matthew and Iain Pennington's kitchens at The Ethicurean in the West Country) are just a few examples.

Getty Images

2/11 Middle Eastern food

The Middle Eastern Vegetarian Cookbook (£24.95, Phaidon) by grand-dame Salma Hage, author of the bestseller The Lebanese Kitchen (whose halva is pictured here), is out in April

© Liz & Max Haarala Hamilton

3/11 Non-alcoholic cocktails

Grain Store mixologist Tony Conigliaro has created Roman Redhead, a riot of red grape juice, beetroot, pale ale and verjus, and Rose Iced Tea (black tea, rose petals, anise essence, pictured here)

4/11 Gin

The discerning will be slurping Hepple gin – from chef Valentine Warner and cocktail guru Nick Strangeway – which is punctuated with bog-myrtle nuances

5/11 Argyll and Bute

Restaurant followers are getting in a froth about Pam Brunton in Scotland, who opened the Inver restaurant in Argyll and Bute to acclaim last year

6/11 Andy Oliver's Som Saa

One of the most eagerly awaited restaurants of 2016 will be the permanent incarnation of Andy Oliver's remarkable pop-up Som Saa opening very soon in east London. Oliver, who worked at Thai god David Thompson's Nahm in Bangkok, raised a whopping £700,000 through crowdfunding, and is renowned for his piquant Thai flavours and obsessive attention to detail, including in his home ferments and DIY coconut cream

© Adam Weatherley

7/11 Venison

Another ruminant in vogue is venison, with Sainsbury's doubling its line for 2016. It provides a protein-packed punch, with B vitamins and iron, and it's low in fat. Its entry into the mainstream is in part thanks to the Scottish restaurant Mac and Wild, just opened in London, whose Celtic head chef Andy Waugh (who also runs the Wild Game Co) has been touting it as street food for years (his venison burger pictured here)

8/11 Goat

From Brett Graham's The Ledbury to Angela Hartnett's kitchens at Lime Wood Hotel in the New Forest, Cabrito is the go-to goat supplier among the chef cognoscenti (roasted loin of kid pictured here) – but this year, domestic cooks can get in on the action, as Sushila Moles and James Whetlor of Cabrito offer their meat through Ocado

Mike Lusmore / mikelusmore.com

9/11 Coffee

Coffee sage George Crawford is launching the much-anticipated Cupsmith with his partner, Emma. Crawford believes that 2016 is the year purist coffee will finally meet the masses; Cupsmith's mission will be to make craft coffee as popular as craft beer on the high street. The company roasts Arabica beans in small batches, improving its quality – but sells it online, at cupsmith.com, in an approachable way: expect cheerful packaging and names such as Afternoon Reviver Coffee (designed for drinking with milk – no matter how uncouth, most of us want milk) and Glorious Espresso

Julia Conway

10/11 120-day-old steak

Hanging meat for extremely long lengths of time has become an art. In Cumbria, Lake Road Kitchen's James Cross is plating up 120-day-old steak (pictured here). The beef is from influential "ager" Dan Austin of Lake District Farmers, who is currently investigating the individual bacterial cultures that go into this maturing process

11/11 Lotus root

Diners can expect root-to-stem dining - cue the full lotus deployed by the Michelin-starred Indian Benares in its kamal kakdi aur paneer korma

Getty Images
You Google 'nice roast London' but your screen keeps turning to one side because, you, sad man, are too lazy for your phone's labour-saving self-adjustment feature. 'Nice roast near me' you Google next. You summon your Uber. He drops you near the roast place. You sit down. You order the roast. The person opposite you orders the roast, too, because - why? Because they pity you? Because deep in some Brexity recess of their own genes they feel the same Anglo-Saxon tug?
The roasts come. Your beef lies in agonised folds over misunderstood vegetables. They sit deep in turd-brown gravy. It's like drone footage after a hurricane. On top of it all lies the Yorkshire, the grotesque bloated Yorkshire. The person opposite you looms over a sludge of pork and misunderstood vegetables. Again the gravy. "Ooh, I love a roast," she says, in a parody of the worst people you can think of. Yet here you are, the two of you, £40 of roast between you. You'll do better next time, you think.
Reuse content