The editor-in-chief of 'anonymous' app Whisper has called a report by The Guardian alleging that the company tracks its users against their will "a pack of vicious lies."
Neetzan Zimmerman, a journalist previously known for his ability to pick 'viral' content for York gossip blog Gawker and who moved to Whisper in January 2014, tweeted that the story was "100% false".
"The Guardian made a mistake posting that story and they will regret it," Mr Zimmerman added.
The story published by The Guardian claims that Whisper tracks particular users who it believes might be the source of newsworthy stories (including Disney staff and a White House lobbyist who posts confessions about his sex addiction) and records the location of users, even when they turn off georelocation services.
Second response: The Guardian made a mistake posting that story and they will regret it.

— Neetzan Zimmerman (@neetzan) October 16, 2014
The report also said that Whisper provides aggregated user data on specific subjects (such as the number of suicide threats emerging from US army bases or The Pentagon) to the government, and has worked with both the FBI and MI5 in cases that "involved potentially imminent threats to life."
Whisper has responded by posting a point-by-point rebuttal of the Guardian's story on Scribd, but the primary objections seem to be over the degree of tracking when it comes to geographical locations.
"We neither receive nor store geographical coordinates from users who opt out of geolocation services," writes Whisper in the post, adding that "User IP addresses may allow very coarse location to be determined to the city, state, or country level."
Mr Zimmerman has also given more categorical denials to other accusations – including the claim that the app contains a technical backdoor that allows staff to pinpoint a use's location even if they have disabled this feature, and that an executive spoke to the Guardian about this ability.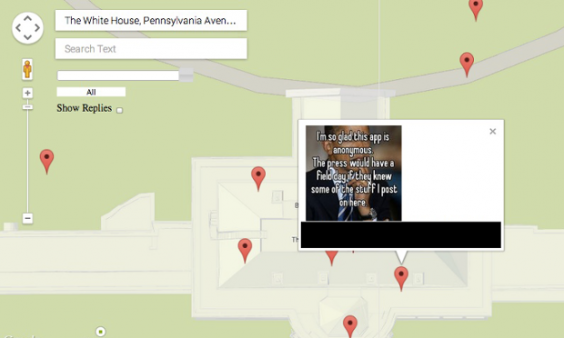 "That is false, that is 100 percent false," he told the Washington Post. "That was never said by anyone. I have no idea where that quote came from. I have no idea what they're talking about. I have never, ever, ever asked anybody in my life, and would never ask anybody, for information on a user who opted out of user location. That cannot be overemphasized. That is a 100 percent lie."
Critics however have noted that the story does highlight tensions inherent in Whisper's current business. The app encourages users to post anonymous thoughts and confessions and then follows up with individuals to create journalistic reports with partners including Buzzfeed and The Guardian itself.
Indeed, The Guardian's damning report is based on conversations that its journalists had with Whisper's staff during visits to the app's headquarters to discuss collaborative projects. The Guardian has also already published at least three stories based on tips found via Whisper, including the thoughts of Iraq war veterans on the possibility of returning to the country to fight Isis.
The Guardian has yet to issue any statement regarding Whisper's rebuttal of their report and did not respond to The Independent's request for further comment.
Reuse content