It's another sign that shows just how much Apple dominates Samsung.
The Samsung Galaxy S6 and S6 Edge smartphones have gone on sale globally, while the Apple Watch has become available for pre-order and to try out in store.
Whilst anticipation for both has been generally large, it's not hard to see which product is generating more interest on social media; at least naturally.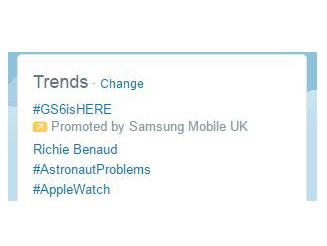 While both products appear in Twitter's most trending bar, the Galaxy's hashtag, #GS6isHERE, appears at the top of the list but with the message "Promoted by Samsung Mobile UK" underneath, which means the company has had to pay to ensure that their product is on the list. Apple clearly doesn't have the same problem though, with #AppleWatch trending fourth in the UK.
This will come as another victory for Apple in the corporate battle of the technology giants.
The end of last year saw Samsung Electronics' profits fall to its lowest level in more than three years, $3.8 billion (£2.5bn).
Apple's quarterly profits for the same period were the biggest ever made by a public company, a net profit of $18 billion (£11.8 bn).
Reuse content