Aplus.com, a viral content website bankrolled by actor and technology investor Ashton Kutcher, has been accused of copying content wholesale from sites including Buzzfeed and The Huffington Post, reports The Daily Dot.
The site, which launched in 2011, claims to "leverage viral social storytelling to create positive change in the world", combining Upworthy-style headlines, popular YouTube videos and listicles to entice clicks and shares.
(A couple ofample headlines from the front page right now:  "The 22 Most EXTREME Selfies Ever Taken. Nothing Can Top the Last One. NOTHING." and "At First I Thought These Were Regular Paintings. Then I Kept Looking And...Holy Cow!)
The site does not list any authors or editorial staff but has enjoyed a surge in traffic in recent months after Kutcher started pushing articles on his social media accounts (he has 16.3 million Twitter followers - enough to hot-house a site's popularity almost singlehandedly).
But as for the content itself, much of it appears to be lifted directly from other sites, with articles copied word-for-word or with a tiny bit of tweaking, seemingly without the original authors' knowledge or consent.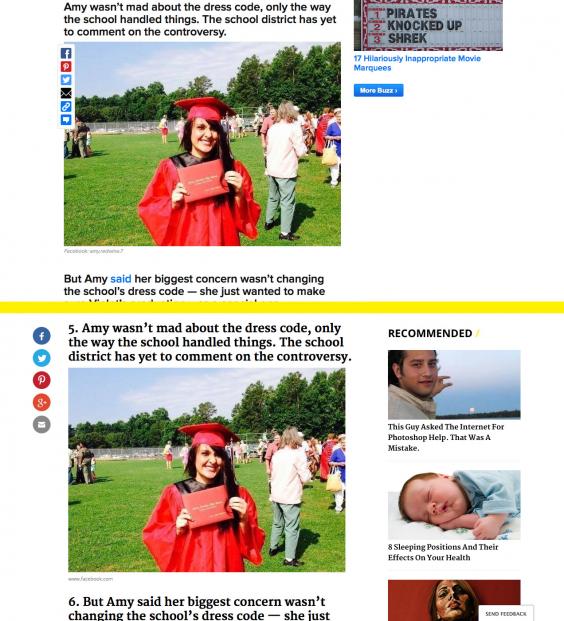 Stolen articles include Buzzfeed's '50 Incredible Tattoos Inspired By Books From Childhood' (cunningly repackaged as '50 Awesome Tattoos Inspired By Books You Grew Up With As A Kid')and a story from The Huffington Post titled '12 Times The Women Of 'Game Of Thrones' Were Super Fierce'.
The Daily Dot notes that for the latter the only changes made to the original post were shortening the introduction and adding a plea to "share this post with your friends" at the bottom.
Someone at A+ has evidently taken notice of the accusations however, as the plagiarized articles have now disappeared from the site with  only stories created since July remaining. The Daily Dot also identified one staff member who identified himself as a "Writer/Content Developer at A+" on LinkedIn and who has since deleted his account on the social network.
But perhaps this all grist to the mill for self-appointed tech guru Kutcher (he's invested in the likes of Skype and Duolingo and, of course, played Steve Jobs himself in the Apple founder's biopic). After all, there's nothing like a whiff of controversy to get people clicking.
Reuse content