For such spindly contraptions, with their tiny propellers and gaffer-tape bandages, drones are remarkably resilient when a hapless beginner slams one against the floor, then the ceiling, then the floor again (repeat several times). Yet the object of today's exercise is not to test the vertical confines of a derelict event space beside the Thames in London, but to move the thing forward – at speed.
First-person-view drone-racing is now a thing, attracting billionaire investors in the US and enthusiasts around the world. So I'm trying it. Yet I can't see the drone I'm flying, which I'm told could travel at 80mph had its four motors not been "dumbed down". Instead, I can see what the drone can see, via a camera on its back that sends a live video stream wirelessly to a screen in a headset, right in front of my eyes.
The most stunning drone pictures of 2015
The most stunning drone pictures of 2015
1/12

Amalfi Bay, Italy by Dronarium

2/12

Turgoyak, Miass, Russian Federation by Maksim Tarasov

3/12

Above the mist, Maringa, Brazil by Ricardo Matiello

4/12

Xiwei Reservoir, Zoucheng, Shandong, China by AmbroseLune

5/12

Lost island, Tahaa, French Polynesia by Marama photo Video

6/12

Cliff diver of Mazatlan, Mexico by wOOtsor

7/12

Church, Paracatu, Brazil by Alexandre Salem

8/12

Supertide turns Mont-Saint-Michel into island by Wanaiifilms

9/12

Jaguares, Football Club , Mexico by Jelipegomez

10/12

Christ, the Redeemer, Rio de Janeiro, brazil by Alexandre Salem

11/12

Al Marmoun Race Track, Dubai, UAE by Shoyab

12/12

Wedding in Aburi, Ghana by Aeroshutter
Standing inside a safety cage to prevent auto-decapitation, I hold a bulky radio controller of the sort used to fly model aircraft. It allows me, ideally with very gentle movements of two little sticks, to thumb the drone up, down, left, right and forwards. After a period of violent yo-yoing, I manage to keep the thing in the air long enough to do an impression of a helicopter piloted by a drunk person.
I improve after a while, and begin to get a sense of why this sport is taking off. Controlling an FPV drone feels a bit like playing a flight simulator using a virtual-reality headset, if that's a comparison that means anything to you. "We say it's like a game but in real life," says Toby Collis, a 22-year-old racer who came third in last year's inaugural UK championships, organised by the British FPV Racing Association.
"The fact that it costs money when you crash is part of what makes it different," he adds. "There's more risk involved – you can't just reset and have another go. It's hard to explain, but it gives you way more adrenaline than playing computer games, even if they're competitive, and when you're following someone it's ridiculous fun."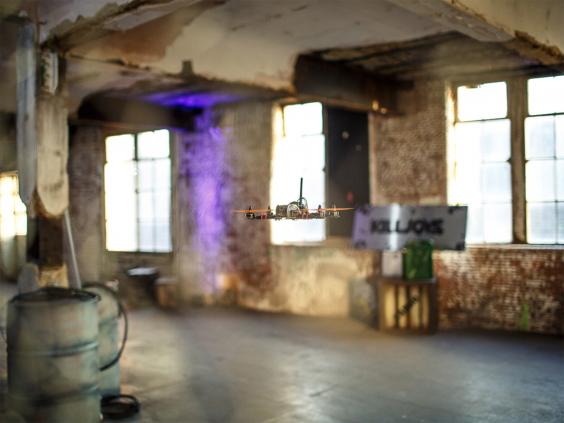 After a few crashes I manage – just about – to do a very ugly lap of the warehouse we're in, negotiating its crumbling concrete columns and brick walls, steering clear of the large windows (the would-be easier places to learn). Then Collis retunes my headset to the camera on his drone, which is not dumbed down, and gives me first-person view of what he can do. Suddenly I'm on board a miniature X-wing starfighter, swooping through space at dizzying speed. Collis effortlessly pilots the craft between the columns, pulling it into steep turns at the ends of the room. When I take off my headset to watch the craft from my own view, it looks like there's a spooked bat in the room, trying to get out.
More sedate drone-flying has become popular in numerous fields. Slightly bulkier craft than these racers can be equipped with larger cameras, offering new angles to documentary and film makers or, as happened last month, the man who snowboarded through Manhattan after the blizzard. Amazon endlessly talks up its supposed plans to deliver products by drone, which has been good for drone PR, whether or not it happens. And, of course, we are in the age of drone warfare.
But at the consumer end of the market, developments in technology have only recently allowed drone-racing to emerge – and flourish. Drones are capable of self-levelling, so flight may be tricky to start with, but it's not impossible. "In the past year, the components and software have all become cheaper and more accessible," says Thomas Greer, founder and secretary of the British FPV Racing Association. "You don't have to be a programmer to be able to get one of these, whereas three years ago you did."
Greer has also launched an FPV League and last August more than 30 racers gathered at an airfield in Lincolnshire for the first UK Drone Nationals. They competed four at a time in several rounds of a course marked out with arches stuck in the ground in what looked a bit like a miniature version of a Red Bull Air Race. The top three flyers, including Collis, automatically qualify for the first World Drone Racing Championships in Hawaii this October. The organisers list qualifying events in more than 30 countries. Meanwhile in Dubai, the new World Organisation for Racing Drones will host the first World Drone Prix in Dubai next month, where teams are due to compete for a $1m top prize.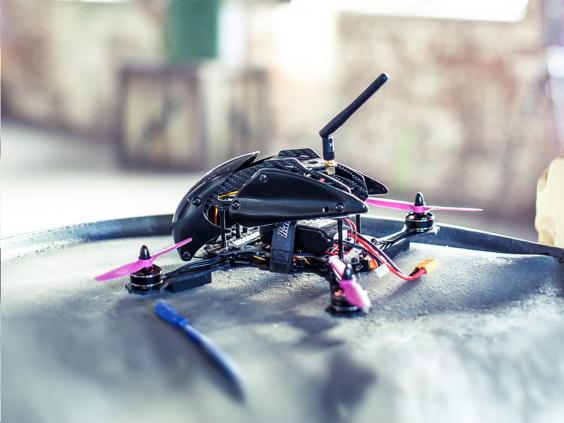 The UK scene is full of enthusiasts, but is at its early stage of lift-off. In the US, though, it's already becoming big business. Last year, a New York-based billionaire called Stephen Ross, who made his money in real estate and owns the Miami Dolphins, stayed up all night bingeing on FPV drone videos on YouTube (there are thousands, many of them thrilling). An employee had told him about drone races and the next morning Ross set about creating a new US league. He piled more than a million dollars into the Drone Racing League, a start-up that last month announced its first season.
Ross wants to enhance the spectacular potential in the sport by equipping drones with two cameras. Pilots rely on a grainy analogue video feed to be able to control the craft, because the system includes very little lag compared to a digital camera. But a second, HD feed on each craft captures footage that can be broadcast live or later cut into eminently shareable videos. Last year, show events included a race around the Miami Dolphins stadium, and another flight through an abandoned power station in New York. The big budget is evident in each video, as drones sporting neon lights swoop through and around large illuminated obstacles.
Since Ross put down his initial investment, the profile of those who raced behind him to invest in the league ought to indicate the potential of the sport as entertainment. They include CAA Ventures, the investment arm of the talent agency Creative Artists Agency, and Hearst Ventures, part of the media company that owns the ESPN sports TV network. Intriguingly, the league also says that Matt Bellamy, singer and guitarist of the rock band Muse, who are currently touring their Drones album, has also invested.
"I see us going down the lines of Formula 1," says Greer, whose association now has several affiliated clubs around the UK. "We're now very much a participation sport, but we also want to get it more accessible for people to watch because that helps the sport grow. We're going to model shows and country shows and running taster events, because when you let someone have a go, they love it."
The London event was hosted by the space adventure series 'Killjoys', now on Syfy
Reuse content