Eva Gutowski is one of the new type of modern celebrities: The YouTuber.
Boasting 14.9 million followers across her social media platforms, Gutowski has established herself as a voice for predominantly teenage girls with advice videos on how to deal with your first day of high school, first crush and how to make new friends.
Like so many other YouTubers, the 22-year-old has also used her platform to campaign for issues close to her heart. Most recently, she spoke about her sexual assault for the first time in a video that, in the week since it has been published, has amassed more than three million views.
She has now undertaken what is considered a rite of passage for any successful YouTuber: writing a book, following in the footsteps of Zoe Sugg (Zoella), Tanya Burr and Tyler Oakley.
Forbes' Highest-Paid YouTubers of 2016
Forbes' Highest-Paid YouTubers of 2016
1/10 1. PewDiePie ($15 million)

(Real name Felix Kjellberg)

Getty

2/10 2. Roman Atwood ($8 million)

Roman Atwood

Getty

3/10 3. Lilly Singh ($7.5 million)

Lilly Singh

Getty

4/10 4. Smosh ($7 million)

(Real names Ian Hecox and Anthony Padilla aka Smosh)

Getty

5/10 5. Rosanna Pansino ($6 million)

Rosanna Pansino

Getty

6/10 6. Tyler Oakley ($6 million)

Tyler Oakley

Getty

7/10 7. Markiplier ($5.5 million)

(Real name Mark Fischbach)

Getty

8/10 8. German Garmendia ($5.5 million)

German Garmendia

Getty

9/10 9. Rhett and Link ($5 million)

(Real names Rhett McLaughlin and Charles Lincoln 'Link' Neal)

Getty

10/10 10. Miranda Sings ($5 million)

(Real name Colleen Ballinger)

Getty
The Independent spoke to Gutowski about the ups and downs to vlogging, coming out as bisexual and why she decided to speak out about her sexual assault.
How did you become a YouTuber?
I started when I was a Freshman in college. I started uploading videos on YouTube to get comfortable in front of the camera as I was a broadcast journalism major. I was uploading videos to my Facebook page and to YouTube and slowly my viewership grew. It was the craziest thing.
What are the best and worst things about being a YouTuber?
The best thing about being on YouTube is being given a voice to inspire people and share my experiences. I wouldn't say this is the "worst" thing, but there can be some pressure to continually create content my viewers will enjoy and to come up with new ideas. I'm so grateful to have my viewers and they all have been so supportive through the years. 
In the book you write about online bullying, do you think social media platforms are doing enough to tackle this?
We could definitely be doing more. I think there needs to be more digital content about the subject. We need to be spreading more realistic messages that will resonate with people. People need actual tips that they can take to school.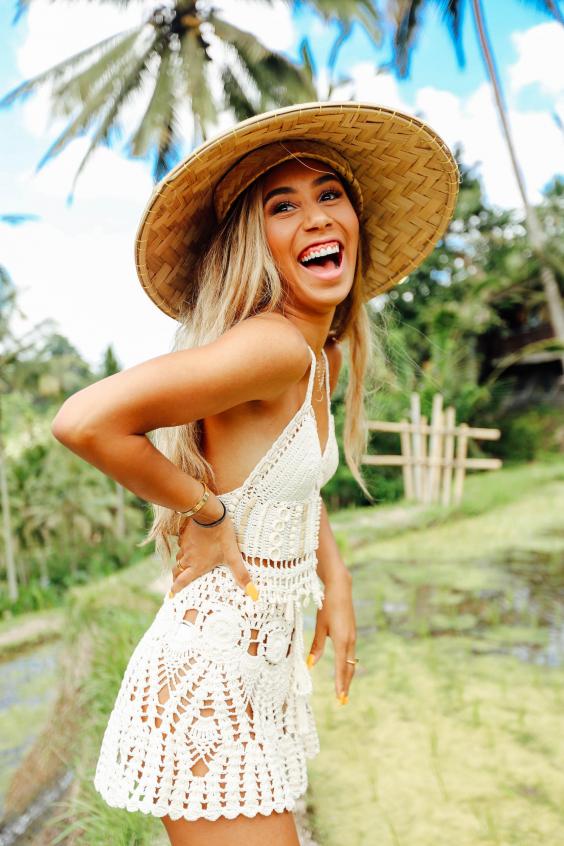 How do you deal with trolls?
Laugh it off. Nobody is perfect. Don't want to dwell on the negative. 
You say in the book you were hesitant about calling yourself bisexual because of the negative connotations associated with the word. Do you now feel like preconceptions have changed around bisexuality or is there still an existing stigma?
There is still an existing stigma. At the end of the day, I say 'you do you'. You shouldn't be focusing on convincing people what your sexual orientation is. 
The book is where you first spoke about your sexual assault – what made you want to talk about it?
Sexual assault is still happening to this very day and I see it so much in the media. I wanted to share my story with the hope that it would help others. 
How do you feel about the way sexual assault survivors are treated?
I don't think people take sexual assault as seriously as they should. I think a part of this is that a lot of people don't realise how traumatic it can be for a person. Victims of sexual assault are scared to come forward and share their story. I think we can be a lot better about respecting people's issues that they have gone through and listening to them. 
What advice would you give to anyone else in the same situation?
I would say focus on forgiving. I feel like it is much easier to get through without having feelings of hate. Focus on yourself and find time to heal.
What has the response been since the video about your sexual assault?
A lot more people than I expected have shared their story with me. They finally have someone they can relate to and feel more comfortable opening up; they have someone they can confide in. Sharing your story is the first step to getting through it. 
Why did you write the book?
I have been writing since I was a kid and thought what I wrote down could one day be made into a book. I have thought about this for so long but wanted to make sure it was the right time. And what better time to write a book about advice then right now as I am still learning and still growing. I feel the advice I can offer now will be so valuable as I am going through the same experiences as a lot of my viewers are. 
What is next? 
I love YouTube and would love to continue to creating content. I am set to release an original series with YouTube Red called Me and My Grandma and I am SO excited.
My Life as Eva: The Struggle is Real by Eva Gutowski is available now.
Reuse content