Earlier this month we heard new reports that Google's smartwatch could be arriving "sooner rather than later"; perhaps as soon as the end of the month to coincide with the much-leaked Nexus 5 and the updated Android 4.4.
If this is true then Google will be entering a marketplace that has never been fuller and yet - apart from Apple perhaps - no company is better positioned to deliver the first 'true' smartwatch; one that would blow the competition away.
Here's why:
Hardware: they've bought two smartwatch makers already
Google bought Motorola's hardware division back in August 2011, and in doing so also acquired plenty of smarwatch expertise. Motorola's MotoACTV (below right) was launched back in 2011 and did dual service as both an MP3 player and a fitness-tracker – a hardware trend that will probably end up in basically the same place as smartwatches.
The MotoACTV had a 1.6-inch screen and runs Android, and came with all manner of connectivity - Bluetooth 4.0, Wi-Fi, GPS. It even had some pretty impressive smarts at launch, including one feature that automatically generated a 'motivation' playlist with songs culled from the times you were running at your fastest.
In August this year it was also revealed that Google had bought WIMM labs back in 2012 – a firm that had only one product: an Android smartwatch (the WIMM One, below left). They even had their own 'micro app' store (still available online here ) with apps offering standalone functionality for the watch – something that's key to lifting the current hardware out of their second-screen rut.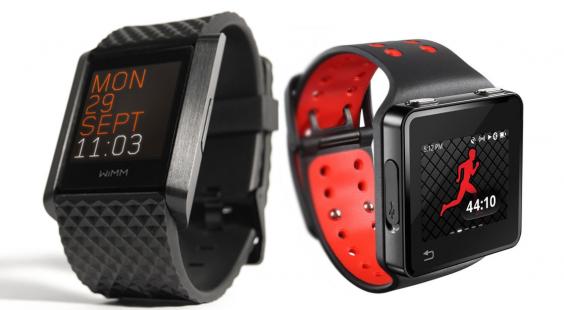 Smarts: they've been getting awfully good at contextual information
This 'second-screening' is one of the central criticisms of the current crop of devices: they have to be paired with smartphones and then simply repeat information from them (albeit in a slightly more convenient location). 
Fitness devices like the Nike FuelBand and the FitBit have succeed in the wearables market because they offer functionality that is above and  beyond your phone's. They deliver relevant information that users want to know on the fly - which is exactly what Google have been doing with Google Now.
The connection between Google Now and a Google smartwatch is not a new one (GigaOM's Kevin Tofel flagged it up back in August) but it certainly bears repeating. Google Now is Google's 'digital assistant': you feed it with data about you and in return it makes your life a little easier, nudging you with reminders about meetings or transport delays.
This is exactly the sort of time and location sensitive information that would make a smartwatch smart and Google Now has even nailed down the medium in which to deliver this info: its card-based interface with small bullets of information (directions, reviews, receipts etc) is a natural fit for the limited screen real estate available on your wrist.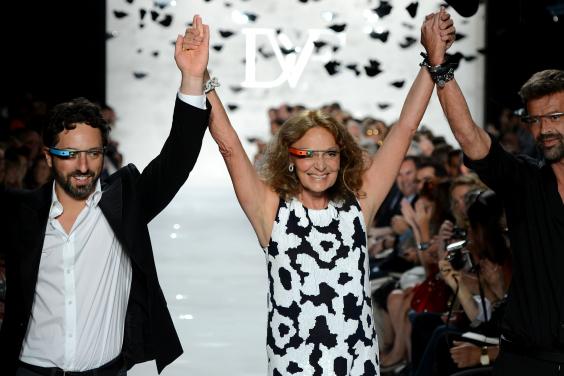 Motivation: they need to find a future beyond Google Glass
Google Now isn't new, but the wearable way of delivering its info is. Currently, Google Now is most prominent on the Moto X. Released back in August, the Moto X was described by Google as the world's "first self-driving phone", offering always-on voice-commands allowing users to pose search queries at any time.
Now, not only is this type of functionality exactly what a Google Now-powered smartwatch could deliver, but the implementation of voice commands (and we shouldn't forget how difficult it is to process natural language) is also incredibly similar to the operation of Google Glass. Glass is an amazing bit of technology and definitely a rough approximation of Google's future, but it's also not for everyone. It's just a bit too geeky, too obvious.
To combat this Google has been pushing hard to associate the technology with the world of high fashion (they've had it on catwalks and even splashed it around in a feature for Vogue) but even this seems less like an effort to 'normalise' the device than it is a campaign to make Glass a product for the elite. Seeing it worn by the self-consciously high-powered at Fashion Week and film premieres makes it aspirational - not normal.
In a recent interview with MIT Technology Review,  Mary Lou Jepsen (head of Google's secretive Google X Lab) described wearable computers as "a way of amplifying you", saying of the technology: "It's coming. I don't think it's stoppable [...] you become addicted to the speed of it, and it let's you do more fast and easily."
It's clear that a big part of Google's future will be involved in stitching together some form of wearable tech with predictive software and a natural language driven search that helps you in your daily life. Amit Singhal, head of search at the company, has described the future of Google as "someone by your side who can help you".
Google Glass is the most public example of this but the technology remains just a little too conspicuous and self-aggrandizing for most of us. We don't want a digital butler, poised at the elbow and glaring frostily at the hoi polloi - we want a discrete helper, offering the luxury and ease of a butler without the palaver. A smartwatch with the same functionality as Glass could be just the ticket - a gateway drug to get us all addicted.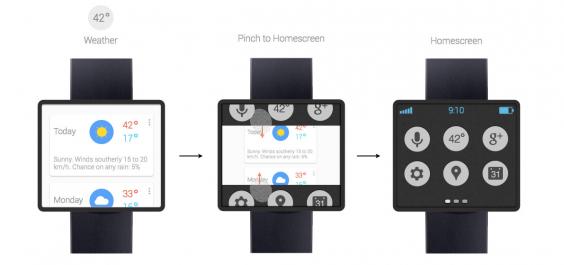 (Google Smartwatch concepts via ADRIAN MACIBURKO)
Reuse content