Breasts in videogames have often been the subject of debate. With a primary demographic of male teenagers, developers are often accused of paying an unreasonable amount of attention to how exactly these parts of the female body are depicted.
A question and answer session last month for the popular Final Fantasy series outlined part of the issue quite succinctly. When an audience member, keen to confirm whether the main character's cup size had gone up from a C to a D, asked developers "are her breast going to jiggle all the time?"
They responded by happily confirming this, offering the advice that players who wanted to experience the full ' physics experience' of the characters' breasts could try dressing her up in different clothes.
In response to this casual, one-sided objectification of breasts in videogames, industry journalist Jenn Frank casually tweeted: " I'm gonna make a game called "Final Reality" and it's gonna be about how I just accidentally smeared tons of deodorant all over my left one," before following this up with the more somber idea:
What if you had to watch a sexy videogame character also buy bras, cry softly when she can't find one that fits, and go in for mammograms

— Jenn Frank (@jennatar) July 30, 2013
Twitter responded in kind, with many users tweeting their own suggestions. The idea that video games might feature breasts in a way that didn't simply replay issues of sexualisation proved popular, and partly in response to this Frank has launched Boobjam – a weekend-long event dedicated to creating short, creative games that aim to portray breasts in a more realistic light.
Speaking to The Independent, Frank says that she isn't crusading against all sexualised depictions of breasts but simply wants to widen the conversation about how they're portrayed.
"I myself had written about breasts before, more as a reaction to Dragon's Crown [picture above].  I was uncomfortable with the way the conversation kept looping about whether a fictional, fantasy character's breasts were appropriate."
"There's already varied breast in video games aren't there? And I'm not saying that with any real irony. I love seeing huge boobs in games, I love seeing confident fighter in games with large racks."
"My problem with the ongoing conversation is that the majority of people having the conversation are men. Men without breasts trying to determine whether this or that design is appropriate. Boobjam hopes not to discuss any of that."
Technically a 'long jam', Boobjam will be accepting games up until September 30th (Frank fears that this deadline will mean she too has to a) learn to code and b) submit a game) with the only criteria for entry being: "Make a game that talks about boobs without resorting to the "straight male gaze."
Reactions to the event have so far been incredibly positive: "There's been a light smattering of 'why' and a fair amount of 'lol'. At first blush it is ridiculous and it's supposed to be. It's supposed to be light-hearted without being idiotic and I hope by striking that timbre people will feel welcome."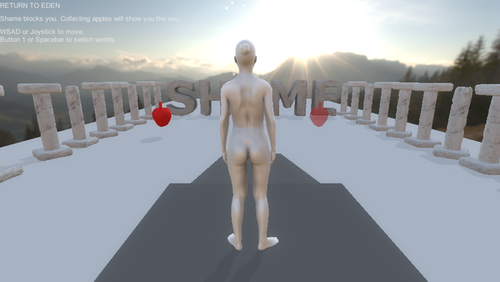 The event aims to be as inclusive as possible, welcoming entries from straight men as much as from anyone else. Games already uploaded to the site include 'Return to Eden', a surrealist title where players switch between nude male and female bodies, changing the game world as they do and achieving goals using both bodies.  
Frank says that she doesn't want to guide the debate around breasts in videogames any more than she has, and that she simply wants to broaden the discussion:
"I will be pleased by anything anybody contributes and in actuality I'm really pleased already by it.  Because the ideas that keep pouring in and the amount of chit chat about it one way or the other, they all help. Just the fact that this conversation exists right now is exactly what I hoped for."
Reuse content