For those people who have only just got over having their timelines flooded by ice-bucket challenges and photos of acquaintances' children posing in tiny school uniforms, keep up. There's a new social-media craze in town: the time-lapse video.
I can't remember the last time that I watched a video all the way through on Facebook or Twitter. There's so much to scroll through and so little time. When Twitter bought Vine, two years ago next month, it decided that 6.5 seconds was the perfect length for clips. Put a video on Instagram, and there are just 15 seconds of action. Who needs feature-length when GIFs can be consumed at a glance?
Instagram's first app, Hyperlapse, is a free app that's busy stealing the hearts of iPhone users. It allows its users to make videos on their smartphones and then show off films that look as though someone has held down the fast-forward button – except, because it's Instagram, it's a lot more stylish.
There are no technical skills involved – the app does all the hard work. It records a film, then selects frames at intervals to produce a mini-movie in which time elapses faster than normal, making Hyperlapsers look like talented film-makers with just two taps of an iPhone screen.
The growth of wearable video cameras – from Google Glass to GoPro – has led to a boom in first-person videos, many of which are overly long, shaky and uneventful. When they're speeded up into time-lapse video, however, they can become social-media gold.
Time-lapse technology is nothing new – in fact, the French illusionist Georges Méliès was the first person to use the technique in a feature film (1897's Carrefour de l'Opéra) – but until now it has required expensive equipment and hours of editing time. Since its launch on 26 August, Hyperlapse has enjoyed a suitably high-speed journey up the App Store charts (days after its release, it was ranked 11th in the UK), with rave reviews from users for being "technically brilliant, super simple to use" with "an amazing stabilisation technique" by those who have been filming everything from rock climbing to strolling down the Champs-Elysées, recording gigs or speeded-up sunsets in Ibiza.
Jack Simcock, the strategy director of the Shoreditch-based digital-content agency Telegraph Hill, isn't surprised that Hyperlapse has had such success in the crowded app market. "It's slick, it's easy and it allows you to be more creative without really trying," says Jack, who works with clients such as TGI Fridays and NBCUniversal. "Video and mobile use are becoming dominant in social media and Hyperlapse is genuine innovation in this space."
Anyone with an iPhone or an iPad can now make a Hyperlapse video in minutes with the app, which was hailed by Wired as "like a $15,000 video set-up in your hand". There's nothing to sign up to; users just download the app and within seconds are ready to shoot a video, which they can stop and start by tapping an icon on the screen.
Then, choose your playback speed – from normal to 12 times as fast. The results are instant and have a definite "wow" factor as Hyperlapse performs behind-the-scenes wizardry with its stabilisation technology to turn shaky, amateur footage into a smooth, seamless video.
Once the footage has been filmed, it's analysed and any jolts are removed so that the finished product looks steady and more professional than the average smartphone video. Filming a tour of a house from abandoned shoe to loft ladder? That doesn't sound like the most riveting video the world's ever seen, but add Hyperlapse and the result is something cinematic and a hundred times more interesting. Click the "Share" button and there's a simple choice: Facebook or Instagram.
It's easy to see the appeal. "Users love the results and, for the first time ever, you can compress time and space into one cool video," Jack Simcock says. "The shot-stabilising software is excellent. At Telegraph Hill, we've been making time-lapse videos for years, but whereas in 2011 we spent 24 hours making a 90-minute video of Glastonbury, now we could create something comparable in minutes. Before Hyperlapse, you'd need knowledge and skill to stitch thousands of photos together. That can all be done with one button."
While Instagram brought photos of food to the mainstream, now we could be facing a future where we get to see a super-zoomed video of the whole cooking process. A scary thought. Although a time-lapse video of a toddler tantrum is a surprisingly hilarious product for all concerned, who wants to see this sort of thing on social media? Brace yourself: it's inevitable that it's going to appear. Currently, you can't add filters, but if you post the video on Instagram you can add extra cheese to your holiday Hyperlapsing with a "Kelvin" or a "Lo-Fi" effect.
"The early adopters will be the Instagram fans who love its hip, creative style, but the app works on Facebook, too, so it's likely to grow fast once the first wave of users do things that catch people's attention," Jack says. "I'm looking forward to the first comedy Hyperlapses a lot. If you think about it, Benny Hill was the true pioneer of Hyperlapse."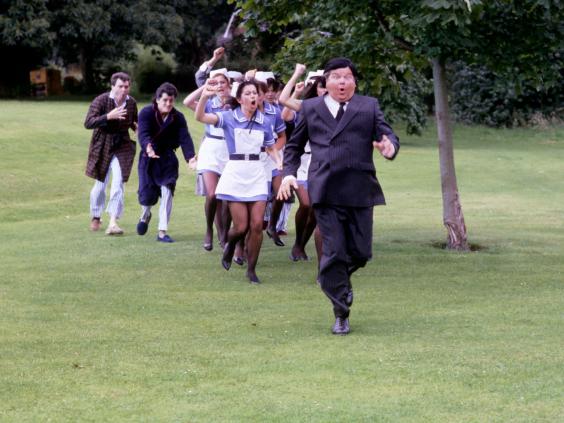 Smart brands already have one eye on Hyperlapse as an innovative way to catch consumers' eyes and it's the inventive ways that will win out. Mercedes-Benz and Bud Light have dabbled with clips on their Instagram feeds and a search of #Hyperlapse on Twitter during New York Fashion Week yields slick round-ups of key shows shot on phones in seconds.
Just a week after the app's release, the band Fall Out Boy released a teaser to their video for their new single, "Centuries", as a Hyperlapse Edition, which featured a super-fast tour of their home city of Chicago, topped off with some bearded skater types painting graffiti on to a brick wall. Whether it's good enough to stand alone as a pop promo is debatable, but Fall Out Boy, who are known for making their music videos like mini-movies, have promised fans that a proper clip will follow.
Microsoft debuted its time-lapse technology last month. Also called Hyperlapse, it was unveiled at the Siggraph Social Media Conference in Canada, but Instagram has been the first to get the product out. "From documenting your whole commute in seconds or the preparation of your dinner from start to finish to capturing an entire sunset as it unfolds," Instagram says on its website, "we're thrilled about the creative possibilities Hyperlapse unlocks."
At the moment, Hyperlapse is available only for iPhone and iPad, so Microsoft has a similar app in development for Windows phones, and there's scope for more flashy video apps for iOS and Android to land soon. "I think that we can expect a video app that adds music, which is something that's missing from Hyperlapse," Jack says. "Google+ recently launched Auto Awesome, which is image technology in the same ballpark as Hyperlapse, but with less impressive results and more effort involved to get them."
Quick, easy, arty and it makes you look a lot handier with a camera than you really are: Hyperlapse is the new show-off tool for social-media addicts.