Google has revealed that video games are far more popular on YouTube than some might assume.
In a blog post, the internet giant's pop culture and gaming insights lead Gautam Ramdurai said that adult women are YouTube's fastest growing gaming audience, as viewership among women over the age of 25 had doubled "year over year" at a time when interest in gaming on YouTube was "soaring".
Behind 'music', 'Minecraft' was also the second-most searched topic on the video-sharing website in 2014, he disclosed.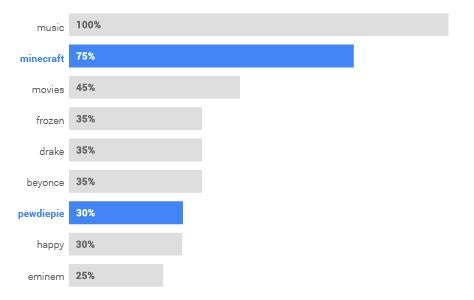 "YouTube data tells us that both men and women are spending more time per video with gaming than in any other content area. Women, however, are spending slightly more time watching each gaming video than men are," he said.
"A generation (18–34-year-old millennials) has grown up on gaming. For them, having a gaming console was as ordinary as having a TV […] And if they grew up on gaming, they came of age in the YouTube era. Many now consider it the best platform to explore their passions."
Data from the Tubular Labs in December 2013 revealed that millennial women also actively share, like and comment more gaming content than cooking or recipe content.
These statistics reflect findings by the Entertainment Software Association in April 2014. According to the report, women aged 18 or older make up a significantly greater proportion of the gaming population at 36 per cent than boys aged 18 and younger at 17 per cent.
20 best video games in 2015
20 best video games in 2015
1/20 The Legend of Zelda

Nintendo haven't given too much away so far, but judging by the open world, stunning views, vast maps and ability to attack while Link's horse Epona rides ahead avoiding obstacles, it's unlikely to let fans down. Release date: 2015

2/20 Uncharted 4: A Thief's End

Set to follow years after the stunning Uncharted 3: Drake's Deception, Naughty Dog's dramatic adventure will come exclusively to the PlayStation 4, and will promise the mystery of protagonist Nathan's "greatest adventure yet". Release date: 2015

3/20 Evolve

Five players: one monster, four hunters, two conflicting aims. The monster can evolve by killing creatures, while the hunters must work together to take them down. This multiplayer looks set to offer something a little more unique, and a real need to cultivate your characters' skills in order to succeed. Release date: February 10, 2015

4/20 No Man's Sky

When revealed at E3 last June, the sheer scope covered in their three minute video ensured this upcoming title from British video game developer Hello Games made it into several 'best of E3 lists'. The exploration potential via a spacecraft across the universe is huge, from deserts to dinosaurs to deep oceans. Release date: 2015

5/20 Splatoon

Another entry from Nintendo will see a move in a different direction for the gaming giant. This colourful family-friendly shooter seems two teams of four battle it out to cover the ground in ink. Play once, and you won't want to leave the inky arena. Release date: Early 2015

6/20 The Order 1886

The PlayStation 4 exclusive is set in a dark and mysterious London, where monsters (half animal, half man) roam the streets. The third-person shooter from Ready At Dawn shared a new trailer on Christmas day, with a glimpse of the terrifying werewolf-esque creatures to put everyone in the festive mood. Release date: 20 February 2015

7/20 Bloodborne

Set in the gothic city of Y'harnam where a strange endemic illness spreads through the streets in the form of mobs and monsters, the new action RPG release from the makers of Dark Souls was one of the hit trailers from E3 2014. Release date (UK): 27 March, 2015

8/20 Batman: Arkham Knight

The fourth in the Batman: Arkham series will see our dark superhero confront The Scarecrow, and it'll be the first time fans get to drive the Batmobile – which can be summoned to the player's location. Release date: June 2015

9/20 Mortal Kombat X

22 years since its first ever release, the tenth title in the fighting series is set to be gorier than ever, with brutally detailed X-Ray moves. The story is set to begin at the end of the last game released in 2011. Release date: April 2015

10/20 Yoshi's Woolly World

The latest outing from Mario's dinosaur sidekick takes the lead from Kirby's Epic Yarn, where everything is made of wool. For the Wii U, the game will promise some utterly adorable side-scrolling from Nintendo. Release date: Early 2015

11/20 Hotline Miami 2: Wrong Number

The sequel to the surprise hit from Devolver Digital will see an unlockable 'hard mode' for those who find attacking those enemies too darn easy, and also a 'level editor', where players can create their own tricky challenges. Release date: early 2015

12/20 Kirby and the Rainbow Curse

Our greedy pink friend will need rainbow lines to be drawn on the GamePad in order to go forward, and the Wii U game will support Nintendo's Amiibo figures. Release date: late 2015

13/20 The Witcher 3: Wild Hunt

The third in the action role-playing series based on the fantasy novels by Polish author Andrzej Sapkowski is set to be '30 times larger' than the previous games, for monster hunter Geralt to explore. Release date: 19 May, 2015

14/20 Star Fox

The first in the series to be released in nine years will use the Wii U's GamePad to allow the player to view the cockpit in the Arwing fighter. Release date: 2015

15/20 Metal Gear Solid V: The Phantom Pain

Following on from last year's Metal Gear Solid V: Ground Zeroes, the new game from Konami follows the mercenary leader Venom Snake as he ventures into Africa, 17 years after the series began. Release date: 2015

16/20 Tom Clancy's The Division

Inspired by, real-world events which "revealed how vulnerable we've become", Ubisoft's open world third-person shooter will see players act to control disease spread because of germs on banknotes. Release date: 2015

17/20 Tom Clancy's Rainbow Six Siege

Ubisoft's first-person shooter will feature counter terrorist scenarios - it's all about tactic and team play (and explosions). Release date: 2015

18/20 Battlefield Hardline

With the 'war against crime' a focus for the new game in the series, EA's first person shooter will feature a 'cops and robbers' gameplay style. Release date: March 2015

19/20 Halo 5 Guardians

The sequel to 2012's Halo 4 by 343 Industries will require players to 'solve a mystery that threatens the entire galaxy. Its release will coincide with the Halo television series produced by Steven Spielberg. Release date: late 2015

20/20 Dead Island 2

The survival horror from Deep Silver is the fifth instalment in the series, and will be set in a quarantined California, where the zombies roam free. Release date: Mid-2015
Women overall are also only marginally behind men in the proportion of game players they represent in the report. 48 per cent of gamers are female, while 52 per cent are men.
Mr Ramdurai reflected on the potential of YouTube to break into different demographics, arguing that "its appeal goes far beyond teenage boys".
"People who watch gaming content have varied interests. This is especially true of women," he said.
"November 2014 data from comScore Video Metrix reports that two in five 18-34 years old viewers of StyleHaul, a network of female-focused beauty and fashion channels, also watch channels on Machinima, one of the biggest gaming networks."
He urged gaming brands to take advantage of the "unprecedented momentum" that gaming content is seeing on YouTube.  
"Brands have a unique opportunity to jump on a rising trend that millions of millennials engage with every single day and connect with them in a genuine way."
Reuse content