Google has released a report revealing that two thirds of its employees are men and more than 60 per cent are white, with a senior executive noting "we're not where we want to be when it comes to diversity".
The report marks the first time the technology giant has detailed the gender and racial diversity of its work place, with Laszlo Bock, the company's senior vice president of people operations, saying "it's time to be candid about the issues".
The company also shared more detailed numbers with PBS, noting that diversity became an even greater problem higher up the corporate ladder, with women accounting for only 21 per cent of the company's top positions.
Of Google's US staff, 61 per cent are white, 30 per cent are Asian, three per cent are Hispanic and just two per cent are black. Four per cent of employees were recorded as belonging to two or more races.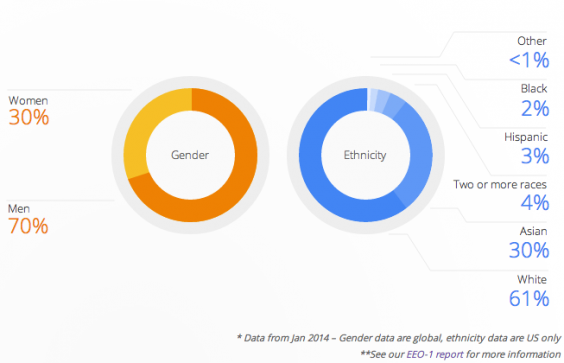 The numbers compared badly with the national American average where the workforce was comprised of 47 per cent women in 2012, with racial statistics revealing that 16 per cent were Hispanic and 17 per cent were black.
Google said that one contributing factor as to why "technology companies like Google struggle to recruit and retain women and minorities" was entrenched disparities in higher education, with women earning 18 per cent of all computer science degrees in the US, and with blacks and Hispanics collecting fewer than 5 per cent of the same.
Mr Bock noted that the company has given more than $40 million (£24m) "to organizations working to bring computer science education to women and girls" but that they were still "the first to admit that Google is miles from where we want to be."
Google also admitted that it was wrong not to release the data earlier, although other companies such as Facebook are now being urged to do the same in order to properly expose the extent of the problem within Silicon Valley.
Reuse content