More than half of students are chasing careers that will be made obsolete by advances in technology and automation, according to a report by the Foundation for Young Australians (FYA).
The report, entitled The New Work Order, makes recommendations to ensure that Australia's young people are being trained for the future of work, not for the 'traditional' model of employment.
In a worrying finding, the report states that 70 per cent of young people currently enter the workforce in jobs that will be "radically affected by automation". 60 per cent are being trained in jobs that will experience similar levels of change, which could occur within 10 to 15 years.
The CEO of FYA, Jan Owen, said that while the unemployment and underemployment rate for young people in Australia is already around 30 per cent, the chances of getting a foothold in the labour market are going to keep shrinking.
The Robot Restaurant, Tokyo
The Robot Restaurant, Tokyo
1/9 The Robot Restaurant

Dancers ride on giant robots at the Robot Restaurant in Tokyo. This now famous establishment opened two years ago in the Shinjuku district

Getty

2/9 The Robot Restaurant

Dancers dressed as futuristic characters perform during a show at The Robot Restaurant

Getty

3/9 The Robot Restaurant

Performances are held three times a day and cater mostly to foreign tourists

Getty

4/9 The Robot Restaurant

The Robot Restaurant has gained notoriety for its mind-boggling sci-fi cabaret show and its garishly illuminated interior

Getty

5/9 The Robot Restaurant

The restaurant was completed in 2012 at a cost of $10 million. Nearly every surface of the club is decorated in lights, mirrors, or flat panel monitors

Getty

6/9 The Robot Restaurant

Gold coloured urinals are to be found in the men's toilets

Getty

7/9 The Robot Restaurant

The cabaret style shows include bikini clad futuristic dancers, performers dressed as robots and a host of large scale robots and vehicles controlled with remotes by stage hands dressed as Ninjas

Getty

8/9 The Robot Restaurant

A large robotic horse is moved back into position ready for the next cabaret show

Getty

9/9 The Robot Restaurant

Customers watch on as a large scale robot performs during one of the cabaret-style shows

Getty
She said: "Our report found nearly 60 per cent of Australian students are currently studying or training for occupations where at least two thirds of jobs will be automated over the coming decades."
"Many of the jobs they are studying could vanish in 10 to 15 years' time."
The report also states that they way we work will change - further automation, globalisation and more collaborative and open careers could help lower the barriers to work, and make our working lives more flexible and less regimented.
However, these changes could also lead to rises in unemployment, inequality, and job insecurity.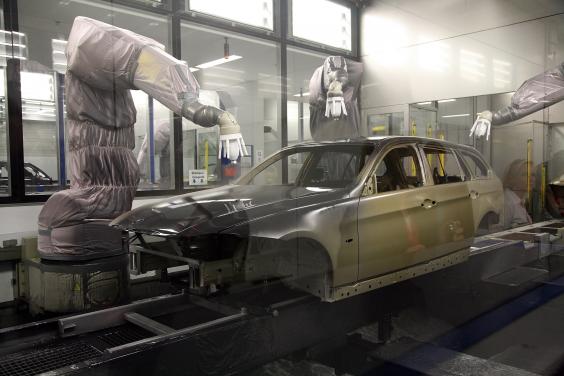 The report recommends that more focus on digital skills and entrepreneurship is needed for young people, and adds that lowering taxes for lower-income workers and giving more rights to freelance workers could help prepare Australia's economy and society for the working landscape of the future.
Last year, a report by Oxford professors Carl Benedikt Frey and Michael Osborne found that a third of all jobs in the UK could be rendered obsolete by robotics and computing within the next 20 years.
Secretarial, administrative and cashier jobs have already been damaged by advances in automation and computing, and it is thought that many jobs in insurance and certain manual jobs could be at significant risk of being automated.
Reuse content