An annual survey of the English-speaking world's "top words" has seen "404" ("the near-universal numeric code for failure on the global Internet") take the top spot in 2013.
The survey, carried out by Global Language Monitor, doubles down on this somewhat pessimistic take on the year's events by ranking "fail" as the second most popular word.
Third and fourth place ("hashtag" and "@pontifex" respectively) both pay tribute to the continuing visibility and impact of social media, with the latter (the Pope's Twitter handle) suggesting that even more venerable institutions can gain a lot from a little bit of internet literacy.
The rest of the survey (which is collated by trawling print and online media, social networks and blogs for the most frequently used words) provides a handy reference guide to the topics that have got us most worried in the last months.
"Surveillance" comes in at numbers six thanks to revelations about western democracies spying on their citizens, with "drones" following close behind at number seven - reminding us that technology's capacity to watch from a distance sometimes includes lethal measures.
Financial woes take the number eight and nine spots with "deficit" and "sequestration" (the latter referring to spending cuts in the US) whilst government incompetency also ranks highly: "filibuster" (a delaying tactic for legislative bodies) comes in at number 11 and "deadlock" at number 14.
Unsurprisingly, issues surrounding technology also featured prominently: "nano-" and "Franken-" (numbers 12 and 15) are both prefixes suggesting technology spinning out of control (see 'Grey Goo') whilst more innocent topics also made an appearance - "meme" came in at number 16 and "The Cloud" at number 18.
Deciding whether to place the thirteenth most popular word, "twerking", in the 'sinister' or 'harmless' camp is more of a matter of taste.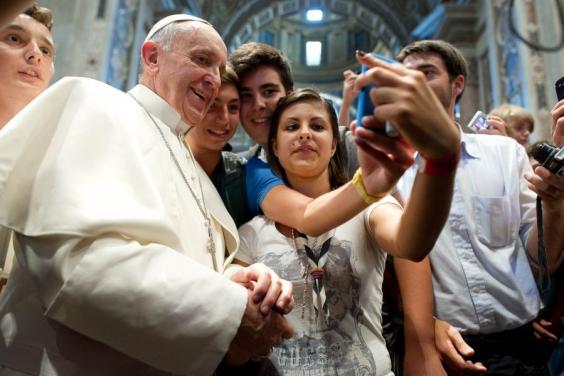 Top phrases and top names
The Catholic Church also did well in the 'top names' category with Pope Francis taking the top spot. Barack Obama even got two spots (though "ObamaCare" at the number two spot isn't commonly a term of praise in the US), with the "NSA" and whistleblower "Edward Snowden taking third and fourth place. "Kate Middleton" also got a look in as the fifth most popular name.
Meanwhile in the "top phrases" list the feeling of gloom and doom persists. "Toxic politics", "federal shutdown" and "federal deficit" were placed first, second and fourth as reminders of America's struggles with its own government, whilst "chemical weapons" (number eight) and "rogue nukes" (number ten) indicate that there's plenty of more conventional worries to go around.
Even one of the few bright spots on the "top phrases" list was a reaction to a tragedy: "Boston Strong", a phrase that signified "the resilience of Bostonians after the terror of the Marathon Bombing", came in at number six.
Click here to see the full list from Global Language Monitor