The alleged iPhone 6 prototype that had received bids of more than $100,000 on eBay has been removed by the seller because "the item is no longer available."
The eBay auction, which kicked off late last week, was still due to run until October 9 before the seller stopped the bidding.
Nearly 200 bids were made, with the price jumping from $60,000 on Monday morning to over $100,000 later that night, just before the item was removed.
The seller Alex Kantor, under the username Kimberlyk1018, had been "accidentally" delivered the alleged prototype by US network provider Verizon when he had ordered an upgrade.
In the item's description, he offered a "110% guarantee" that the prototype was the real deal. His profile had only one previous sale.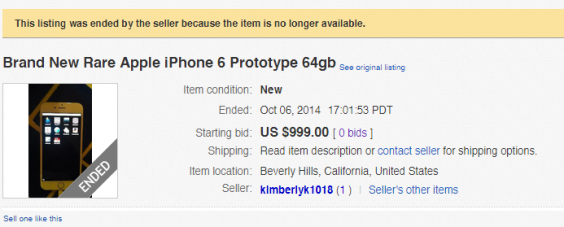 The pictures provided show the iPhone 6 running in developer mode, without iOS 8. It was also reportedly missing the regulation markings usually found on back of the device, and has a distinct red charging port.
Kantor told CNET: "I determined that this iPhone was a version not meant for the consumer market after seeing the software version on it. I am an avid tech lover and I knew what this software was right away.
"It's actually called SwitchBoard and is only for internal Apple testing."
There is no indication that the device was sold; it appears instead as though Kantor cancelled the listing.
The price has been reduced to $999, presumably the sum at which the bidding began.
It's possible that Apple asked the seller to return to it the alleged prototype, having previously responded to similar incidents decisively.
When in 2010 a prototype for the then-unreleased iPhone 4G was found and later sold to tech blog Gizmodo, Apple pursued criminal charges against both parties.
Steve Jobs reluctantly dropped extortion charges as there was insufficient evidence, but Gizmodo was still forced to return the device.
We have reached out to Apple for a comment, and will update the piece if and when they respond.
Reuse content