A British company claims to have invented a working hydrogen-powered smartphone battery that could potentially allow your phone to go a week without recharging.
Intelligent Energy, a British power technology company, has made a working prototype of an iPhone 6 with the new battery.
Fitted with its rechargable battery and their new technology, the iPhone looks and feels very similar - the only difference is the small vents on the back of the phone, that allow imperceptible amounts of water vapour to escape, a byproduct of the hydrogen battery.
The battery works by combining hydrogen and oxygen in a small and very thin fuel cell, creating electricity. The only waste products are small amounts of heat and water.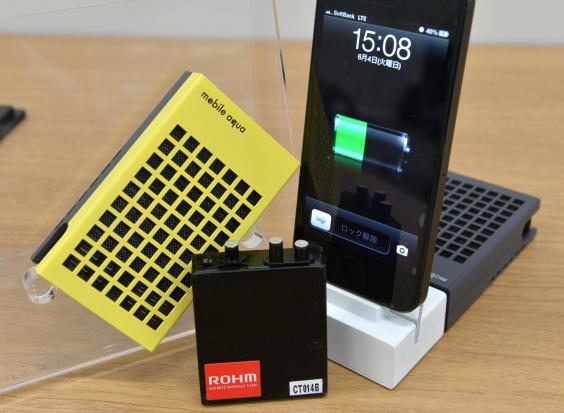 The cell is the same size as the iPhone, but is so thin that it can fit into the existing chassis of the phone without any need for major alterations.
Speaking to the Telegraph, Henri Winand, the chief executive of the company, said: "To our knowledge this has never been done before."
Although the battery could extend a phone's life by days, it still requires recharging - the fuel cell can be topped up with hydrogen gas via the adapted headphone socket.
CES 2015: The best gadgets from Las Vegas
CES 2015: The best gadgets from Las Vegas
1/5 3D Systems Cocojet

The hype surrounding three-dimensional printing generally consists of companies saying "you know you want it" and consumers shrugging. The onus is now on printer manufacturers to demonstrate that printed objects actually have a purpose. To that end, Makerbot is touting new materials, chemically bonded with wood and metal, that enable you to print, say, a hammer. 3D Systems, meanwhile, is showing off stuff that can be worn and, more impressively, eaten. Cocojet prints chocolate confections to order; it will be absurdly expensive when it launches later this year, but this stuff is only going to become cheaper and more useful.

2/5 Gogoro Smartscooter

The appearance of a new electric vehicle (EV) at CES isn't newsworthy in itself, but Gogoro's scooter is all about the battery. With battery costs making up a significant part of the manufacture of any EV, Gogoro envisages a mobile phone-style model where you lease the use of one; when your battery runs out, you are directed to a charging station where you instantly swap it out for a fresh one. The grid, says Gogoro, will learn and respond to user behaviour within cities to keep plenty of fresh batteries available. Now all it has to do is persuade those cities to let them install the infrastructure.

3/5 Parrot Pot

The CES tends to prompt lots of chatter about the connected home. While many products seem to be solutions in search of problems, last year saw Nest's smoke alarms and smart thermostats cater for specific needs and reap the rewards. This year, Parrot's automated plant-watering system – in conjunction with an app – solves a specific problem very well: that of lazy, clueless or forgetful people accidentally killing their house plants. The app contains a database that helps the pot to deliver the correct amount of water to the plant exactly when it needs it. Keep those aspidistras flying.

AP

4/5 Samsung Portable SSD T1

Over the years, we've seen hard drives shrink and become more affordable. There is an ongoing debate about whether the rate of change is slowing, but new products still have the capability to make you go "wow". While Samsung seemed more interested (once again) in persuading CES attendees of the merits of internet0connected kitchen appliances, its 1TB SSD is fast, capacious and smaller than a credit card. Pricing information wasn't supplied, but again, the cost of these things is only going to fall.

AP

5/5 Intel Compute Stick

Is this the easiest way to carry around a computer? A step up from Google's Chromecast or Amazon's Fire TV media stick, Intel's Compute Stick packs 32Gb of storage, 2Gb of RAM, USB, WiFi, Bluetooth and Windows 8.1 (or Linux) into a chewing gum-sized gadget that plugs into any screen with an HDMI port. Intel seems to envisage it primarily for business use, but at $149 (£99) for the Windows version, it is affordable for consumers keen on exploring its potential.
The current version is only a prototype, but the company is looking at a commercial version that could potentially revolutionise mobile phones.
The commercial version could take the form of a small cartridge that fits into the bottom of the phone, that would give a week of power and can be thrown away when not needed.
Mark Lawson-Statham, the corporate finance chief of Intelligent Energy, said that the technology is currently a "couple of years out".
Portable fuel cell manufacturers have been promising that their devices will take over the market for years, but these power sources have typically been too bulky and expensive to have value to everyday consumers.
A small and low-cost fuel cell that packs a punch and promises to give your phone more than a few hours' battery could be the device that finally goes mainstream.