The cyber-terrorists have hacked the network. They have used compromised computers to turn the guns of HMS Belfast towards City Hall, ready to blast Mayor Boris and the rest of London's administration to smithereens.
A small English town's chemical waste treatment facility, water and electricity systems also seem at the mercy of the hackers.
Somewhere, a digital clock is counting down the 1 day, 2 hours, 57 minutes and 15, 14, 13 seconds to Armageddon.
Yes, of course it's a drill – just consider the name of those evil terrorist masterminds: Flag Day Associates, more over-enthusiastic yacht club than Spectre.
The small English town is a few centimetres high, made out of polystyrene and cardboard, with more intricate models for the infrastructure plants. But on the River Thames, inside the bowels of the warship turned museum HMS Belfast, people are taking this very seriously.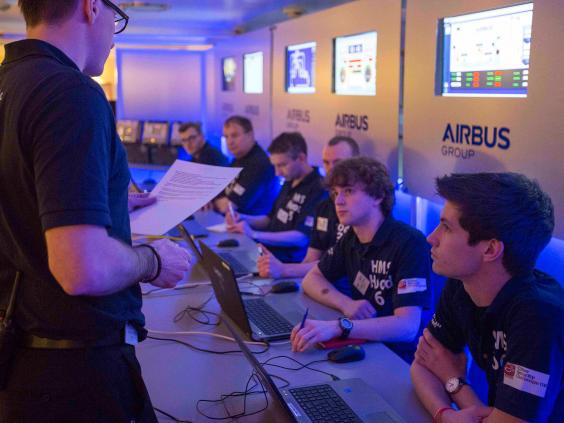 A windowless room is bathed in low, green lighting. T-shirted computer enthusiasts stare into laptops, straining to defeat the not very scarily named terrorists. Above their heads, the digital clock counts down.
This is the competition they call Cyber Security Challenge UK, "the biggest and most realistic cyber-attack simulation run for civilians in the UK". The 41 men and  (not that we want to mention stereotypes about computer-related activities) one woman have been whittled down from the thousands who applied about a year ago.
They may not actually save the world. They won't even win any prize money – but they might well get themselves a job in cyber security.
Eyeing the contenders are representatives of GCHQ, the National Crime Agency, Lockheed Martin and the Airbus Group.
They aren't just here to judge who will emerge as overall champion this afternoon.They are looking to hire, to fill the recruitment gap that still exists in UK cyber security, if necessary by offering big salaries.
Four years ago, Dan Summers, a postman from Wakefield, West Yorkshire became the first ever Cyber Security champion. He remained at the Royal Mail, only now he's a senior executive in its cybersecurity division. Yesterday I met hopefuls Matt Watkins and Adam Tonks. They became friends at Cybercamp, organised by Cyber Security Challenge.
The two 21-year-old computing students seem nice young men. "When I was about 13," said Mr Tonks, of Cirencester, Gloucestershire, "I had to write a letter of apology to my IT teacher, for getting into one of the servers, with access to files the school didn't necessarily want me to see."
"I got into the administration account of one of the school computers," added Mr Watkins, of Rugeley, Staffordshire, "They threatened to kick me off the GCSE IT course."
It was, they insisted, all very harmless, with Mr Watkins adding that his teachers only got so cross that because they didn't understand the limited nature of what he had done.
I couldn't help thinking of what a competition spokesman had told me, about the challenge being a chance to display some pretty sneaky computing skills – without being arrested for something such as hacking: "There is a competitive nature to these people. It's difficult for them to show off what they have done in a safe environment."
Reuse content