Fake Twitter accounts created using the identities of recently-deceased people are being used to smear a respected British human rights journalist, in a sophisticated dirty tricks campaign.
The false accounts have been used to besmirch Clare Rewcastle Brown, the sister-in-law of former Prime Minister Gordon Brown, who has exposed corruption in Malaysia.
The dark arts campaign used the "stolen" identities of Philip Goodeve-Docker, a British novice Arctic explorer who died on a charity trek in Greenland in 2013, and Samuel Morehead, a Second World War veteran from Texas who also died in 2013, to create false Twitter accounts, The Independent can reveal.
These accounts were then used to promote links to a Facebook page accusing Ms Rewcastle Brown of fabricating her reporting.
"It's very distasteful," Mr Goodeve-Docker's father Nigel told The Independent, after being alerted to the misuse of his son's photo. "It is cheap to use the photograph of a dead person who can't complain."
Numerous other stolen identities were used for at least 19 Twitter "sock puppet" accounts deployed to direct traffic to a defamatory Facebook page titled "The Real Clare Rewcastle Brown", challenging the award-winning journalist's work exposing corruption involving tens of millions of pounds.
How the smear campaign worked
The smear campaign lifted a photograph of Philip Goodeve-Docker, either from his Facebook account or from press articles published in 2013 concerning his tragic death while trying to raise funds for the Queen's Nursing Institute. The image was used to illustrate a Twitter account set up on 23 October in the name of "Harry Drakeford", supposedly "working in the banking sector" in Malaysia and Singapore and interested in badminton. "Drakeford" was described as having "money on my mind" and being "keen to invest". His first tweet, on 24 October, was a link to an "Oh so funny clip" of Clare Rewcastle Brown. 
The picture of Mr Goodeve-Docker was later replaced with that of an older man.
The revelation will increase fears that social media websites like Facebook and Twitter are allowing dirty PR campaigns to be conducted with impunity behind the cloak of anonymity. Former security service employees working at the extreme margins of the PR industry are suspected of carrying out highly-funded smears on behalf of powerful interests.
The identities of those behind the campaign against Ms Rewcastle Brown have not been established. But the journalist said that, despite employing lawyers, she had been unable to get the social media giants to take action on her complaints. "I am left appalled at what effect this treatment might have on a vulnerable, perhaps young person who is being subjected to any form of subtle or systematic bullying," she said.
After following Facebook's complaints procedure, the journalist received a computer-generated response. "Thanks for letting us know about the Page you reported for harassment. As of now, it hasn't been removed because we found that it doesn't go against the Facebook Community Standards."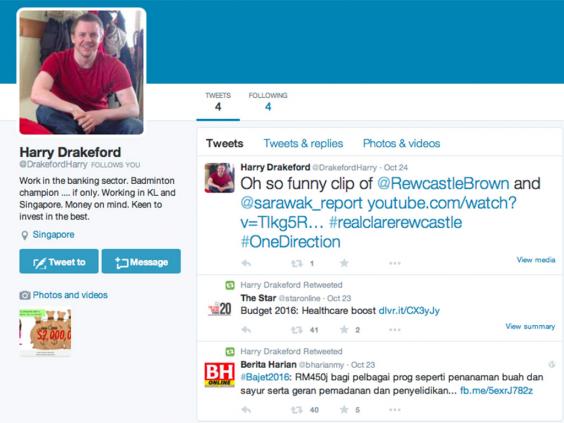 She warned that social media websites were "now being targeted as key instruments for professional dirty PR campaigns like the one funded against me".
Ms Rewcastle Brown, who is London-based but edits the Malaysia-focused blog Sarawak Report, was made the subject of an arrest warrant in Malaysia and accused of "activity detrimental to parliamentary democracy" after publishing documents detailing how nearly $700m from a state fund was paid into the personal bank accounts of Prime Minister Najib Razak. Officials in Kuala Lumpur have said the money came from an unnamed Arab donor. In the summer, Ms Rewcastle Brown was given police protection after being followed and photographed in London's Hyde Park.
A photograph of the late Mr Goodeve-Docker, identical to one published at the time of his inquest, was used to illustrate a Twitter account set up in the name of "Harry Drakeford", a man supposedly "working in the banking sector" in Malaysia and Singapore and interested in badminton. His first tweet was about Rewcastle Brown. The picture of Mr Goodeve-Docker was later replaced.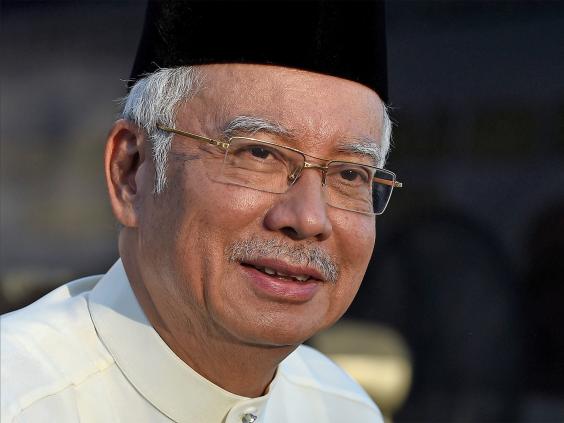 The late Mr Morehead was described as "Sam Everett" in his fake profile. The American's photograph was later replaced with one of an Australian property consultant, Kelvin Fang.
Among the other "stolen" identities used to create a wave of false Twitter accounts on 23 October included that of Ashraf Rossli, a student whose plight provoked a national outcry when he was mugged during the London riots of 2011. Rossli, who is Malaysian, was restyled on Twitter as "Sam Woo".
Meanwhile Rosy Everitt, an unsuspecting Brighton travel firm employee, was dubbed "Lilian Woodfull", a Kuala Lumpur-based flight attendant with nine Twitter followers - and a keen interest in Clare Rewcastle Brown. "It's pretty disconcerting to know my image is being used to voice opinions that aren't mine," Ms Everitt told The Independent. "It goes to show how it easy it is to create fake personas online."
It's very distasteful. It is cheap to use the photograph of a dead person who can't complain
David Begg, general secretary of the Irish Congress of Trades Unions, was renamed "David Beg", an apparent supporter of the Malaysian palm oil industry. Real-life Greenpeace activist Gizem Akhan was rebranded as environmentalist "Ella Dooley" and positioned as a former supporter of Ms Rewcastle Brown's Sarawak Report who had come to see the journalist in a different light.
Twitter told The Independent it didn't comment on individual cases. It responded to Sarawak Report's complaint with a standard reply. "We reviewed the account and content reported and are unable to take action given that we could not determine a clear violation of the Twitter rules surrounding abusive behavior."
The Facebook page titled The Real Clare Rewcastle Brown links to a professionally-made animated film, hosted on Google's YouTube platform, satirising the journalist and voiced by a British-accented actor. "It's all rubbish but who cares?" the animated figure of Rewcastle Brown says of her reports. "I just point the finger."
The case has caused concern at senior levels in the PR industry. "The coordinated use of platforms like Facebook and Twitter to smear individuals is unethical and if PR agencies are carrying out such nefarious activities then it is extremely concerning," said Francis Ingham, Director General of the Public Relations Consultants Association. "This kind of activity directly contravenes the PRCA's Professional Charter."
UK news in pictures
UK news in pictures
1/30 23 September 2016

Fiona MacKeown, the mother of murdered British schoolgirl Scarlett Keeling, is escorted as she leaves the Childrens Court in Panaji. A court in India cleared two men accused of the rape and homicide of 15-year-old British schoolgirl Scarlett Keeling whose bruised and semi-nude body was found on a Goa beach eight years ago. Friends and relatives of the two accused, Samson D'Souza and Placido Carvalho, cheered as the verdict was read out in the state capital Panaji

AFP/Getty Images

2/30 22 September 2016

A stag calls out at Richmond Park in London. Today marks the first day of autumn, also known as the autumn equinox, where night and day are equal

Getty Images

3/30 21 September 2016

An activist adjusts US flag bunting attached to a "Stop Trump" battle bus in London in a campaign run by campaign group Avaaz to mobilise US expatriots in the UK to register to vote in the US presidential election

AFP/Getty Images

4/30 20 September 2016

Prince Harry does 'the dab' with children from the Streetsport initiative during a visit to Robert Gordon University in Aberdeen, Scotland

5/30 19 September 2016

Some 2500 life jackets worn by refugees who made the sea crossing from Turkey to the Greek island of Chios are displayed in what the organisers called a "Lifejacket Graveyard" in Parliament Square, London, backdropped by the Houses of Parliament. The display was organised by Snappin' Turtle Productions and supported by refugee charities to coincide with the first ever United Nations Summit for Refugees and Migrants taking place in New York

AP

6/30 18 September 2016

The Reverend Stephen Mason (L) mounts a horse before leading a church service during the Hyde Park Horseman's Sunday in London. The 49th annual Hyde Park Horseman's Sunday event sees around 60 horses and riders join a congregation for a church service outside St John's Church in Hyde Park, complete with members of the clergy mounted on horses. The annual event began as a way to raise awareness of the local stables situated along Hyde Park and of working horses in central London

Getty Images

7/30 17 September 2016

Members of the public gather to watch a giant peach as it is moved through the centre of Cardiff as part of a street performance to mark the start of City of the Unexpected, a celebration of the author Roald Dahl in Cardiff. The celebrated author was born in Cardiff 100 years ago this month and to celebrate the Welsh capital is hosting a series of events this weekend

Getty Images

8/30 16 September 2016

Judges manouvere giant cabbages to be weighed in the Giant Vegetable Competition on the first day of the Harrogate Autumn Flower Show at the Great Yorkshire Showground, in Harrogate

AFP/Getty Images

9/30 15 September 2016

NCP is renaming one of its carparks to the Sarah multi-Storey Car Park to honour the sporting achievement of one of Britain's true #superhumans after her record breaking endeavours at the Paralympic Games in Rio

10/30 14 September 2016

Swimmers enjoy an early morning dip shortly before sunrise in the Serpentine in Hyde Park in London. Areas in the South East of England continue to enjoy seasonable weather

Getty Images

11/30 13 September 2016

British Labour party Leader Jeremy Corbyn stands with campaigners outside the Houses of Parliament in central London, during a protest calling for an inquiry into the Battle of Orgreave and the policing of the miners strikes. The campaigners are calling for an inquiry into the way that police handled events outside the Orgreave coking plant, near Sheffield, north-east England, in 1984

AFP/Getty Images

12/30 12 September 2016

President of the Zoroastrian Trust Funds of Europe Malcolm Deboo addresses guests during an appeal by senior faith representatives at the Liberal Jewish Synagogue for more action to be taken by the Government on the issue of refugees, in London. Over 200 leaders of the UK's major religions and faiths have signed a letter to British Prime Minister Theresa May, asking to unblock the rules that currently prevent families from being reunited

Getty Images

13/30 11 September 2016

Athletes enter the water at the swim start during Ironman Weymouth in Weymouth

Getty Images

14/30 11 September 2016

People dressed in vintage clothes attend the Goodwood Revival at Goodwood in Chichester

Getty Images

15/30 10 September 2016

Artem Silchenko of Russia dives from the 27.5 metre platform at the Blue Lagoon during the sixth stop of the Red Bull Cliff Diving World Series, Pembrokeshire, Wales

Red Bull via Getty Images

16/30 10 September 2016

Debutantes and their escorts rehearse ahead of the Queen Charlotte's Ball at 'One Whitehall Place, The Royal Horseguards Hotel' in London. Queen Charlotte's Ball is the pinnacle event in the London Season. The London Season is rich in history and was formed over two hundred years ago when the custom of returning to London at the end of the hunting season was celebrated with glittering balls and high society events. The modern group of meticulously selected debutantes continue the tradition and celebrate their year of charity fund raising, etiquette classes and debut at The Queen Charlotte's Ball

Getty Images

17/30 9 September 2016

Farmers buy and sell at Kelso Ram Sale in Kelso, Scotland. Kelso is the biggest on day sale of Rams in the world, with between five and six hundred consignors attending the event, which dates back to 1836. 5,145 rams will be sold today and last year's sale total reached over two and a half million pounds, with the average ram fetching £610. The last few years has seen rams being exported to countries including Eire, Germany and Holland

Getty Images

18/30 8 September 2016

Britain's Prime Minister Theresa May (L) greets European Council President Donald Tusk in Downing Street in London

REUTERS

19/30 7 September 2016

The tower of Grain Power Chimney comes down in Isle of Grain. The 244m (801ft) chimney of Grain Power Station, a former oil-fired power station and the second tallest chimney in the UK was demolished by experts Brown and Mason at 11 am

Getty Images

20/30 6 September 2016

'The Faraway Treehouse' in Norwich has been titled the UK's Top Treehouse, as judge and adventurer Steve Backshall has revealed the winner found as part of Center Parcs' nationwide search. The winning treehouse was built by the Jennings' family, from Norwich, as a joint project between dad Matthew and his six-year-old daughter Ruby, who got inspired by an Enid Blyton classic 'The Faraway Treehouse'

PA

21/30 5 September 2016

Runners covered in coloured powder enjoy themselves as they ran through the streets of London during the anticipated mass 'Color Throw'. The Color Run Presented by Skittles is an untimed 5k fun run, aiming to bring together fitness and fun, with the ultimate goal being that participants cross the line with a huge smile on their face

22/30 4 September 2016

A replica of 17th-century London on a barge floating on the river Thames burns in an event to mark the 350th anniversary of the Great Fire of London

AFP/Getty Images

23/30 3 September 2016

Enthusiasts in vintage clothing take a stroll in the rain along Morecambe promenade during Vintage By The Sea event in Morecambe. Vintage By The Sea is a celebration of 20th century design, fashion and entertainment. Now in it's fourth year Vintage By The Sea is hosted in the seaside resort of Morecambe

Getty Images

24/30 2 September 2016

Scottish First Minister Nicola Sturgeon and leader of the Scottish National Party (SNP) speaks at a press conference in Stirling. Sturgeon launched a new survey on independence, saying the Brexit vote had changed the conditions that existed when Scotland voted against secession in 2014

AFP/Getty Images

25/30 1 September 2016

People gather on the beach to take advantage of the fine weather at West Bay in Dorset

Getty Images

26/30 1 September 2016

Mayor of London Sadiq Khan and Tara Arts founder and director, Jatinder Verma offically open the doors at Tara Theatre in London. The theatre is the new state of the art home in South London for the acclaimed Tara Arts, the oldest diverse multicultural theatre company in the UK

Getty Images for Tara Arts

27/30 31 August 2016

People relax in front of beach huts in Clacton-on-Sea

REUTERS

28/30 31 August 2016

An inflatable pig from the band Pink Floyd floats over the Victoria and Albert Museum to promote "The Pink Floyd Exhibition: Their Mortal Remains", which will open in May 2017, in London

REUTERS

29/30 30 August 2016

The final touches are made to a 120 metre-long wooden sculpture of London's skyline from the seventeenth century as it is moored up on the river Thames in London. The sculpture titled London 1666 and designed by David Best will be ceremonially lit and burnt in the middle of the Thames on 4 September as part of celebrations to commemorate the 350th anniversary of the Great Fire of London

AFP/Getty Images

30/30 29 August 2016

Police look as a performer dances during the Notting Hill Carnival in London

REUTERS
Mark Borkowski, head of a London PR firm, warned that social media provided new opportunities for dirty tricks. "A lot of spies and ex-Army people are going into it," he said. "There are some despicable crafts being deployed on the outer reaches of PR to disseminate false information and crush reputations. Where there is big money and big interests certain PR energy will flow into that space."
Libel in the digital age: Is the law working?
Rosalind English, a barrister at London chambers 1, Crown Office Row, has written about problems in taking legal action against Facebook over fake content. She said: "We are stuck with the problem that it's incumbent on the claimant to prove that the defendant is responsible for publication. This is law designed in the days before the Internet, before publishers could disappear into a confusing maze of offshore companies."
Ms English wrote on the UK Human Rights Blog that "suing Facebook is no easy matter", highlighting a recent High Court case in which a woman failed in an action against the social media giant after an "imposter" created a fake and allegedly defamatory profile of her on the site.
The barrister told The Independent that times had changed since the 1937 "golf club notice board" case of Byrne versus Deane, which held the club responsible for defamatory messages posted on its board. "The libel law is designed for people being able to point the finger at specific entities or individuals which may be regarded as responsible for the publication," she said. "[In social media cases] the claimant has a huge burden not only to find the right company but to establish that the publication has been actively facilitated by the [Internet Service Provider]." 
Reuse content