Fake Twitter accounts created using the identities of recently-deceased people are being used to smear a respected British human rights journalist, in a sophisticated dirty tricks campaign.
The false accounts have been used to besmirch Clare Rewcastle Brown, the sister-in-law of former Prime Minister Gordon Brown, who has exposed corruption in Malaysia.
The dark arts campaign used the "stolen" identities of Philip Goodeve-Docker, a British novice Arctic explorer who died on a charity trek in Greenland in 2013, and Samuel Morehead, a Second World War veteran from Texas who also died in 2013, to create false Twitter accounts, The Independent can reveal.
These accounts were then used to promote links to a Facebook page accusing Ms Rewcastle Brown of fabricating her reporting.
"It's very distasteful," Mr Goodeve-Docker's father Nigel told The Independent, after being alerted to the misuse of his son's photo. "It is cheap to use the photograph of a dead person who can't complain."
Numerous other stolen identities were used for at least 19 Twitter "sock puppet" accounts deployed to direct traffic to a defamatory Facebook page titled "The Real Clare Rewcastle Brown", challenging the award-winning journalist's work exposing corruption involving tens of millions of pounds.
How the smear campaign worked
The smear campaign lifted a photograph of Philip Goodeve-Docker, either from his Facebook account or from press articles published in 2013 concerning his tragic death while trying to raise funds for the Queen's Nursing Institute. The image was used to illustrate a Twitter account set up on 23 October in the name of "Harry Drakeford", supposedly "working in the banking sector" in Malaysia and Singapore and interested in badminton. "Drakeford" was described as having "money on my mind" and being "keen to invest". His first tweet, on 24 October, was a link to an "Oh so funny clip" of Clare Rewcastle Brown. 
The picture of Mr Goodeve-Docker was later replaced with that of an older man.
The revelation will increase fears that social media websites like Facebook and Twitter are allowing dirty PR campaigns to be conducted with impunity behind the cloak of anonymity. Former security service employees working at the extreme margins of the PR industry are suspected of carrying out highly-funded smears on behalf of powerful interests.
The identities of those behind the campaign against Ms Rewcastle Brown have not been established. But the journalist said that, despite employing lawyers, she had been unable to get the social media giants to take action on her complaints. "I am left appalled at what effect this treatment might have on a vulnerable, perhaps young person who is being subjected to any form of subtle or systematic bullying," she said.
After following Facebook's complaints procedure, the journalist received a computer-generated response. "Thanks for letting us know about the Page you reported for harassment. As of now, it hasn't been removed because we found that it doesn't go against the Facebook Community Standards."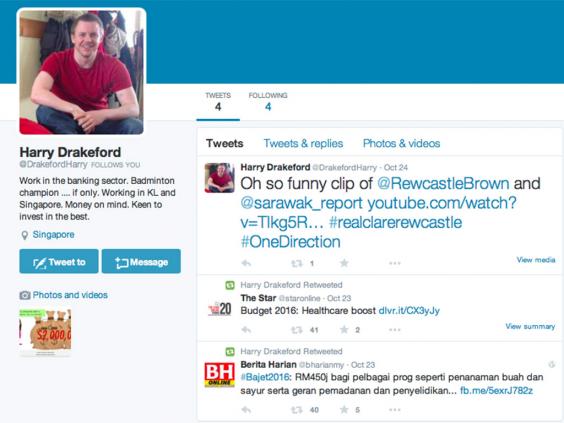 She warned that social media websites were "now being targeted as key instruments for professional dirty PR campaigns like the one funded against me".
Ms Rewcastle Brown, who is London-based but edits the Malaysia-focused blog Sarawak Report, was made the subject of an arrest warrant in Malaysia and accused of "activity detrimental to parliamentary democracy" after publishing documents detailing how nearly $700m from a state fund was paid into the personal bank accounts of Prime Minister Najib Razak. Officials in Kuala Lumpur have said the money came from an unnamed Arab donor. In the summer, Ms Rewcastle Brown was given police protection after being followed and photographed in London's Hyde Park.
A photograph of the late Mr Goodeve-Docker, identical to one published at the time of his inquest, was used to illustrate a Twitter account set up in the name of "Harry Drakeford", a man supposedly "working in the banking sector" in Malaysia and Singapore and interested in badminton. His first tweet was about Rewcastle Brown. The picture of Mr Goodeve-Docker was later replaced.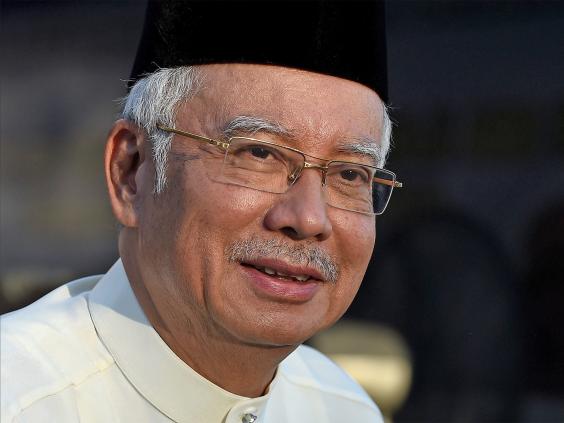 The late Mr Morehead was described as "Sam Everett" in his fake profile. The American's photograph was later replaced with one of an Australian property consultant, Kelvin Fang.
Among the other "stolen" identities used to create a wave of false Twitter accounts on 23 October included that of Ashraf Rossli, a student whose plight provoked a national outcry when he was mugged during the London riots of 2011. Rossli, who is Malaysian, was restyled on Twitter as "Sam Woo".
Meanwhile Rosy Everitt, an unsuspecting Brighton travel firm employee, was dubbed "Lilian Woodfull", a Kuala Lumpur-based flight attendant with nine Twitter followers - and a keen interest in Clare Rewcastle Brown. "It's pretty disconcerting to know my image is being used to voice opinions that aren't mine," Ms Everitt told The Independent. "It goes to show how it easy it is to create fake personas online."
It's very distasteful. It is cheap to use the photograph of a dead person who can't complain
David Begg, general secretary of the Irish Congress of Trades Unions, was renamed "David Beg", an apparent supporter of the Malaysian palm oil industry. Real-life Greenpeace activist Gizem Akhan was rebranded as environmentalist "Ella Dooley" and positioned as a former supporter of Ms Rewcastle Brown's Sarawak Report who had come to see the journalist in a different light.
Twitter told The Independent it didn't comment on individual cases. It responded to Sarawak Report's complaint with a standard reply. "We reviewed the account and content reported and are unable to take action given that we could not determine a clear violation of the Twitter rules surrounding abusive behavior."
The Facebook page titled The Real Clare Rewcastle Brown links to a professionally-made animated film, hosted on Google's YouTube platform, satirising the journalist and voiced by a British-accented actor. "It's all rubbish but who cares?" the animated figure of Rewcastle Brown says of her reports. "I just point the finger."
The case has caused concern at senior levels in the PR industry. "The coordinated use of platforms like Facebook and Twitter to smear individuals is unethical and if PR agencies are carrying out such nefarious activities then it is extremely concerning," said Francis Ingham, Director General of the Public Relations Consultants Association. "This kind of activity directly contravenes the PRCA's Professional Charter."
UK news in pictures
UK news in pictures
1/30 30 August 2016

The final touches are made to a 120 metre-long wooden sculpture of London's skyline from the seventeenth century as it is moored up on the river Thames in London. The sculpture titled London 1666 and designed by David Best will be ceremonially lit and burnt in the middle of the Thames on 4 September as part of celebrations to commemorate the 350th anniversary of the Great Fire of London

AFP/Getty Images

2/30 29 August 2016

Police look as a performer dances during the Notting Hill Carnival in London

REUTERS

3/30 17 August 2016

Children enjoy the cold water of a fountain in London during a hot and sunny day as temperatures rose up to 25 Celsius (77F)

AP

4/30 16 August 2016

AFP/Getty Images

5/30 15 August 2016

A supporter of Jeremy Corbyn holds up a placard at a Black, Asian and minority ethnic (BAME) rally in north London, organised by 'Jeremy for Labour', a group supporting Corbyn's re-election as Party leader

AFP/Getty Images

6/30 15 August 2016

ritish opposition Labour Party leadership contender Owen Smith delivers a speech on the National Health Service at The University of Salford in Salford, north west England, on August 15, 2016. The result of the contest between encumbent leader Jeremy Corbyn and Owen Smith for leadership of the Labour Party is set to be announced at a special conference on September 24

AFP/Getty

7/30 14 August 2016

Historical reenactors take part in the 'Lytham 1940s Wartime Festival' in Lytham St Annes. The two-day festival features displays, exhibitions, musical entertainment and live-action reenactment of life during the Second World War

AFP/Getty Images

8/30 13 August 2016

People throw brightly coloured powder at the Holi Festival of Colours at Wembley Park in London

Getty Images

9/30 12 August 2016

People relax on boats on the Serpentine lake in London. Temperatures in London have reached 27 degrees centigrade with pleasant weather also expected over the weekend

Getty Images

10/30 11 August 2016

Munduruku tribesman General Chief Arnaldo Kaba Munduruku (C), from the Tapajos Basin in the Amazon rainforest, is joined by Greenpeace activists, some of whom are dressed in monkey costumes, as he speaks to the media outside the Siemens' UK headquarters in Camberley. Greenpeace activists join two members of the Amazonian Munduruku tribe at German engineering company Siemens' UK headquarters to protest the building of mega dams in the Brazilian Amazon and to demand a meeting with senior management at the company

Getty Images

11/30 10 August 2016

Baby gorilla Afia interacts with her keeper Joanne Rudd on 'Gorilla Island' at Bristol Zoo. The hand reared Western lowland gorilla who was born at the zoo by emergency C-section on February 12 is taken out onto the island daily to help build her confidence and awareness of what will eventually become her new home. Although Afia's mother Kera, still isn't aware that Afia is hers it is hoped that the young gorilla who is enjoying a varied diet of sweet potato, leafy lettuce and pellets, will continue to get to know her family under the watchful eyes of her dedicated keepers

Getty Images

12/30 9 August 2016

A surfer catches a wave as the sun sets at Fistral Beach in Newquay in Cornwall. The Cornish seaside town will play host to the annual Boardmasters festival. Since 1981, the Boardmasters surfing competition has been held in Newquay and is now part of a larger five-day surf, skate and music festival becoming an integral part of the continually popular British surf scene growing from humble beginnings, to one of the biggest events on the British surfing calendar

Getty Images

13/30 24 July 2016

Newly appointed as manager of the England football team, Sam Allardyce poses for a photograph with an England scarf

Martin Rickett/PA Wire

14/30 23 July 2016

British Chancellor of the Exchequer Philip Hammond (R), and British Parliamentary Under Secretary of State for Transport and Minister for Aviation, Lord Tariq Ahmad (L), listen to London City Airport CEO Declan Collier, as they pass a British Airways aircraft during a tour of the airport in east London on July 27, 2016. The British government hailed a £344 million investment to expand London City Airport on Wednesday as evidence Britain was "open for business" despite its Brexit vote

STEFAN ROUSSEAU/AFP/Getty Images

15/30 22 July 2016

Labour leadership candidate Owen Smith speaks at a rally in London

REUTERS/Neil Hall

16/30 21 July 2016

Police close a road close to RAF Marham in Norfolk, after a serviceman was threatened with a knife near to the base

Chris Radburn/PA Wire

17/30 20 July 2016

Tour de France winner Chris Froome celebrates on the podium after the twenty-first and last stage of the Tour de France cycling race in Paris, France

AP Photo/Christophe Ena

18/30 19 July 2016

Merlin Entertainment's Talking Donkeys are put through their paces in preparation for three days of children's donkey rides, celebrating the start of the summer holidays in London

Mikael Buck

19/30 18 July 2016

David Barber, The Queen's Swan Marker, holds a cygnet, or young swan, during Swan Upping, the annual census of the swan population on the River Thames, in a week long exercise where unmarked mute swans are now counted - rather than eaten - in a tradition exercised by the British Crown for nearly 900 years, at Sunbury

REUTERS

20/30 18 July 2016

A 'Vote LEAVE' battle bus is re-branded outside the Houses of Parliament in Westminster by the environmental campaign group Greenpeace. The bus which was used during the European Union referendum campaign and had the statement "We send the EU £350 million a week let's fund our NHS instead" along the side was covered with thousands of questions for the new Prime Minister Theresa May and her government about what a 'Brexit' might mean for the environment

Getty Images

21/30 17 July 2016

US director Steven Spielberg poses as he arrives to attend the UK premiere of the film "The BFG" in Leicester Square

AFP/Getty Images

22/30 16 July 2016

A Raticate, a character from Pokemon Go, a mobile game that has become a global phenomenon, in front of the gates of Downing Street in London

Getty Images

23/30 16 July 2016

London landmark, The London Eye is illuminated in blue, white and red lights, resembling the colours of the French flag, as Britons express their solidarity following the deadly attack in the southern French city of Nice A gunman smashed a truck into a crowd of revellers celebrating Bastille Day in the French Riviera city of Nice, killing at least 84 people in what President Francois Hollande on Friday called a "terrorist" attack. / AFP / CHRIS J RATCLIFFE (Photo credit should read CHRIS J RATCLIFFE/AFP/Getty Images)

AFP/Getty Images

24/30 15 July 2016

Armed police outside the French Embassy in London, following the death of at least 84 people, including several children, after a terrorist drove a truck through crowds celebrating Bastille Day in Nice

PA

25/30 14 July 2016

Foreign Secretary Boris Johnson addresses staff inside the Foreign Office in London

PA

26/30 13 July 2016

New British Prime Minister Theresa May speaks to the media outside her official residence 10 Downing Street in London

AP

27/30 13 July 2016

David Cameron makes a speech outside 10 Downing Street in London, before leaving for Buckingham Palace for an audience with Queen Elizabeth II to formally resign as Prime Minister

PA

28/30 12 July 2016

Former Queen guitarist and campaigner Brian May poses with people dressed as Badgers during a photocall in London. The event was organised to 'urge' the government to abandon their planned Badger Cull which is to be rolled out in the Autumn

Getty Images

29/30 11 July 2016

Britain's new Conservative Party leader Theresa May speaks to members of the media at The St Stephen's entrance to the Palace of Westminster in London. Theresa May will become the prime minister who leads Britain's into Brexit talks after her only rival in the race to succeed David Cameron pulled out unexpectedly. May was left as the only contender standing after the withdrawal from the leadership race of Andrea Leadsom, who faced criticism for suggesting she was more qualified to be premier because she had children

AFP/Getty

30/30 11 July 2016

Stay Puft Marshmallow Man is seen on the concourse at Waterloo Station in London. Ghostbusters take over Waterloo Station as Stay Puft Marshmallow Man smashes through the concourse during the morning rush-hour

Getty Images for Sony Pictures
Mark Borkowski, head of a London PR firm, warned that social media provided new opportunities for dirty tricks. "A lot of spies and ex-Army people are going into it," he said. "There are some despicable crafts being deployed on the outer reaches of PR to disseminate false information and crush reputations. Where there is big money and big interests certain PR energy will flow into that space."
Libel in the digital age: Is the law working?
Rosalind English, a barrister at London chambers 1, Crown Office Row, has written about problems in taking legal action against Facebook over fake content. She said: "We are stuck with the problem that it's incumbent on the claimant to prove that the defendant is responsible for publication. This is law designed in the days before the Internet, before publishers could disappear into a confusing maze of offshore companies."
Ms English wrote on the UK Human Rights Blog that "suing Facebook is no easy matter", highlighting a recent High Court case in which a woman failed in an action against the social media giant after an "imposter" created a fake and allegedly defamatory profile of her on the site.
The barrister told The Independent that times had changed since the 1937 "golf club notice board" case of Byrne versus Deane, which held the club responsible for defamatory messages posted on its board. "The libel law is designed for people being able to point the finger at specific entities or individuals which may be regarded as responsible for the publication," she said. "[In social media cases] the claimant has a huge burden not only to find the right company but to establish that the publication has been actively facilitated by the [Internet Service Provider]." 
Reuse content