Most arduous household chores have long been labour-free, thanks to technological advances like washing machines and dishwashers.
But one task has largely resisted all attempts to remove the need for human effort - vacuuming.
The first robotic vacuum cleaner, the Electrolux Trilobite, was launched in 1997, but the gadgets have never really caught on with consumers.
Today Britain's leading maverick inventor James Dyson revealed the device he believes will turbo-boost the lacklustre market for robotic cleaning devices - having already revolutionised the vacuum cleaning market once with his cyclone technology.
"Essentially, we've developed an intelligent robotic vacuum cleaner capable of cleaning properly," said Nick Schneider, a design engineer in Dyson's robotics research and development department.
While other robotic vacuum cleaners look at the ceiling for navigation, Dyson has created a cleaner which takes in a full 360 degree view and, in conjunction with information gathered by infrared sensors, builds a map which it uses to navigate its environment. A panoramic camera lens on top of the machine acts as its "eyes".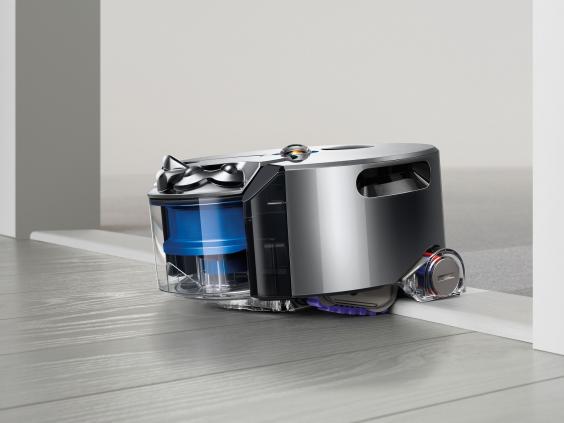 "This vision system is highly advanced," Mr Schneider said. "When it encounters an object, it will remember in the map in its memory that there's an obstacle in that location so it won't go back over it again." This, he says, makes for a more efficient clean and saves battery life.
Dyson's offering has been a long time in the making. A team of over 200 engineers have spent the past 16 years working on the project, at a cost of £28m. That's on top of the £150m which Dyson has invested into the digital motor technology, which lies at the core of the product.
"It's still quite a niche area at the moment but has potential to go into mainstream," says Richard Caines, senior Household Care Analyst at Mintel. "People are always looking at ways of reducing the time they spend doing their cleaning. With an aging population and people with disabilities, we are seeing increased automation in homes."
It is a big market to break. According to Mintel, the market for vacuum cleaners last year was estimated at £540 million, while one of their reports out this found that 14 per cent of those surveyed have used robotic vacuum cleaners – and another 21 per cent they would be "interested" in setting one to work on their carpet.
Despite low uptake to date, Samsung, LG, Vileda and most other major home appliance manufacturers have offered a robotic product for a number of years. The Eye 360's main competitor is the Roomba. It is the Hoover of the market – the go-to name in robotic vacuum cleaners. Launched in 2002, it offers a range of products from £379.99 to £649.99 and as of February this year, had sold 10 million units worldwide.
However, consumer bible Which? is not convinced that this robotic carpet crawler will usurp the stand-up vacuum cleaner.
While they are yet to test the product, a spokesperson said it will have to overcome the hurdles of high price (it is rumoured it will cost around £750), and limited capabilities. "It can't fully replace a standard vacuum as it can't tackle certain tasks such as stairs or upholstery", a spokesperson said, adding it "will be impressive if it lives up to these claims".
Reuse content