The founder of much-hyped social network Ello has rejected criticism that the ad-free service will render it unable to do business in the long-term.
Ello is a trendy and minimalist social network started by a bicycle designer and shop owner, which is reportedly getting 31,000 sign-up requests each hour.
It prides itself not only on being advert-less but also on its dismissal of selling user data to third parties.
"When a network is very simple, people want specific features, and they're willing to pay for those features," Ello's creator, Paul Budnitz, told Business Insider.
He says that users will be able to spend a dollar here and there for a great feature, for example if you're a musician "and you want to control multiple accounts from a single login – we can charge $2 for that. It's not for everyone".
"Let's say that for a few bucks, you can buy an emoji pack designed by a popular street artist," he said. "Because of how we've built Ello, it naturally lends itself perfectly to that," adding that he has received thousands of suggestions from his users on features that they would be willing to pay for.
However, a tech analyst at research firm Forrester, James McQuivey, said that this method, if successful, would buck the trend of a network traditionally having to be free for it to take off.
"Over all the other social media experiences from Whatsapp to Instagram to Pinterest - the reason they work is because they're free," Mr McQuivey told the BBC.
"You don't invite your friend to connect with you if it costs your friend money. Even in the world of digital music - you can pay for services but most people don't.
"Ello is walking into a habit which consumers already have about digital services that they can't change on their own."
Ello's manifesto, which has been published on its website, warns: "Your social network is owned by advertisers".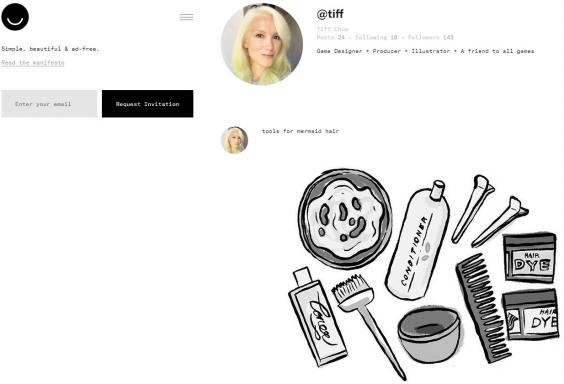 "Every post you share, every friend you make and every link you follow is tracked, recorded and converted into data. Advertisers buy your data so they can show you more ads. You are the product that's bought and sold," before ending it with: "You are not a product".
Despite continual outrage at the privacy and advertising policies of social networks and other organisations, Mr McQuivey feels that the public's approach to data mining isn't as negative as it first appears.
"We may all think we don't like advertising, we may believe we think it's wrong for companies to profit from our personal data but our behaviour suggests these companies give us what we want and we don't mind what they do in return," he said.
As for funding, Ello has raised a sum from venture capitalists leading some people to question how truly independent and principled the network can be with profit commitments.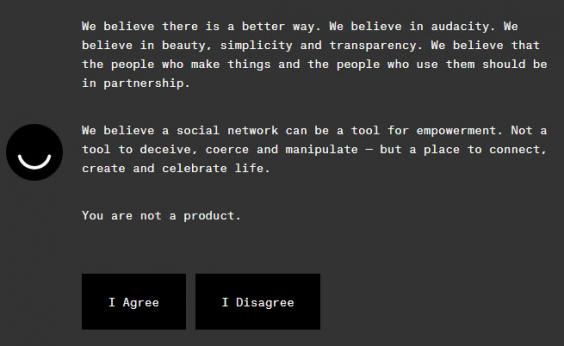 A former Ello collaborator called Aral Balkan is quoted by AFP as writing in a blog post: "When you take venture capital, it is not a matter of if you're going to sell your users, you already have.
He added: "It's called an exit plan. And no investor will give you venture capital without one. In the myopic and upside-down world of venture capital, exits precede the building of the actual thing itself."
Mr Budnitz, however, disagrees, telling Business Insider: "If [FreshTracks] were the type of people who were doing that, it wouldn't matter because the founders have such an overwhelming share of Ello.
"The venture capitalist can get upset, but it wouldn't matter because they have no control. And Ello is so deeply based, we put a flag in the stand with a manifesto, I can't imagine how that would change and people would stick around."
One of Ello's investors also posted on the site two days ago to address the concerns people have over the compatibility of Ello's manifesto with the investment.
David Cohen said: "Since my goal is simply to support great founders, I think there's no issue. I've always been one to invest in people with great ideas who put their users first and are looking to make the world a better place.
"Anyone that has worked directly with us knows that we never pressure exits. We're long term investors and we fundamentally believe ello's vision and beliefs are good for the world.
"This belief coupled with our relationship with the founders are the basis for our investment. Clearly ello strikes a chord, and we're glad to see that. In the end, it's how ello behaves and stays true to themselves and to their users that will matter.
"I'm confident that this will play out well."
Reuse content