The Mars One project is a flawed scheme that could lead people to lose faith in scientists, according to one of its finalists.
Joseph Roche, an assistant professor at Trinity College Dublin who has a PhD in physics and astrophysics, signed up to the one-way trip to Mars at its beginning. But he has since become concerned that the project will never take off and contributions raised will end up being used to fund the Dutch non-profit behind the idea.
Roche also claimed that the selection process for the project is deeply flawed. While the company says that it has vetted candidates using doctors and other experts, Roche said that he had simply taken part in short Skype interviews and other tests, all of which in his view were far less stringent than might be expected for a one-way mission to Mars.
Suzanne Flinkenflögel, Mars One's director of communications, dismissed the article and said that it "contains many false accusations".
Roche's primary concern is that the leading contenders for the mission are being encouraged to pay to be promoted as candidates, he told journalist Elmo Keep in an interview posted on Medium.
The mission is expected to cost billions of pounds. The company has said that much of the cost will be funded through a reality TV show that will follow the candidates as they go on their mission.
When candidates gain media attention from their appearances, they are encouraged to give 75% of their appearance fees to the group behind the project.
Candidates are promoted within the "Mars One Community Platform" — a site that among other things profiles candidates — by getting points. As well as being given an arbitrary number of points when they get through each round, candidates can boost their ranking by buying merchandise from Mars One or donating money to the project, Roche said.
To get promoted, candidates can buy the jumpers and posters that are sold in the store, or give a lump sum of cash to the mission, Roche said. That puts them higher up in the ranking, and so makes them more visibly in the running for the mission — leading to more media appearances. Roche claims that this means that those that appear in Mars One's promoted lists of candidates are likely to be those that have generated money, rather than the most likely or successful candidates.
In pictures: Mars Exploration Rover
In pictures: Mars Exploration Rover
1/12 Mars Exploration Rover

Mars Rover, Curiosity. After traveling 8 1/2 months and 352 million miles, Curiosity attempted a landing on Mars in 2012

2/12 Mars Exploration Rover

A self-portrait of the Mars rover Curiosity combines dozens of exposures taken by the rover's Mars Hand Lens Imager (MAHLI) during the 177th Martian day, or sol, of Curiosity's work on the planet Mars

3/12 Mars Exploration Rover

Mars Science Laboratory Curiosity rover examines a rock on Mars with a set of tools at the end of its arm, which extends about 2 meters (7 feet)

4/12 Mars Exploration Rover

This image mosaic taken by the panoramic camera on board the Mars Exploration Rover Spirit shows the rover's landing site, the Columbia Memorial Station, at Gusev Crater, Mars

5/12 Mars Exploration Rover

Views of the Sojourner Mars Rover and surface of Mars Ares Vallis

6/12 Mars Exploration Rover

A view of Mars southwest of the rover's landing site in the Gusev Crater. The landscape shows little variation in local topography, though a narrow peak only seven to eight kilometers away is visible on the horizon. A circular depression, similar to the one dubbed Sleepy Hollow, can be seen in the foreground

7/12 Mars Exploration Rover

Mars planet pathfinder vehicle on planet Mars

8/12 Mars Exploration Rover

Tracks made by Curiosity's tires during its first test drive as seen by Navcam: on board NASA's Mars rover Curiosity on Sol 16

9/12 Mars Exploration Rover

A little more than two weeks after its arrival on Mars, the $2.5 billion rover, which landed on Mars has performed a battery of tests and appears ready to embark on its two-year mission to explore the Red Planet in the hunt for signs of life

10/12 Mars Exploration Rover

Tracks made by Curiosity's tires during its first test drive on a mission to explore the Red Planet

11/12 Mars Exploration Rover

Mars rover Opportunity's robotic arm as it stretched over the surface of Mars

12/12 Mars Exploration Rover

NASA's Mars Rover Spirit took the first picture from Spirit since problems with communications began a week earlier. The image shows the robotic arm extended to the rock called Adirondack

Nasa
When candidates appear on TV or in interviews, they are asked to give any fee to the Mars One project, according to a "tips for candidates" document for candidates that Roche said was distributed in February. "We do kindly ask for you to donate 75 per cent of your profit to Mars One," the document says, according to the interview.
Mars One said that there are "many round 3 candidates that have never contributed financially beyond the application fee, and there are many that did contribute significantly, but were were not selected to proceed to the next selection round".
Roche said that he had not met anyone from the mission in person, and that he considers that  the selection process has been far more limited than might be expected for flying to Mars. Roche claims all he had to do to be selected was complete a questionnaire, upload a video to a website, see a local doctor and have a short Skype conversation where he was quizzed about material he had been sent in advance.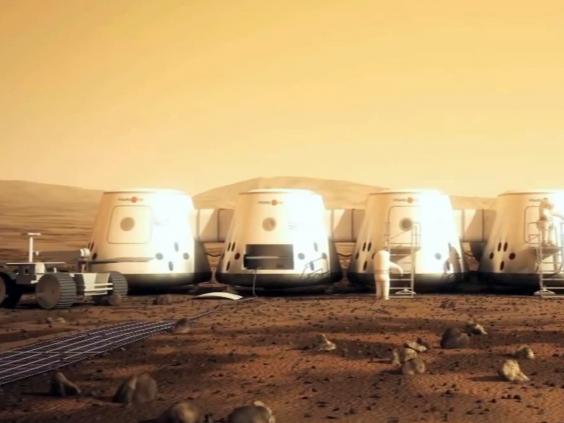 The final 100 candidates have made it through that process, who will now go through selection rounds that "will focus on composing teams that can endure all the hardships of a permanent settlement on Mars". They will be trained in a copy of the Mars outpost and during that time be tested on their suitability for the mission.
In an interview with The Independent in February, Bas Lansdorp, the man behind the mission, dismissed claims that it was a flight of fancy.
"It will be one of the biggest challenges humans have ever experienced," Lansdorp said. "But I am convinced we can pull it off. I have never met an expert who didn't believe our mission was feasible after 15 minutes of talking to me."
The Independent approached Lansdorp for comment on Roche's claims but at the time of publishing had not been able to respond.
Joseph Roche worries that the mission will be a failure and that it could put the future of space exploration and popular science in doubt.
"My nightmare about it is that people continue to support it and give it money and attention, and it then gets to the point where it inevitably falls on its face," Roche told Keep in the interview. If it does and "people lose faith in NASA and possibly even in scientists, then that's the polar opposite of what I'm about.
"If I was somehow linked to something that could do damage to the public perception of science, that is my nightmare scenario."
Reuse content