Nasa will use a robotic arm to grab a boulder and send it into orbit around the moon, giving it its own moon, allowing astronauts to study the rock as it flies around the Earth.
The Asteroid Redirect Mission (ARM) will also allow Nasa to demonstrate many of the technologies that will carry humans to Mars. "The option to retrieve a boulder from an asteroid will have a direct impact on planning for future human missions to deep space and begin a new era of spaceflight," said Nasa associate administrator Robert Lightfoot.
The technology used could also help Nasa defend the planet from future asteroid impacts. During the mission, the agency will try out the techniques that it could use to throw an asteroid off course if it were coming towards Earth.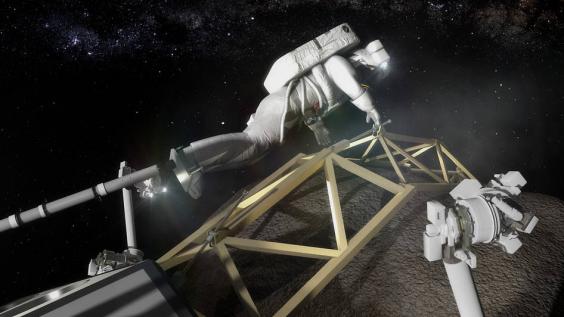 Nasa refers to the robotic arm plan as "option B", and was selected over another plan that would see an entire asteroid redirected. In the successful plan, a robotic arm will land on an asteroid big enough to have suitable boulders on it, and then throw one of those into orbit around the moon.
Nasa said that it will pick an asteroid no earlier than 2019, and will launch the spacecraft carrying the throwing robot about a year later. Nasa has identified three candidates already — and expects to find one or two more per year — all of which will be examined for their shape, size, orbit and other characteristics before they are chosen.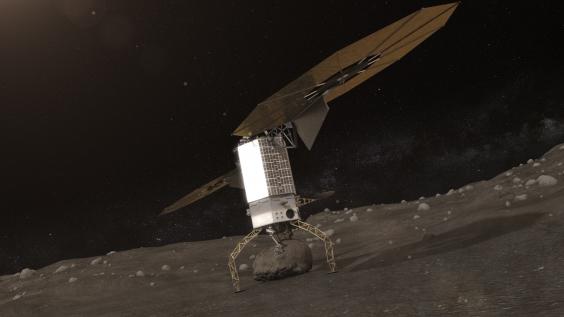 When the asteroid is chosen, and the craft landed on it, robot arms will be deployed to grab a boulder. The unmanned ship will then send the boulder into orbit over a number of years.
The same technology could be used in future to save us from asteroids that are headed towards the earth. The robot could eventually defend the planet by using a technique called a "gravity tractor" — if it heads towards the asteroid, the robot's gravity can throw off the course of an asteroid without touching it. That will work even better if the robot can successfully grab a boulder, giving it more mass and more gravitational pull.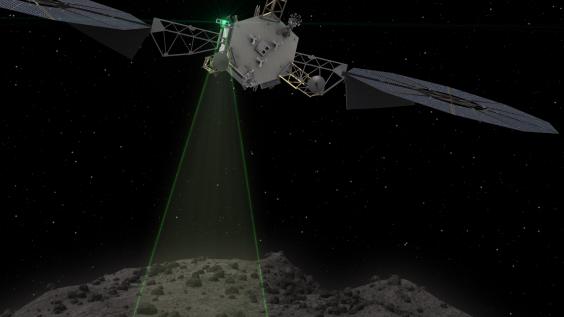 The mission will also be testing out technologies for future missions into deep space.
The plan will make use of Solar Electric Propulsion, for instance, which allows spacecraft to convert sunlight into electric power and use that to move through space. Using that technique is less efficient than burning fuel, but means that space missions will need much less fuel and fewer launches, bringing down costs.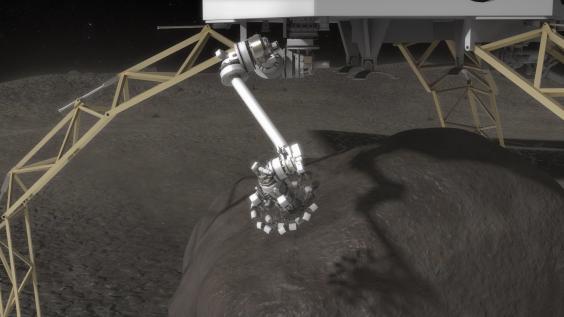 That technology could eventually be used to send out cargo or vehicles to be picked up by astronauts on their way to Mars. Objects could be sent out into space to work as a waypoint, or be ready for humans when they arrive on the red planet. It will also give a chance to use new systems, as astronauts head out to the asteroid to study it. They will be able to jump out of the Orion space capsule, wearing new space suits designed for deep space missions, and collect samples that could then be returned to Earth for study.
"Asteroids are a hot topic," said Jim Green, director of NASA Planetary Science. "Not just because they could pose a threat to Earth, but also for their scientific value and NASA's planned mission to one as a stepping stone to Mars."
Where to explore in the solar system
Where to explore in the solar system
1/10 Mars - Olympus Mons

Olympus Mons is the largest volcano in the Solar System. At 22km high Olympus Mons is nearly three times as high as Mt Everest

2/10 Mars - Mount Sharp

Mount Sharp is the current focus point of the Mars Science Laboratory's Curiosity rover. Sitting at the forefront of Martian research this location will hopefully unlock the secrets of Mars's past.

3/10 Ida and Dactyl

Nestled deep within the asteroid belt is the asteroid 243 Ida. During a fly by of the Galileo space probe it was discovered that Ida had a companion. Orbiting around Ida was a tiny moon that was named Dactyl.

4/10 Jupiter - The Red Spot

Getting tired of leisurely cruises through the Caribbean? Why not float a dirigible through one of the oldest known storms in the Solar System. Jupiter's Great Red Spot is large enough to contain three Earths and has been present for over 300 years.

5/10 Moon - Sea of Tranquility

As the landing site of the first ever humans to set foot on the Moon who wouldn't want to walk in the footsteps on Neil Armstrong on the Sea of Tranquility?

6/10 Europa - Underwater seas

Europa's underwater seas are one of the strongest candidates for potential life outside Earth. Scientists are waiting the day we can probe their icy depths.

7/10 Titan - Methane Lakes

Saturn's Moon Titan is home to a nice thick atmosphere. Similar to the Earth it supports a full weather cycle. Unlike the Earth, rather than using water, Titan's cycle is based on methane, often found in gas cookers here on Earth.

8/10 Mimas, the Death Moon

What better location for a holiday snap. The large Herschel crater on Mimas gives this moon an appearance of a certain dark lords ultimate weapon. When viewed from the right angle it appears that the Death Star is in orbit around Saturn.

9/10 Venus

The thick clouds of Venus make it an extremely mysterious place. It also has some of the most extreme weather we can find. Runaway greenhouse gases have shrouded the planet in a thick layer of cloud, heating it to nearly 600°C. It is also home to sulphuric acid rain and crushing atmospheric pressure. Make sure you pack a sturdy umbrella!

10/10 Oceans of Earth

One of the most unexplored places in the Solar System is our own oceans. 70% of the Earth is covered in ocean and as of yet we have only explored around 10% of them. With so much water to explore who knows what we may find lurking in the depths.

NASA
Nasa has been receiving more and more money from the US Congress to fund its asteroid observations work, known as the Near-Earth Object Observations Program. It has been finding an increasing number of near-Earth objects, helping find rocks that could pose a threat to life on Earth.
Recently, the program spotted asteroid 2014-YB35, which will skim past the Earth this Friday.
Reuse content