If you have a MacBook Air, you'll know it's an astonishingly light, beautifully designed laptop that offers great portability, decent power and, in the more recent models, excellent battery life. Sure, it lacks the super high-resolution Retina display found on the top-of-the-range MacBook Pro, but all those pixels take some wrangling, so battery life was protected by a less glorious screen.
And though the top end of Apple's range, the MacBook Pro, had in recent years upgraded to a snazzier look with a narrow black frame round an edge-to-edge glass-covered screen. This flush finish just wasn't possible with the Air because it was so thin, right?
Well, not any more. The new MacBook introduces a 12-inch screen with a tiny bezel, flush glass screen and – at last – Retina display. And it's thinner than the smaller 11-inch screened MacBook Air. Actually, it's lighter than the Air, too, which makes you wonder if Apple needs to rename the Air to something less lightweight-sounding. MacBook Middleweight, anyone?
For now, though, the MacBook is the skinniest kid on the block. And it looks and feels amazing.  Before you open the lid you can't miss that the aluminium enclosure comes in more colours than before. The Space grey, silver and gold choices are appetising-looking, though gold may be a little too blingy for some tastes.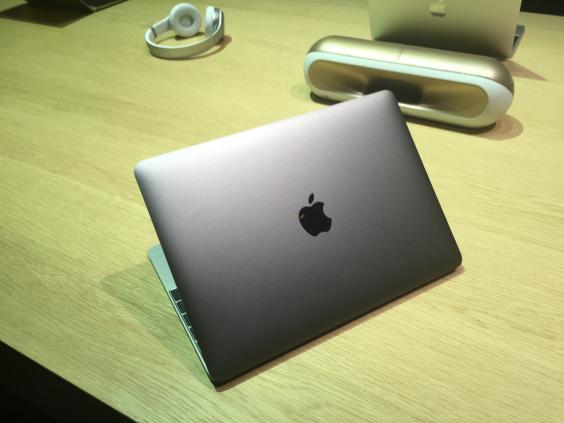 Lift the lid (noticing in passing that the MacBook is so well-balanced that the base doesn't tip up with it as it does on some laptops) and the Retina display shines out: rich, detailed and immediately immersive. Text is sharp, photos gleam.
Cast your eyes down and you'll see the keyboard is newly designed, with bigger keys than before, set closer together. The keys used to work on a scissor mechanism but this is now superseded by what Apple calls a butterfly mechanism. The white characters on each of the black keys are smaller because now the backlight is changed, with individual LEDs behind each key instead of a blanket light behind the whole board.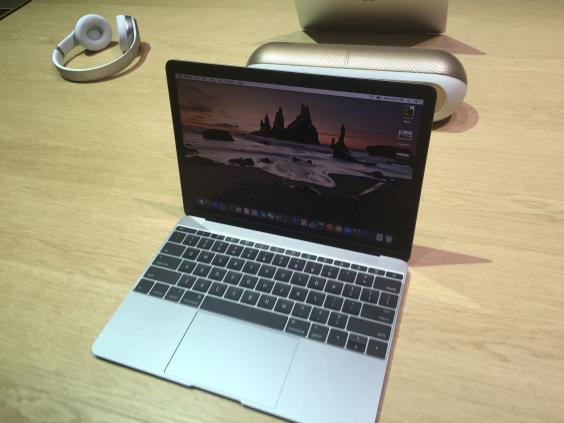 Backlighting is one of those features that sounds preposterous until the very first time you move the laptop to a place that's badly lit. The keys light up automatically and suddenly you can keep using the keys easily.
Those keys, because they're in an altogether thinner framework, have less travel. Since the MacBook Air, in common with other MacBooks, had about the most comfortable keyboard around, this is a change. The keys feel stiffer in comparison, less luxurious. Still, this may be something that just takes a little getting used to. I'll report back when I've tried it out for longer.
That thinner case presented battery challenges, especially since the scooped edges that contribute to the great design aren't friendly to batteries which are traditionally oblongs. So Apple came up with stepped cells (terraced, the company calls it) which mean they can fit into angular compartments with less space going to waste.
That's why it promises nine hours of battery life – less than the 12 hours of the MacBook Air 12-inch model but highly respectable.
When it comes to ports and connectors, Apple has always tried to simplify. It ejected the floppy disk drive from the iMac long before any other manufacturers dared. Optical drives are still on some Macs but hardly any. And now, with the MacBook, there's no USB drive, HDMI connector, Thunderbolt or even MagSafe power connector. That's because there's only one little hole, for a USB-C connection. Not only does it deal with data transfer, it pumps the power in, too. All very well but it does mean there's a changeover period during which you'll need one of the various dongles Apple will happily provide you with – though these add-ons are rarely bargains. One of them helpfully lets you power the laptop while connecting HDMI or USB 2.0 as well.
This may be controversial to some but it makes for a superbly elegant look. No doubt, like the adoption of Lightning connectors on iPhones, we'll quickly forget what the fuss was all about.
Best of all, USB-C fits either way up, which will save hours of the endless fiddling current USB drives take. I find it's generally on the third time it goes in…
There's no fan in the MacBook, and it uses a mobile processor, like the iPhone and iPad do. These processors are now so powerful this may not be an issue at all, but indepth testing is required to know for sure. Again, I'll let you know.
First impressions, though, are very strong for a laptop. One look and you'll want one. And when you pick it up and feel its impossibly light (923g) weight, the desire grows. The good thing is it's not as pricey as you might have feared, starting at £1,049 when it goes on sale next month.
Reuse content