Nintendo have announced that they will be launching a new handheld console on 12 October called the Nintendo 2DS. The device will be priced below the current 3DS in an attempt to introduce more customers to the company's portable games.
Shaped like a thin slice of cake, the new device also ditches the clamshell design of previous models as well as their 3D capabilities. It will be the first flat design system produced by Nintendo since the Game Boy Micro in 2005.
The two screens are the same size as the original 3DS and the 2DS will be backwards compatible with all 3DS and DS games. Speaking to gaming website Kotaku, Nintendo of America president Reggie Fils-Aime described it as an "entry-level handheld gaming system":
"We expect consumers to use it just the way they use a current 3DS," said Fils-Aime. "And, really, from a target standpoint, this is designed for that entry-level gamer. For a family of four with two kids, when you're looking at spending either $169.99 or $199.99 for two this holiday, now you've got a more affordable choice with Nintendo 2DS."
The device will feature all the same multiplayer functionality found in the 3DS, offering online play over Wi-Fi and the ability to exchange data with passersby using the StreetPass function.
The device will go on sale on the same day as the release of the latest games in the Pokémon, series, Pokémon X and Pokémon Y, suggesting that Nintendo want to combine the series' enduring appeal with the new system's lower price to attract new customers.
Nintendo's presence in console gaming has cooled since the unsuccessful launch of the Wii U. This, the company's eighth generation console (this puts it in the same bracket as the upcoming Xbox One and PS4) has sold only 3.61 million units. For comparison, the 3DS has sold 32.48 million units.
The new 2DS is being sold on Game for £109.99 with free UK delivery in two colour combinations, white and red or black and blue. Other retailers are expected to announce their prices for the new system soon.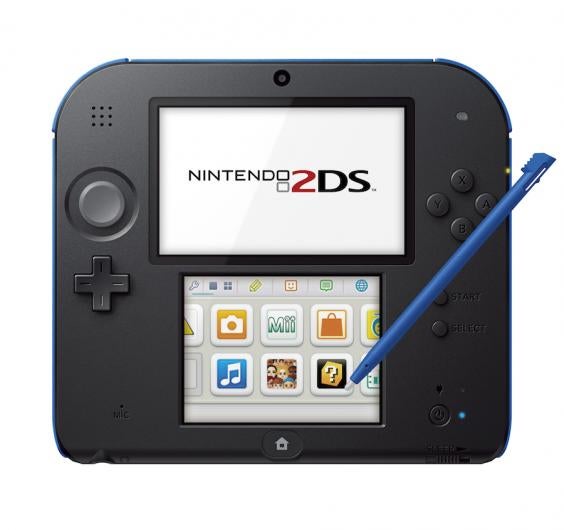 Reuse content